THE GREAT WAVE CARRIES YOU FORWARD by Nick Kolakowski
Nick Kolakowski

THE GREAT WAVE CARRIES YOU FORWARD
Marie's husband Zachary passed away in early March, followed two weeks later by the dog. Marie would never confess this to anyone, but she missed the dog a little more than Zack. At least the mutt could stick to one bed.
Marie would never confess this, either, but a deserted house can be pretty enjoyable. She took down Zack's framed Bullitt poster from its prime spot in the living room and, with the help of an online art class, painted a giant wave crashing onto a skiff of Japanese fishermen. None of her friends knew it was a copy of "The Great Wave Off Kanagawa," the famous Hokusai woodcut from the Edo era—they just assumed the pummeling whitewater was a metaphor for depression, a cry for help, and reacted accordingly. Her life filled with dinner parties; bone-crushing hugs arrived at random and often startling moments; her phone blinked and hummed with text messages of love and cheery quotes from dead philosophers.
Marie had only wanted a little more color in that part of the house, but she accepted the attention with slightly befuddled grace.
As summer draped its moist blanket over the city, her friends finally downshifted to a more normal gear: phone calls once a week, movie nights twice a month. The house was quiet once more, and she spent her evenings reading books that had sat dusty and unopened on her shelves since college: underlined and dog-eared texts about samurai and geishas, the Floating World and red battlefields. She had never seen Japan, despite majoring in its art. There were so many things she hadn't experienced, come to think of it: deserts and Great Plains and the cities heavy atop them, the cold Pacific pummeling the California coast.
One night Zack appeared in her dreams, in the lacquered red armor of the shōgun, to apologize for his petty life. Before it was all over, he said, I never realized the small things don't matter. Don't make that same mistake. And by the way, what you did to my poster was sacrilege.
That was Zack, always needing the last word. The next morning Marie had the car nearly packed with luggage when her friend Joan pulled into the driveway. Joan made the expected sounds of surprise and concern as she circled the overstuffed sedan: "Where are you going?"
"West," Marie said, tossing a backpack full of snacks onto the passenger seat.
"Okay, but where west?"
"California, maybe sell the car there, fly to Tokyo," she said, casual as announcing she was headed to the corner store for some milk. "Beyond that, not the faintest clue."
Joan was theatrically aghast. "But why, Marie?"
"Because why not." An empty life is a canvas for starting again, Marie thought. It's a melancholy gift you've given me, Zack, but I'll take it.
---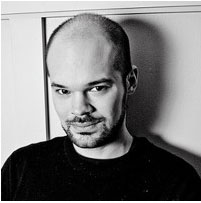 Nick Kolakowski's work has appeared in The Washington Post, McSweeney's, The Evergreen Review, Satellite Magazine, Carrier Pigeon, and Shotgun Honey, among other publications. He's also the author of How to Become an Intellectual, a book of comedic nonfiction that covers (and sometimes, lovingly skewers) everything from ancient Greek tragedies to Albert Einstein. Nick Kolakowski lives and writes in New York City.
Image: The Great Wave off Kanagawa by Hokusai, c. 1829-32
Read more from Cleaver Magazine's Issue #5.