HOW TO MASTER SOCIAL MEDIA by Brennan Cusack
Brennan Cusack
HOW TO MASTER SOCIAL MEDIA
Take a good hard look at yourself in the mirror because it's got a frame like a photograph and you need the practice. Move around and play with angles until you find the most flattering position. Now practice snapping into picture position. Repeat until it's automatic. Practice makes perfect. Smile perfectly.
The next day you sign up for a photo class with Abby. Pick up your rented cameras and practice your photo smile as Abby points the lens towards you. Click. You look pretty, she says.
Make it your profile picture. You're on the right track.
As the professor drones on about camera settings, begin laying groundwork for network popularity by scrolling through your newsfeed and liking pictures and statuses accordingly. Watch as your name appears across the newsfeed as you click, think of footsteps in the sand, think of I came, I saw, I liked, think of a like for a like. Someone has liked your comments. It's Tara, a girl from your IR recitation last semester. You click her name and scroll through her recent pictures. She looks fun outside of class. You've almost made it through a year of photos when Abby says it's time to go.
Over the next couple of days be sure to sign up for Instagram. Abby will complain about spending all her money as you drag her from trendy cafés to dimly lit sushi bars searching for the best food and drink to picture and post. Order eel for the shock value. Take a picture and filter. Ask Abby about a caption. Try not to seem disappointed when she says she doesn't care and asks if you've heard anything she's been saying. The eel tastes salty and slippery going down your throat. Offer some to Abby. Post the picture and share it with Facebook.
Act surprised when Tara comments that you're at her favorite restaurant even though you knew that. You had found the place from one of her Instagram hashtags.
One day, while walking to Photo class you see Tara. She tells you about a party tonight and says she'll invite you.
Receive Facebook invite and click attending.
Use the money you've been saving for a perfect new outfit. Go to party in perfect outfit and take pictures with Tara and friends. Learn to strike picture your pose as soon as you see a flash going off. The picture of you and Tara gets a lot of likes.
You begin to go to more and more parties with Tara. Start bringing your camera from photo class and watch as new friends fling themselves in front of you smiling waiting for the flash. Upload the albums on Facebook with clever titles and tag all the people you recognize.
Abby invites you to movies but realize that those kind of nights out are not really popular to document on social media so instead invite her out to get eel again. Be understanding when she says she still doesn't like eel that she'll just see you in photo class.
One morning, you wake yourself up snapping into your best picture pose as the first flash on sunlight cuts through your shades. Blame it on a stress-induced dream. You forgot to do your photo project on 'Change' so you turn in some pictures of your new friends posing at a party. Call it 'Day to Night.' Decide to call your Facebook album the same thing.
Abby says she never sees you anymore. Try not to act confused as you remind her about the personal snap chat you sent that morning.
Ask your mom for more money because living in a city is expensive. She gives you more because she's never lived in a city and you spend half of it on concert tickets. The other half you use to buy more makeup because your eyes look tired all the time now. Notice your hair is no longer shiny. Switch shampoos.
Go to concert and spend the entire time on elevated surfaces or on the shoulders of your new guy friends so you are more visible to the cameras around you. Spend the next week checking Facebook waiting for the photos to go up.
See Abby on the way to the library. You haven't seen her for two weeks because you were so tired from the concert you skipped photo. She says it looks like you had a really fun weekend. Say you did but you have to run because you have so much work to do.
Study in the library. Feel overwhelmed by all the work you have to do and feel down because you asked your mom to go to Thailand to ride elephants for winter break and she asked if you were crazy. Decide to start a twitter so you can tweet about all the Netflix you'll be watching confined to your home. Put your books down and start a twitter. Start following people.
Your photography teacher says your black and white shots from the concert don't capture depth. Tell him you're better with color. He sighs and says you'll do poorly in the class if your final project isn't better.
For your final project decide to do a self-portrait. You need a new profile picture, anyways.
Call Tara and friends to come help with your project. They ask if you're taking pictures of them. You say no. They say they're busy.
Text Abby about it. She doesn't respond. She's never been good with phones.
You decide to create the most popular profile picture of all time. Camera in hand, borrow the neighbor's puppy. Get in a bathing suit. Go out to the snowy graveyard. Set up your tripod and cue the timer
Run through snow barefoot towing the puppy on a leash. Throw rose petals in the air at sunset.
In the photo lab, reduce the redness of mild frostbite—thin your thighs and fluff the puppy. Saturate the colors to make the petals look more exotic. Clarify the inscriptions on the tombs and erase your footsteps. Send it to your teacher in an email with the subject, Final.
Wait for when Facebook has the most traffic to post your profile picture.
Your teacher will give you a C in the class. He says the picture has no expression. Asks why you erased the shadows and why you are in a bathing suit and if your feet were cold in the snow. He'll also ask for his camera back.
As you wait to post your new profile picture, Abby comes up on your newsfeed. It's a picture of her head bent down her hair covering her face above a coffee mug. You can't see if she's smiling but you think she is. You think about calling her but don't really know what to say. So you just like the picture.
It's time. Post it.
Now wait. Wait. Refresh.
---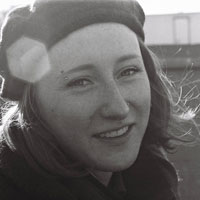 Brennan Cusack grew up in Santa Barbara, California. She graduated from Cate School in 2011 and is currently a junior at the University of Pennsylvania studying English with a concentration in Creative Writing. She recently arrived back from a semester abroad in Turkey.
Image credit: LearningLark on Flickr
Read more from Cleaver Magazine's Issue #5.