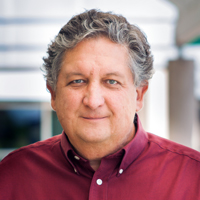 C. Wade Bentley, Tiger-Boy (Poetry) teaches and writes in Salt Lake City. His poems have been published or are forthcoming in journals such as Cimarron Review, Best New Poets, Rattle, Antiphon Review, Pembroke Magazine, and Poetry Northwest. A full-length collection of his poems, What Is Mine, was published by Aldrich Press in January of 2015. You may visit wadebentley.weebly.com for complete information about his publications and awards.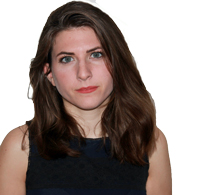 †Kristen Brida, Describe to me your initial reaction when you got here (Poetry). Her work has appeared or is forthcoming in Hobart, Whiskey Island, Bone Bouquet, REALITY BEACH, and elsewhere. She is the editor-in-chief of the intersectional feminist journal, So to Speak. She is an MFA candidate at George Mason University. She tweets @kissthebrida.
.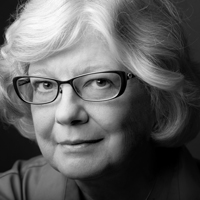 Brenda Butka, April, Taylor Hollow (Poetry) practices pulmonary medicine and poetry in Nashville, Tennessee, where she and her husband share a small organic farm with a couple of farmers and their cows, goats, chickens, a resident great blue heron and whoever happens to drop in.
.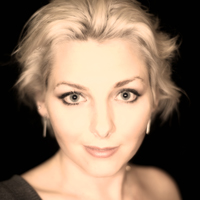 Flower Conroy, How is a Tree Like a Snake Like a Heart & Have you ever awoken in a dew-soaked field (Poetry) is the author of three chapbooks: Facts About Snakes & Hearts, winner of Heavy Feather Press's Chapbook Contest; The Awful Suicidal Swans; and Escape to Nowhere.  She is the winner of Radar Poetry's first annual Coniston Prize and the Tennessee Williams Exhibit Poetry Contest, as well as a scholarship recipient of Bread Loaf, Squaw Valley, Napa Valley, and the Key West Literary Seminar.  Her poetry has appeared/is forthcoming in American Literary Review, Prairie Schooner, Gargoyle and others.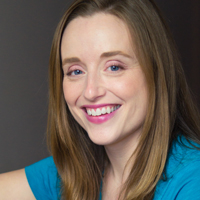 †Shannon Cothran, Brothers, Boys, and What I Can Do (Nonfiction) is a professional food writer who prefers New England's clam chowder and ice cream to New Orleans' gumbo and snowballs.
.
.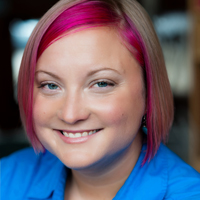 Danielle Dreger, Self-Check (Flash) is a librarian and writer in Seattle. Her flash fiction has appeared in Pinch Journal, 200 CCs,  and Dime Show Review. She is a current contributor to Preemie Babies 101.  Her YA novel, Secret Heart, was published in 2016. She is repped by Danielle Chiotti of Upstart Crow Literary. She can be reached at danielledreger.com.
.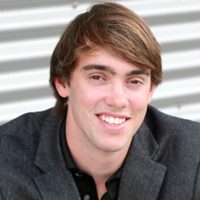 Preston Eagan, essay on taking too much Advil PM (Poetry) is studying journalism and business at the University of Alabama. He writes columns for the Crimson White.
.
.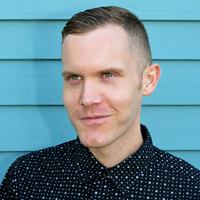 Tyler Gillespie, Florida Man (Poetry) is the palest Floridian you'll ever meet. His poems appear in Apogee Journal, Columbia Poetry Review, PANK, Juked, Exposition Review, Hobart, and Prelude, among other places. Find him at TylerMTG.com.
.
.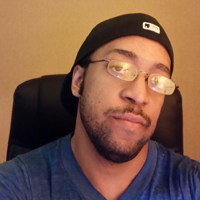 †Sean Flood, Hydroquinone (Poetry)  is a writer and poet. His work has appeared in The Bombay Review and Black Ink. Favorite hobbies of his include playing old Nintendo games and daydreaming.
.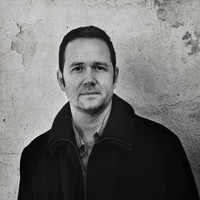 Peter Grandbois, Unfinished (Poetry) is the author of seven books. His poems, stories, and essays have appeared in over seventy journals, including The Kenyon Review, The Gettysburg Review, and Prairie Schooner, and have been shortlisted for both Best American Essays and the Pushcart Prize. His plays have been performed in St. Louis, Columbus, Los Angeles, and New York. He is a senior editor at Boulevard magazine, fiction co-editor at Phantom Drift, and teaches at Denison University in Ohio.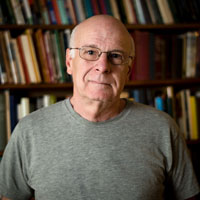 Marc Harshman, Jail Break & She Didn't Think of Herself as Religious (Flash). His second full-length collection, BELIEVE WHAT YOU CAN, is out from West Virginia University. Periodical publications include The Georgia Review, Emerson Review, Salamander, and Poetry Salzburg Review. His poems have been anthologized by Kent State University, the University of Iowa, University of Georgia, and the University of Arizona. His thirteen children's books include The Storm, a Smithsonian Notable Book. He was an invited reader at the 2016 Greenwich Book Festival in London. His monthly show for West Virginia Public Radio, The Poetry Break, began airing in January. He is the poet laureate of West Virginia.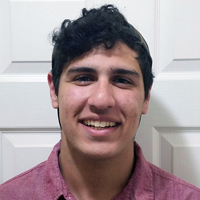 †Youssef  Helmi, More, (Flash) is currently a sophomore studying Creative Writing at Florida State University. Although he hasn't been published before, his mother once hung one of his stories on the fridge, and he thinks that's a close second. When not writing, Youssef enjoys lifting weights, watching Wes Anderson movies, and musing over the musical merits of death metal.
.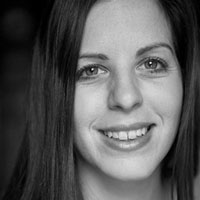 †Christine Hennessey, Anatomy Lesson, (Flash). Her writing has appeared in Necessary Fiction, The Boiler, Bodega, Prime Number, and LIT, among others. She's been awarded fellowships to Aspen Summer Words and the Vermont Studio Center, has an MFA from UNC Wilmington, and works at a digital marketing agency where she basically tweets for a living. She is, as always, at work on a novel.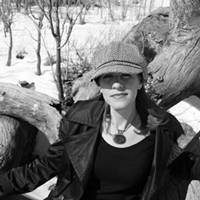 Nancy Hightower, The Songs of My Youth (Nonfiction) has published short fiction and poetry in journals such as Word Riot, Sundog Lit, Flapperhouse, Cheap Pop, Gargoyle, and Prick of the Spindle. Her first collection of poetry, The Acolyte, was published in 2015 by Port Yonder Press, and she reviewed science fiction and fantasy for The Washington Post from 2014-2016. She is currently working on a book about digital fictions with DJ Spooky and teaches at Hunter College.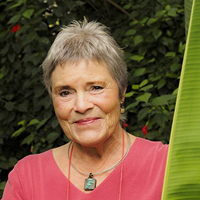 Sandra Shaw Homer, Alarm (Nonfiction) Philadelphia native Sandra Shaw Homer lives in Costa Rica, where for years she wrote a regular column, "Local Color," for the The Tico Times. Her writing has appeared in several print, online literary, and travel journals, as well as her own blog, writingfromtheheart.net. Her first travel memoir, Letters from the Pacific, received excellent Kirkus and Publishers Weekly reviews. A brief inspirational memoir, The Magnificent Dr. Wao, was published as a Kindle Book, and a second travel memoir, Journey to the Joie de Vivre, was released in 2016.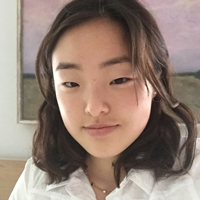 Katy Kim, August VIII (Poetry) is a student. Her work is forthcoming or published in Tinderbox Poetry Journal, Hermeneutic Chaos, The Blueshift Journal, the Asian American Writers' Workshop, and has been featured on Verse Daily, among others. Her chapbook, Melon / Echelon is forthcoming from Hermeneutic Chaos Press this year. 
.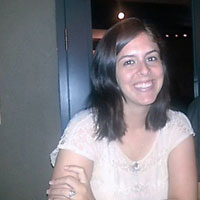 Taylor Kobran, A Difficult Woman (Fiction) holds an MFA from Hollins University. Her work has been published in the Nottingham Review, Lunch Ticket, Emerge Literary Journal, the City Quill, and the Ilanot Review. She enjoys spending time with her dog and alphabetizing her overflowing bookcase. She lives in New Jersey.
.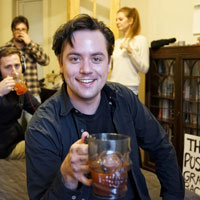 †Kyle Kouri, Fuck Donald Trump (Fiction) is an MFA candidate in fiction at Columbia University. He also makes visual art. His most recent exhibition, "Long After You're Gone," opened at 7 Dunham Gallery in April 2015. His fiction has appeared on horrorsleazetrash.com. You can follow him on Twitter and Instagram @kylekouri. He writes in the Chocolate Lab at Columbia with Nathan Fetherolf.
.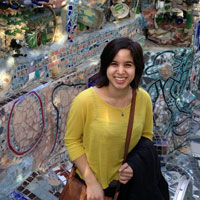 †Nadia Laher, Snake (Flash) is a writer living in New Orleans. Her nonfiction has appeared in the Pennsylvania Gazette. Her story "Zumba Fever" appeared in Cleaver Issue No. 9.
.
.
. (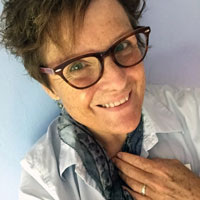 Michele Leavitt Wood Lot in April (Poetry), a poet and essayist, is also a high school dropout, hepatitis C survivor, and former trial attorney. In 2016, her essays appeared in Narratively, Guernica, and Catapult. Poems appear most recently in North American Review, concis, and Hermeneutic Chaos. She's the author of the Kindle Singles memoir, Walk Away.
Image credit: Tom Hilton on Flickr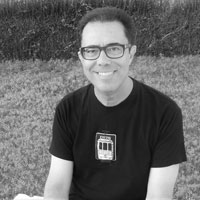 Emanuel Melo, The First Communion (Fiction) was born in the Azores and immigrated to Canada at the age of nine. He lives in Toronto. His short stories have been included in Cleaver, Writers of the Portuguese Diaspora in the United States and Canada: An Anthology, and MEMÓRIA: An Anthology of Portuguese Canadian Writers. His articles have appeared in Mundo Açoriano, (TWAS) Toronto World Arts Scene, and on the website of the Canadian Centre for Azorean Research and Studies. His short story "Avó Lives Alone," was a finalist in the Writers' Union of Canada's 20th Annual Short Prose Competition for Developing Writers in 2013. Website: www.thetorzorean.com.
.
.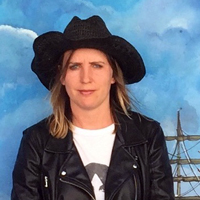 Elizabeth Morton, On Hold: (Poetry) is a New Zealand writer. She has been published in Poetry NZ, PRISM international, Cordite, JAAM, Shot Glass Journal, Takahe Magazine, Landfall, Atlas, Flash Frontier, Gravel, SmokeLong Quarterly, the Sunday Star Times, Literary Orphans, and in Island Magazine, among others. Her prose is in The Best Small Fictions 2016. Her debut poetry collection is to be published with Mākaro Press this year. In her free time she pens bad rap songs, and collects obscure words in supermarket bags.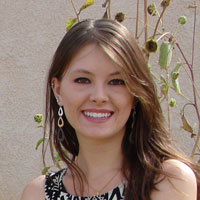 †Rachel Oestreich, Housekeeping in Seven Cigarettes (Fiction) is a Fiction M.F.A. candidate at New Mexico State University, where she received her B.A. in English in 2015. She reads for The Indianola Review, works with the literary magazine Puerto del Sol, and teaches as an Instructor of Record at NMSU.
.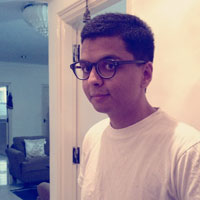 †Ajay Patri, Salvage (Flash) is a lawyer and writer from Bangalore, India. His work has appeared or is forthcoming in Eunoia Review, Storgy Magazine, Spelk, Toasted Cheese Literary Journal, and Every Day Fiction, among others. He is currently working on his first book.
.
.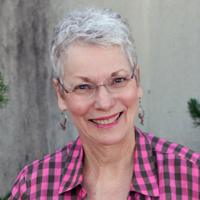 Marcia Roberts, Pipe Lilies Pop Up After Rain & Hannah Finds a Lime in Our Yard (Poetry) is originally from South Dakota, and has lived many places, including Madrid, Spain; Washington, D.C.; and San Francisco. She now resides in San Antonio, TX, with her husband Len, about five houses away from her granddaughter Hannah. Marcia holds a master's degree in English and Spanish, and she studied Poetics at New College of California. Her chapbooks include Open Eye (Skanky Possum Press), Autumn's Slant and In the Bird's Breath (Effing Press), and What She Knows (BlazeVox Books).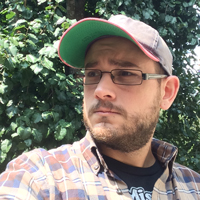 Donald Ryan, Escambia (Flash) has had work appear in The Topaz Review and The Bicycle Review and received an Honorable Mention from Glimmer Train. He also did editorial work for the forthcoming Tributaries: A Savannah Writers Anthology. Most recently, he's picked up a job managing a kitchen in Buford, Georgia.
.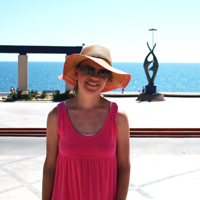 Nina Sabolik, The Man Who Swallowed the Moon (Flash). Her fiction and essays have appeared in Litro and on the World Literature Today blog. She has a master's degrees in Creative Writing and Comparative Literature from Arizona State University and holds a bachelor's degree in philosophy from the University of Ss. Cyril and Methodius in Skopje, Macedonia. She is working on a novel.
.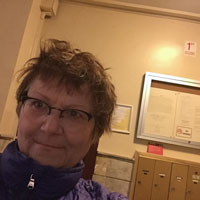 Sarah Sarai, With "Y" as an Absence of Pain (Fiction). Her short stories have been published in Gravel, Connotations, Fairy Tale Review, South Dakota Review, New Madrid, The Antigonish Review, Wilderness House, Devil's Lake, Tampa Review, and many other journals. Her MFA in fiction is from Sarah Lawrence College. She is also a poet, with many poems out and about. She was born in New York State, grew up in California, and now lives in New York City.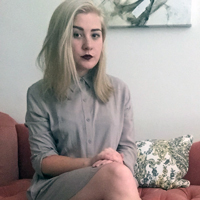 †Elizabeth Schmidt, True Salt (Flash) is a third generation Montanan. She graduated from the University of Montana with a B.A. in Creative Writing in 2015 and will be completing her MFA at Sarah Lawrence College in May. After Sarah Lawrence, she plans on continuing her education. When she is not at school, she binges on movies and TV; lately it's anything with Billy Bob Thornton. This is her first publication.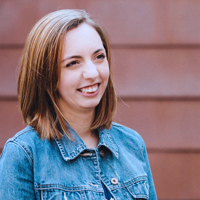 †Sydney Tammarine, Barycenter (Nonfiction) is (depending on the day) a Spanish teacher, translator, and writer currently pursuing her MFA at Hollins University. She once convinced a frozen yogurt company to run a coupon series she wrote all about yeti feet. Her work has appeared in Quiz & Quill and The Missing Slate, and her most recent book of literary translations, Diez Odas para Diez Grabados, is forthcoming in Santiago, Chile, from Taller 99.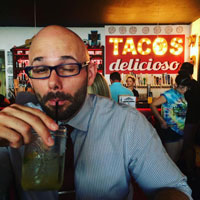 Brandon Timm, For The Life of You (Fiction) is a recent fiction graduate of Southern Illinois University's MFA program. He currently resides in his home state of Ohio, where he holds a position at a logistics company. His work has been published in ZONE 3  and online at The Carolina Quarterly. He owes much to those family members, friends, and teachers who have supported him, and this is a small, printed thank you to all those who have rooted for him.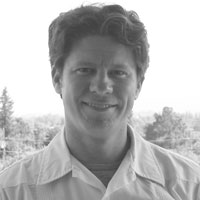 J.T. Townley, A Whole New Ballgame (Fiction) has published in Harvard Review, Hayden's Ferry Review, Prairie Schooner, The Threepenny Review, and other magazines and journals. His stories have been nominated for the Pushcart Prize and Best of the Net award. He holds an MFA in Creative Writing from the University of British Columbia and an MPhil in English from Oxford University, and he teaches at the University of Virginia. To learn more, visit jttownley.com.
†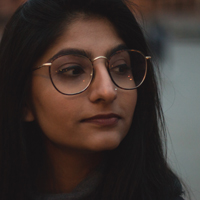 Jeevika Verma, dark, darker (Poetry) has always fought the odds to unapologetically tell the truth and ask a lot of questions. Her work aims to create conversations surrounding power, art, culture and identity. Originally from India, she recently graduated from the University of Washington and is currently a poet and writer based in Seattle, WA.
.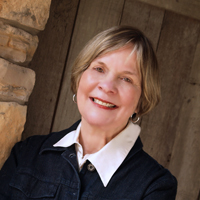 Jeanne Murray Walker, Letter to a Poet (Poetry) is the author of eight books of poetry, most recently, Helping the Morning: New and Selected Poems (WordFarm Press). Her poetry and essays have appeared in several hundred journals, including  Poetry, The Atlantic Monthly, Christian Century, The American Poetry Review, The Hudson Review, Image, Best American Poetry, and the 100 year anniversary volume of Poetry magazine, The Open Door:  100 Years, 100 Poems. Jeanne, who is the recipient of a number of fellowships as well as 16 nominations for The Pushcart Prize, serves as a mentor in the Seattle Pacific University low residency MFA Program.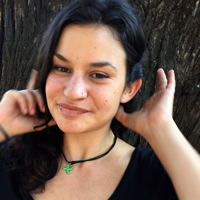 †Madeleine Wattenbarger, Future Ecologies (Poetry) lives, eats, & writes poems on her phone during crowded metro rides in Mexico City. Her writing has been published in Apiary, Ghost Town, and on the Philadelphia Inquirer arts blog, among other places. She is originally from Philadelphia.
.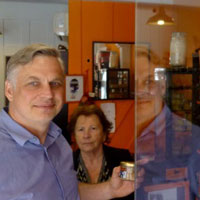 Louis Wenzlow, Lithuanian School Commencement Address (Fiction). His short canards and poetry have appeared in Cease, Cows, Eclectica, The Forge Literary Magazine, International Poetry Review, The Molotov Cocktail, and other places. He is a Lithuanian American who grew up in the suburbs of Chicago and now lives with his wife and daughter in Baraboo, Wisconsin.
.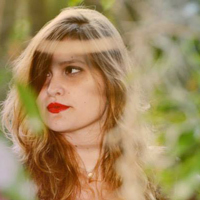 Emily Paige Wilson, Cartography (Poetry). Her poetry has been nominated for Best New Poets, Best of the Net, and a Pushcart Prize. Her manuscript was a finalist for the 2016 Hudson Prize from Black Lawrence Press. Her work can be found in The Adroit Journal, The Boiler Journal, Hayden's Ferry Review, PANK, and Thrush, among others. She lives in Wilmington, NC, where she received her MFA from UNCW, and works as an English adjunct. She rules her life like a fine skylark and is working on her crow pose.