MORE
by Youssef Helmi
.
I live in the middle of a really small pool in the middle of a really big room below a really circular hole in the really high ceiling. When the sun shines through the hole, the animals come and watch. When the moon shines, they go away. I don't know where they come from, but every morning when I wake up, they're there. I'm not sure if they're the same ones every day. They're animals; they all look the same to me.
Every day the animals crowd around the edge to watch me—they never touch the water. Some are dogs, a few are geese. I sometimes see a giraffe's tall neck protruding from the crowd, and my favorites are the turtles riding on the heads of gophers. I see elephants, a moose, and there are always cats—some are fat and some are skinny.
Every morning they bring me food to eat, and every night they bring me a new mattress to sleep on. When the sun shines, they bring different things and watch to see what I do. One day they brought me three balls, and I taught myself to juggle. Some leaned in closer to watch, some left and were replaced by others, and some clapped—the crocodiles always clap for me.
Another time, they brought me a girl—they just threw her in the water. I didn't know what to do with her, so I stared. After a few hours, I asked her her name. "Amy," she said. I asked her where she was from. She shrugged her shoulders. I asked her if she had her own pool like I did. "No," she said. I asked if she liked my pool. She shrugged her shoulders. The crocodiles clapped every time one of us finished a sentence. Amy wasn't as good at treading water as I was because an hour later she drowned; the crocodiles clapped and some geese honked.
Today the animals brought me a kayak. A hippopotamus put it in the water and I climbed in. A bear handed me a paddle, and a gopher threw me a life vest. For some time I sat in the boat. I started rowing one way, but, two rows in, I hit the edge of the pool. I looked up at the animals and saw the crocodiles clapping. I looked into their eyes. "More," they seemed to say. I rowed the other way until I hit the other end—more clapping. I looked at their eyes again. "More." I rowed and hit the other end again. "More." I rowed again. "More."
The sun was starting to dip when a walrus threw a gun into the kayak. I picked it up and looked at them; they looked back at me. I set it down and started rowing. I heard some growls from the animals, so I looked into their eyes. "No," they seemed to say. I rowed the other way until I hit the end. "No." I rowed again. "No."
It was getting dark. I could see the moon reflected in my pool, and most of the animals were gone—they hadn't brought me a new mattress. There were a few still lingering: a toucan, two leopards, a few anteaters, and a crocodile. After some grunts, caws, and growls, all but one left. The crocodile remained.
I picked up the gun and looked at the crocodile. The moon was shining; he wasn't supposed to be watching. For a while longer I fingered the gun before closing my eyes. I put the gun in my mouth, and I heard the crocodile clap.
I felt bad—who would the animals watch tomorrow?
---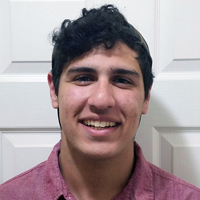 Youssef Helmi is currently a sophomore studying Creative Writing at Florida State University. Although he hasn't been published before, his mother once hung one of his stories on the fridge, and he thinks that's a close second. When not writing, Youssef enjoys lifting weights, watching Wes Anderson movies, and musing over the musical merits of death metal. 
Image credit: Tomáš Lištiak on Unsplash