DESCRIBE TO ME YOUR INITIAL REACTION WHEN YOU GOT HERE by Kristen Brida
Kristen Brida


DESCRIBE TO ME YOUR INITIAL REACTION WHEN YOU GOT HERE



from The Eurydice Interviews
When I first showed up the halo of my silhouette
dissolved like a jolly rancher
I began to put my mouth on every darkling
tried to eat away as much of it as I thought I could
After a couple of missing molars
I smeared my hand across my face
In a state of self-devour
I wore my bloodied ghost like a surgeon's mask
I put a lighter against my skin & watched
the black-blue throb against my dead stuff
then I wore the shadows
on the walls like a Chanel shawl
& a halo of skulls floated above me
I cracked one open & lilac juice flooded out
I soaked my hands in them
its electric punch dripped through me
---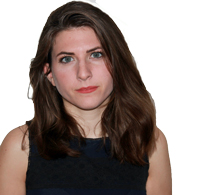 Kristen Brida's work has appeared or is forthcoming in Hobart, Whiskey Island, Bone Bouquet, REALITY BEACH, and elsewhere. She is the editor-in-chief of the intersectional feminist journal, So to Speak. She is an MFA candidate at George Mason University. She tweets @kissthebrida.
Hear Kristen's poem and more virtual poetry from Cleaver on our SoundCloud podcast On The Edge.
Image credit: Tertia van Rensburg on Unsplash
Read more from Cleaver Magazine's Issue #17.