UNFINISHED by Peter Grandbois
Peter Grandbois


UNFINISHED



If I opened my eyes
from this pretended sleep,
I wouldn't be salting
the driveway before dawn,
though the snow stopped
and the air's no longer freezing.
The trees would speak their silent
part. Swallows would arc
through the brightening sky.
And we would not be as we are.
It's late, and I'm fighting
to stay awake, meaning
all I do is unfinished, meaning
the night is long and dreaming
is as slippery as a fish, meaning
those trees aren't silent at all.
I only need listen
to their deep body ache. Meaning
only in sleep can I hold
my tongue.
---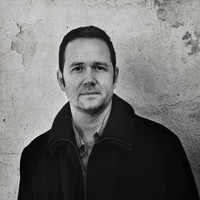 Peter Grandbois is the author of seven books. His poems, stories, and essays have appeared in over seventy journals, including, The Kenyon Review, The Gettysburg Review, and Prairie Schooner, and have been shortlisted for both Best American Essays and the Pushcart Prize. His plays have been performed in St. Louis, Columbus, Los Angeles, and New York. He is a senior editor at Boulevard magazine, fiction co-editor at Phantom Drift, and teaches at Denison University in Ohio.
Hear Peter's poem and more virtual poetry from Cleaver on our SoundCloud podcast On The Edge.
Image credit: Luke Hodde on Unsplash