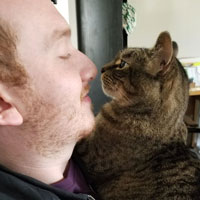 Justin Goodman earned his B.A. in Literature from SUNY Purchase. His writing–published, among other places, in Cleaver Magazine, TwoCities Review, and Prairie Schooner–is accessible from justindgoodman.com. His chapbook, The True Final Apocalypse, is forthcoming from Local Gems.
---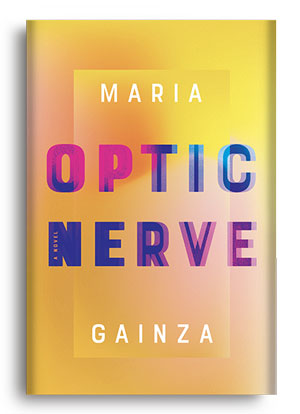 OPTIC NERVE by María Gainza translated by Thomas Bunstead Catapult, 208 Pages
reviewed by Justin Goodman
Purchase this book to benefit Cleaver
Our bodies are both the fundament and the fundamental threat to our experience of the world. For artists and art lovers, this corporeality more often induces terror than acceptance: cancer's ghostly invocations in Judith Kitchen's
The
Circus Train,
retrograde amnesia's ever-recurring retractions in Christopher Nolan's
Memento,
visceral depictions of the mythological in Goya's
Black Paintings
. The referentiality of invoking such a list is what Argentinian art critic María Gainza reflects upon in her debut novel,
Optic Nerve.
Written from the perspective of an unnamed Argentinian art critic,
Optic Nerve
flits from her present to her childhood memories, to her culture's memories, in order to develop a lineage between self and cultural artifacts, become an optic nerve transmitting information from the external to the internal. The most representative instance of this transmission takes the form of a historical moment remembered by the narrator: while Señora Alvear, "once upon a time the famous soprano Regina Pacini," sits at her dinner table beneath a painting by French animal painter Alfred de Dreux, "her eye travels back and forth constantly between ...
Read the full text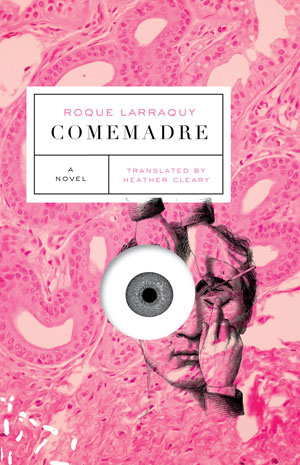 COMEMADRE
by Roque Larraquy
translated by Heather Cleary
Coffee House Press, 152 pages
Reviewed by Justin Goodman
Purchase this book to benefit Cleaver
There is a plant "whose sap produces […] microscopic animal larvae" that can consume rats "from the inside out." It can only be found on "Thompson Island, a small landmass in Tierra Del Fuego," within Argentinian screenwriter Roque Larraquy's debut novel
Comemadre—
the name of this plant of spontaneous generation. Translated in the novel as "motherseeker or mothersicken," this fictitious plant and its larvae symbolize the dual powers of violence to create and destroy. First as crime, then as art. It is an unmistakably self-conscious symbol for an unrepentantly self-conscious novel, going so far as to have the artist-narrator of the second part dissecting a biographer's write-up of him and his legacy. Thankfully this consciousness doesn't eat the novel from the inside out. However, the primary issue of the novel is precisely the necessarily maximalist philosophy this consciousness requires for its slim 129 pages. By the time the comemadre plant has been introduced on page 74, it becomes just another symbol in a long chain of symbols as opposed to the centralizing (and titular) symbol it intends ...
Read the full text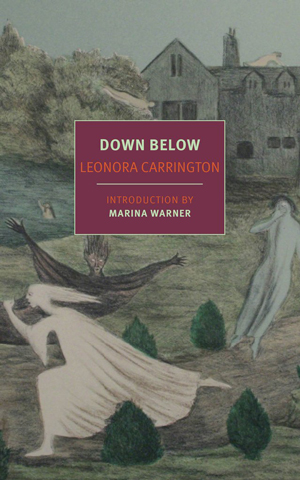 DOWN BELOW by Leonora Carrington introduction by Marina Warner NYRB Classics, 112 pages
reviewed by Justin Goodman
A hundred years after Leonora Carrington's birth, her painting and writing seems, to the modern viewer, as defamiliarized and spontaneous as it did when it first appeared under the Surrealist banner. The surrealist label, however, is at best an oversimplification of Carrington's legacy—and a label that she, herself, rejected. As she said in an interview with editor Paul De Angelis,"The closest thing that came to convincing me [that her work references spiritual associations] was Tibetan Buddhism." Carrington was no Buddhist nun; however, she lived singularly and peculiarly, often at the border of stability, the pinnacle of which was her institutionalization in Santander from 1940 to 1941 following a severe nervous breakdown at the age of twenty four. Once out, she would go on to write a memoir of the experience in English—subsequently lost—then dictate the experience in French to the wife of a friend of the Surrealists, from which it was translated into English and published in 1944. Then reprinted in 1988. Then reprinted this year, to celebrate Carrington's 100th birthday. Writing in the introduction to the 1988 edition, novelist and mythographer Marina Warner notes that
Down Below
 is ...
Read the full text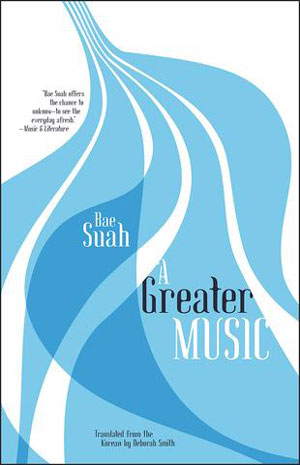 A GREATER MUSIC by Bae Suah translated by Deborah Smith Open Letter Press, 128 pages
reviewed by Justin Goodman
Bae Suah's newest English-translated work,
A Greater Music
, describes the Austrian composer Franz Schubert as "a short, fat, shy myopic." As brutal as this description is of a man who unhappily died before his 32nd year, it seems altogether different in tone when used to describe Bae's novel itself. Filled with observatory indifference and an almost disembodied airiness, the novel comes across particularly as commentary, and as particularly rebellious. But what's striking about
A Greater Music
is that it treats the work of Schubert above the man, treats the novel above the social, giving grandeur to otherwise short, fat, shy myopics. They are breathing things that were trapped in frames ill-suited for their sublimity—short in length, fat with substance, shy about their revelations, and myopic in their attentions, they are beings greater than their comportment can present. Something so heavy has rarely looked so light. Superficially,
A Greater Music
comes across like a South Korean variation on Bret Easton Ellis. The story of a bored, well-to-do individual striving to communicate in a world foreign to her—in
A Greater Music
, the world ...
Read the full text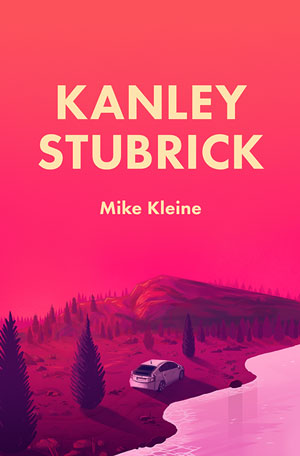 Kanley Stubrick
by Mike Kleine
We Heard You Like Books, 103 pages
reviewed by Justin Goodman
When you check out the latest novel by Michael Kleine,
Kanley Stubrick
, on Goodreads, you'll find that an anonymous reader asked the author if  "this book is going to house the
Mystery of the 17 Pilot Fish
play." Kleine answered rather grandly, referring to this play set to be released at the end of August, and the rest of his oeuvre: "
Kanley Stubrick
and
The Mystery of the Seventeen Pilot Fish
are all part of the same universe, yes, but also, so is
Mastodon Farm
and
Arafat Mountain
. Everything--the characters, locales, events, situations, demises, dreams--everything is linked." But Kleine doesn't address by what means and to what end "everything is linked," nor if this is a benefit to anyone involved.
Kanley Stubrick
doesn't elaborate on it much. Rather, the experimental novel turns out to be a display of the picturesque absurdity of Samuel Beckett and David Lynch without the uncomfortable laughter; Klein borrows sitcom's episodic format, lack of continuum, and commercial approachability for ends that forcefully lack those very same traits. Such is
Kanley Stubrick's
impressive and precarious balance. Mike Kleine was ...
Read the full text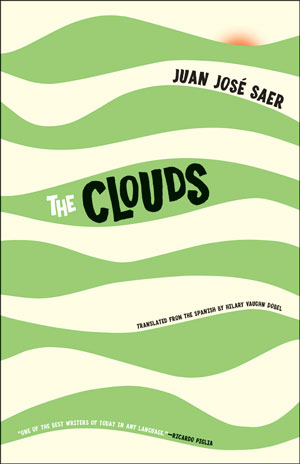 THE CLOUDS
by Juan José Saer
translated by Hilary Vaughan Dobel
Open Letter Books, 160 pages
reviewed by Justin Goodman
The son of Syrian émigrés, Juan José Saer was born in Argentina in 1937 and moved to Paris in 1968. His novel
La ocasión
won the Spanish Premio Nadal in 1987. He wrote obsessively about exile, crystalizing place and memory (of the village along the Paraná River, for example, where he grew up). Like Proust, you might say. But, unlike Proust, and likely indebted to the style Hilary Vaughan Dobel brings in her translation,
The Clouds
captures the tone of Proust's time without making it too indebted to 19th century literary conceptions.
The Clouds
, published originally in Spanish in 1997, is not interested in remembering as much as it is in dismantling memory. To read
The Clouds
is to feel as its narrator, to have "the unmistakable impression that we inhabited one of [the world's] remotest, most insignificant, and ephemeral corners." One grueling summer in Paris when a person's "shadow pools...as if shriveled by the sun," Pinchón Garay receives a floppy disk containing the just-translated memoir of the exiled Argentinian Dr. Real. This is a transparently symbolic name ...
Read the full text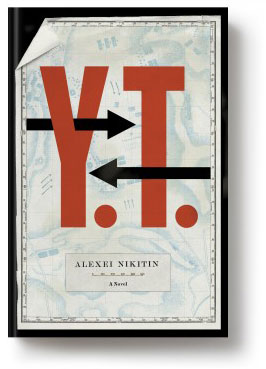 Y.T. by Alexei Nikitin translated by Anne Marie Jackson Melville House, 133 pages
reviewed by Justin Goodman
In one devastating visual from the 2011 British television miniseries
The Promise
, a veteran of the Israeli armed forces shows the unaware protagonist the tragedy of the border between Israel and Palestine. As the series progresses—switching between the present time and that time which the protagonist's grandfather spent in Post-WWII Israel as a British peacekeeper—the pathos of this divide becomes mired in historical and social realities beyond obvious resolution. This quagmire of a divided land is a familiar theme for our time. Ukrainian physicist-cum-entrepreneur-cum-author Alexei Nikitin's novel
YT
specifically reminds us of the case of his country, whose Maidan revolution in 2014 tried to answer encroaching Russian imperialism. Nikitin's novel is set both in 1984's Soviet-dominated Kiev and the democratic Kiev of 2004, its miasma of paranoia accompanying everything Soviet and everything political markedly similar to the Israel-Palestine of
The Promise
. In everything, a line. The collective farms,
kolkohozes
, of the town of Greater Apple, Ukraine are caught in a competitive "fruity dualism." Farmers are granted district assistance but refused more than a month's help. They resolve the dilemma by having five ...
Read the full text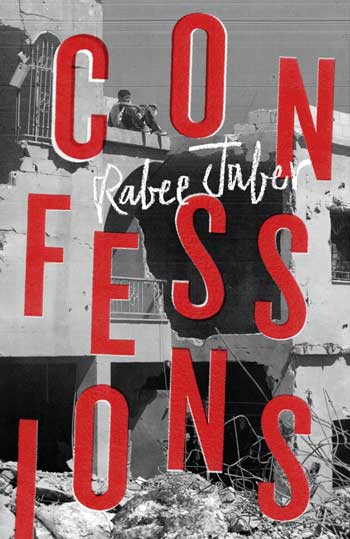 CONFESSIONS by Rabee Jaber translated by Kareem James Abu-Zeid Melville House, 120 pages
reviewed by Justin Goodman
Virility—that most male of virtues—is the heart of American war literature; Stephen Crane's Henry Fleming learns patriotism in the face of bullets, Kurt Vonnegut's Billy Pilgrim explores his sexual energy amidst the Dresden Bombing
,
and Tim O'Brien's Jimmy Cross is both distracted and driven by his hometown romance. There isn't much virility in Maroun, the twitchy and vaguely traumatized narrator of Rabee Jabar's
Confessions,
however. That's probably attributable to the
hydra
that was Lebanon's Civil War, around which the novel circles. And circles. And circles. And while the spiral, as it too often does, must end somewhere, you can be sure it ends prematurely. Nonetheless, this baroque mania is
Confessions
most powerful trait, transforming a straightforward family drama into the search for First Causes that war induces in us. Blunty, almost bored, Maroun introduces us to the facts of his life: he was the sole member of his family to survive a man who "kidnapped people and killed them"; though not fatally, the man shot Maroun "in 1976, on the demarcation line that split Beirut in two." Unknowingly Maroun becomes the killer's son ...
Read the full text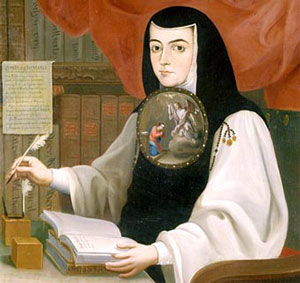 ENIGMAS by Sor Juana Inés de la Cruz translated by Stalina Emmanuelle Villarreal Ugly Duckling Presse, 25 pages
reviewed by Justin Goodman
Sor Juana Inés de la Cruz remains Mexico's greatest mystery. Born in 1651 out of wedlock and between social classes, intensely devoted to knowledge—having had discussions with Isaac Newton—and to Catholicism, she died forty-four years later despised by the male authorities of the church, but canonized as part of the literary godhead of the Spanish Golden Age. The haziness of these seeming contradictions evoked in the glorious 20th century Mexican poet, Octavio Paz, a sensation of the enigmatic which he captured in "Wind, Water, Stone": "Each is another and no other." It's appropriate, then, to see
Enigmas
publication; it is a work whose title is a reflection on both de la Cruz's existence and poetry, and also on the amorphous gulf between language and meaning that translators of poetry attempt to concretize. At least that's what Stalina Emmanuelle Villarreal seems to get at in her manifesto-ish "Translator's Not-(Subtractive Letter)." Much as she describes her aesthetic decisions, "through Neo-Baroque deletion of first person yet a postmodern acceptance of my identity," the note evokes the characteristically astringent intellect of poststructural ...
Read the full text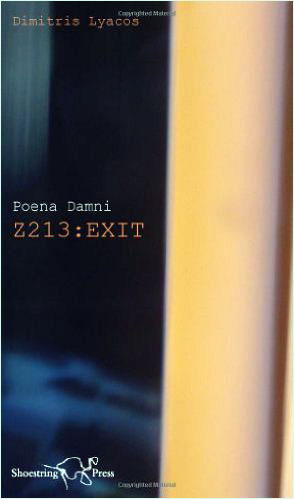 POENA DAMNI TRILOGY
Z213: EXIT, 95 pages WITH THE PEOPLE FROM THE BRIDGE, 61 pages THE FIRST DEATH, 35 pages by Dimitris Lyacos translated by Shorsha Sullivan Shoestring Press
reviewed by Justin Goodman
"What does the future, that half of time, matter to the man who is infatuated with eternity?" In France, in 1960, this question pressed itself upon the Romanian-born Emil Cioran.
Histoire et Utopie
was published, likely to the same acclaim (and rejection of acclaim) that marked all Cioran's career after 1950. Six years later and southeasterly, Dimitris Lyacos would be born in Athens. Despite the distance, Lyacos' recently translated
Poena Damni
trilogy revels inside Cioran's head. The composite units:
Z213:EXIT
,
With the People From The Bridge
, and
The First Death
, are ridden with the lack of euphony that belongs to the invisible canon of defeat to which Cioran belongs. Understanding is a place, for those of this school of thought, towards which knowledge only exacerbates the distance. The translator of the triology, Shorsha Sullivan, who is also a Classics professor at Leeds College, distinguishes Lyacos from the Greek poets that "slide easily into the mainstream of European Modernism" and those localized poets whom "lose [their] savour in translation." ...
Read the full text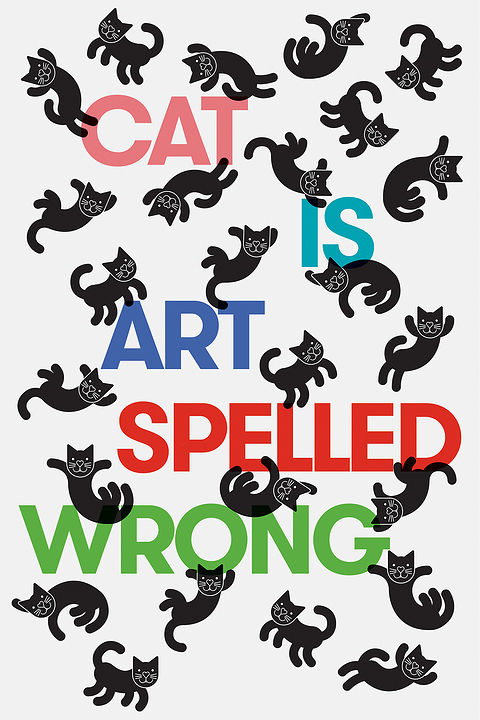 CAT IS ART SPELLED WRONG edited by Caroline Casey, Chris Fischbach, and Sarah Schultz Coffee House Press, 160 pages
reviewed by Justin Goodman
Anonymous' Internet
Rule 38
: "one cat leads to another." This rule is played out, true to form, within the universe it governs. I think of Douglas Davis's classic
"The World's First Collaborative Sentence,"
which (half Mobius Strip) perpetually leads, and (half Internet) begins with "cat purring softly"; or, in the same vein, the more contemporary
"Drei Klavierstücke op. 11"
by Cory Arcangel, composed of cat-on-piano videos molded into Arnold Schoenberg's twelve-tone music. The Internet seems to have returned us to what Schoenberg's contemporary, the painter Gustav Klimt, asked with his bijou palette and bourgeois nudes: when does something exit coincidence and enter art? As with Klimt's
regal-looking prostitutes
, we might ask, where is the line between artistic intention and the more accidental capturing of internal feeling? Now, amidst a flurry of cat media, editors Caroline Casey, Chris Fischbach, and Sarah Schultz have gathered the work of 14 authors to discern meaning in the paw swipes virtuosity. The work is gathered in the collaborative
Cat Is Art Spelled Wrong
. This is what is presumed. What happens is that ...
Read the full text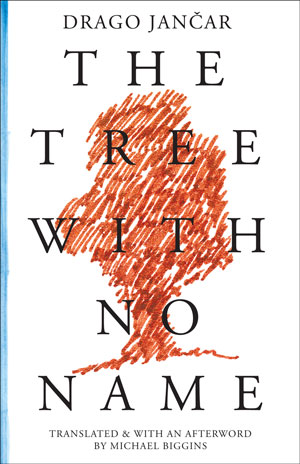 THE TREE WITH NO NAME by Drago Jançar translated by Michael Biggins Dalkey Archive, 274 pages
reviewed by Justin Goodman
Contention over millennials' degree of entitlement hasn't been limited to the United States. As we learn from Slovenian writer Drago Jançar, in fact, the generation gap has an equally special significance in the former Soviet Bloc, where, according to translator Erica Johnson Debeljak, writing on the Dalkey Archive Press website, the "new generation…takes independence and freedom, the Slovenian language, and shopping malls to be their birthright." Communism is outdated. That's why
The Tree With No Name
is so timely. The issue is not simply post-birth pangs (Slovenia was established in 1991 with the USSR's collapse). Rather Jançar asks, what is there for the old generation in a new world? To Janez Lipnik, the archvist protagonist who's preternaturally incapable of letting go of the past and which he belongs to, it's all that's left. "Wherever there is no past," he thinks, "the world is fundamentally unreal." The overarching dread of becoming a living artifact overcomes Lipnik after his wife, Marijana, points out a women's bicycle that is pulled from "the poor river whose bad luck it was to run through the ...
Read the full text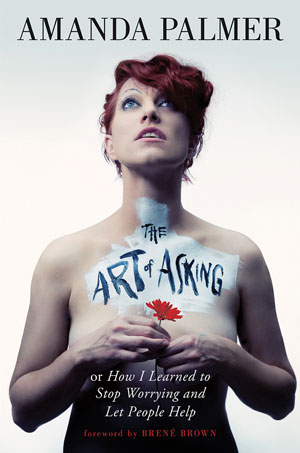 THE ART OF ASKING by Amanda Palmer Grand Central Publishing, 333 pages
reviewed by Justin Goodman
"Art is the Artist"
I first heard of Amanda Palmer while driving a flashy, cherry-red Mustang convertible blasting "Girl Anachronism" from a speaker system clearly not made to handle any song at full volume, let alone one already deafening at standard volume for an ipod-earbud combo. It didn't help that it was my car, and that my first girlfriend and I were the ones in it. By 2009 a year had passed since Palmer's band, the Dresden Dolls, broke up, and three years before she would give the
TED talk
that would inspire the memoir
The Art of Asking
. My relationship and my car had both broken down by that point and as I, that bachelor now in a minivan, would likely have said about Palmer's memoir-essay, there is one thing the three have in common: they deeply affected my life, and then repeated themselves enough that I wanted them to be done with. Memoirs often annoy me, in part, because they take Whitman's advice too literarily: "I celebrate myself, and sing myself." And that's not to ignore that such songs lend themselves to ...
Read the full text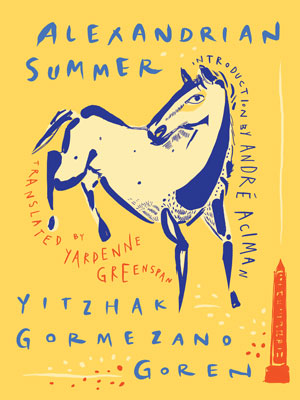 ALEXANDRIAN SUMMER by Yitzhak Gormezano Goren translated by Yardenne Greenspan New Vessel Press, 171 pages
reviewed by Justin Goodman
"The Irony of Nostalgia" From our Modernist forebears came an emphasis on the power of memory (think Marcel Proust). Yet they forgot to mention its overbearing sibling, nostalgia. Overbearing not only because it tends to act as "a screen not intended to hide anything–a decoration meant only to please the eye," but also because it obscures history. In effect, it fetishizes the past. It makes Alexandria the "strange, nostalgic European landscape" of Yitzhak Gormezano Goren's
Alexandrian Summer
(translated for the first time into English by Yardenne Greenspan). One would expect an aestheticizing impulse of, as André Aciman informs in his introduction, a man who "aged ten…left his home on the Rue Delta in Alexandra" and then saw the military overthrow of King Farouk "dissolve all remnants of multi-national life in Egypt."
Alexandrian Summer
is nigh a
roman à clef
, following the arc of the author's life up to his fortuitous migration from this anti-Semitic cosmopolitan fantasy to Israel to join his brothers. Nonetheless, despite his intimacy with his history, Goren avoids any such pathos. All nostalgic bliss is converted to a ...
Read the full text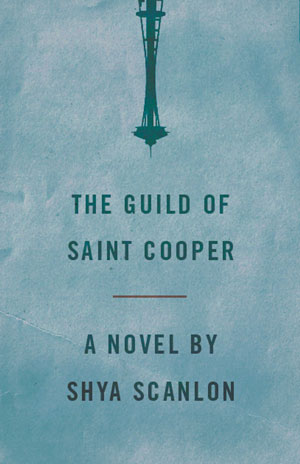 THE GUILD OF SAINT COOPER
by Shya Scanlon
Dzanc Books, 413 pages
reviewed by Justin Goodman
"Spasms of the diaphragm," the twentieth century theorist Walter Benjamin remarks, "generally offer better chances for thought than spasms of the soul." And who hasn't been convinced, softened to a position, by comedy? This is the principle behind Shya Scanlon's newest novel,
The Guild of Saint Cooper
, which returns to the self-conscious comedy, and literary meditation, of his first novel,
Forecast
(2012). It's unsurprising that Scanlon has circled back towards laughter after his 2013 novel 
Border Run
—geographically too, from Seattle to Arizona to Seattle—since it is clear he prefers to induce spasms of the diaphragm. But a novel of so much laughter can betray itself. Watching mildly funny Youtube videos with friends in an uproar invites a similar feeling. It's a dare not to laugh, a dare not to take the laughter sincerely, and thus create an irreparable distance.
The Guild of Saint Cooper
begins in waiting, and being "tired of waiting." Blake Williams, narrator and, in Scanlon's meta-structure, author of
Forecast,
has returned to his mother's house to wait for their emergency radio to "roar to life and announce the collapse of the Ross Ice Shelf…trigger a tsunami…and ...
Read the full text