A recent graduate from Purchase College, Justin Goodman is working to establish a career and develop knowledge of the literary scene. His writing has been published in Submissions Magazine and Italics Mine.
---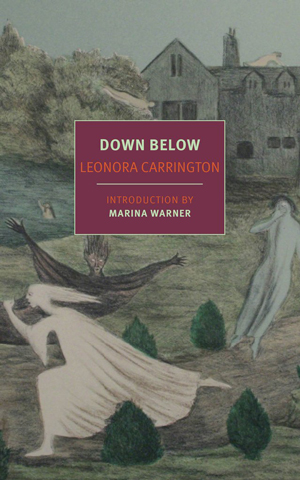 DOWN BELOW by Leonora Carrington introduction by Marina Warner NYRB Classics, 112 pages
reviewed by Justin Goodman
A hundred years after Leonora Carrington's birth, her painting and writing seems, to the modern viewer, as defamiliarized and spontaneous as it did when it first appeared under the Surrealist banner. The surrealist label, however, is at best an oversimplification of Carrington's legacy—and a label that she, herself, rejected. As she said in an interview with editor Paul De Angelis,"The closest thing that came to convincing me [that her work references spiritual associations] was Tibetan Buddhism." Carrington was no Buddhist nun; however, she lived singularly and peculiarly, often at the border of stability, the pinnacle of which was her institutionalization in Santander from 1940 to 1941 following a severe nervous breakdown at the age of twenty four. Once out, she would go on to write a memoir of the experience in English—subsequently lost—then dictate the experience in French to the wife of a friend of the Surrealists, from which it was translated into English and published in 1944. Then reprinted in 1988. Then reprinted this year, to celebrate Carrington's 100th birthday. Writing in the introduction to the 1988 edition, novelist and mythographer Marina Warner notes that
Down Below
 is ...
Read the full text