ALEXANDRIAN SUMMER by Yitzhak Gormezano Goren reviewed by Justin Goodman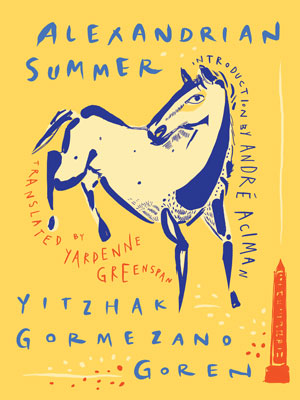 ALEXANDRIAN SUMMER
by Yitzhak Gormezano Goren
translated by Yardenne Greenspan
New Vessel Press, 171 pages
reviewed by Justin Goodman
"The Irony of Nostalgia"
From our Modernist forebears came an emphasis on the power of memory (think Marcel Proust). Yet they forgot to mention its overbearing sibling, nostalgia. Overbearing not only because it tends to act as "a screen not intended to hide anything–a decoration meant only to please the eye," but also because it obscures history. In effect, it fetishizes the past. It makes Alexandria the "strange, nostalgic European landscape" of Yitzhak Gormezano Goren's Alexandrian Summer (translated for the first time into English by Yardenne Greenspan). One would expect an aestheticizing impulse of, as André Aciman informs in his introduction, a man who "aged ten…left his home on the Rue Delta in Alexandra" and then saw the military overthrow of King Farouk "dissolve all remnants of multi-national life in Egypt."
Alexandrian Summer is nigh a roman à clef, following the arc of the author's life up to his fortuitous migration from this anti-Semitic cosmopolitan fantasy to Israel to join his brothers. Nonetheless, despite his intimacy with his history, Goren avoids any such pathos. All nostalgic bliss is converted to a mourner's Kaddish. The novel's characters are impulsive, obsessive, and repressed; its future is inevitably bleak. Goren confines the mythical, in "this mythical metropolis," to the telling. "I just want to tell the story of one summer," the narrator begins the story, "a Mediterranean summer, an Alexandrian summer."
It's the summer of 1951 when "a Jewish family [that] came from Cairo…came to Alexandria for a summer of joy." The summer when the family's eldest son, "David Hamdi-Ali tall as a toreador, blonde as a Nordic cavalier, elegant like Rudolpho Valentino," attempts to woo and wed the Alexandrian Anabelle. To an extent, this marriage plot is the narrative locus. All eyes turn to Anabelle to determine if she will take the wealthy and talented jockey.
Yet, with the clarity and complexity of Austen, Goren's centerpiece elaborates on its periphery. The apex of their romantic drama, for instance, reads like "two boxers…going on…with an almost mechanical inertia," from ultimatum to ultimatum: She tries to shake him off by demanding that it's "either me or racing." David says he will "give it up, damn it." "She stopped in her tracks. It couldn't be." And following ruminations of this nature he continues, "…after I finish this season." And so on. Alexandrian Summer leads to these moments when the minutest answers rock the world. This is the genius of them. They're also what corrupts everything that comes afterward. Decisions are earthquakes and the future is its aftershock.
Perhaps a grim metaphor, but it is demanded of a novel in the shadow of destruction. One would have to go back to–the analogy must be emphasized–Austen's Mansfield Park to find such bleakness, such fatedness, such a corrosive social world that can't help but be dreamed of. Even including the "Victorian society…bind[ing] itself by the webs of convention," gossipy grandmothers tut-tutting, pushing for marriage, and racisms that lets you "live like a carefree lord" if you were European, "or at least Jewish." This lurking aspect of nationality creates a shadow of its own, shading all interactions. Often it is grim, light, and cheeky. At times the shading is too rough, as with the introduction of the jockey who eventually beats David, the Arabian Al-Tal'ooni, who is so consistently envisioned as a Mohammedian figure as to become a figurine. Sacrifice of character for polemics is rare, otherwise.
To call Alexandria "cosmopolitan to the bone," as the narrator does, comes across as bitterly ironic then. The characters saying, they "love her so much, Alexandra," almost acidic. It is impossible to deny the wistfulness though. A sense of simplicity lost drives the telling without the suggestion of Eden. Whereas nostalgic love would linger on that blissful eternity, Alexandrian Summer is a felix culpa. Why do they love Alexandria? Because "something is rotten, truly rotten." It is a more noble, and more nuanced, love than can be found in most literature. The real romance of this novel is not person to person, but memory to storyteller. It is enough to note that the only person to explicitly die in the novel is Joseph Hamdi-Ali, who had rejected his history for another's. Whether this was freedom or condemnation could not be said, since he could never erase his history. As a mark of Goren's gentleness, Hamd-Ali's wife "Emilie almost smiled with relief" at his peace.
The book opens with the native Alexandrian family's youngest, Robby, as he scribbles down license plate numbers in his notebook to fill in his free time. "'What a cacophony,' says one women. And, indeed, the aerial view of Alexandria is of ants "running around…as if there were purpose to all this frenzy." Perhaps that is all one can do, fill in the free time of the past, through close study recreate some stained Shangri La. Nostalgia, as history reminds us in the anecdotes of its elderly, has the blessedness of a long life. What we have in Goren is an anti-nostalgia: it ends with "the rain splattered over the numbers, the water blurred the ink, blurred the shapes, erased everything." What makes this summer one to recall, what makes most summer films forgettable, is its sense of eternity in ending. Eventually comes winter.
---

A recent graduate from Purchase College, Justin Goodman is working to establish a career and develop knowledge of the literary scene. His writing has been published in Submissions Magazine and Italics Mine.