Stephanie Trott received a B. A. in English and Creative Writing from Bryn Mawr College in 2012. Her work has appeared in
Polaris: An Undergraduate Journal of Literature and Arts, Bryn Mawr's Nimbus magazine
, and the premiere issue of
Buffalo Almanack
. An aspiring writer and photographer, she is pursuing an MFA in fiction at the University of North Carolina in Wilmington. 
---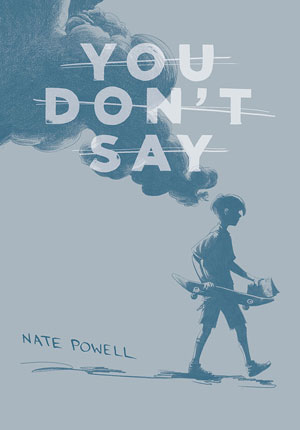 YOU DON'T SAY by Nate Powell Top Shelf Productions, 176 pages
reviewed by Stephanie Trott
Given ten years, an artist can undergo a series of personal evolutions that may come to mark them as a master. Among these seasoned individuals sits Nate Powell, a graphic novelist who has been writing and self-publishing since the age of fourteen. His most recent collection,
You Don't Say
, presents seventeen short stories written over the course of a decade that celebrate the range of realizations that contribute to our inevitable maturation. Targeting a young adult audience, these narratives are relatable to all who are in or beyond those infamous teenage years. From nights spent idling in barren parking lots to the realization that we will not forever willingly stay up past 3 A.M., Powell captures the
a-ha!
moments that come to define us as adults in the face of calendar rotations. Each installment features a brief text-based introduction that both describes the inspiration for the following piece and explains the comic in relation to the artist. Powell also includes suggestions as to how certain pieces should be read, asking the reader to consume several in one go or to allow features to work as ...
Read the full text