RELISH: MY LIFE IN THE KITCHEN By Lucy Knisley reviewed by Stephanie Trott
RELISH: MY LIFE IN THE KITCHEN
by Lucy Knisley
First Second Books, 173 pages
Reviewed by Stephanie Trott
Never crowd the mushrooms.
It's a mantra recited time and time again in cookbooks, culinary shows, and even some Hollywood films. But without understanding what this actually means, as one's interpretation will invariably differ from another's, the only result is a disappointingly inconsistent sauté. In the absence of visual representation, one may interpret crowding as tight as a tin of sardines or as light as a bag of fluffy marshmallows.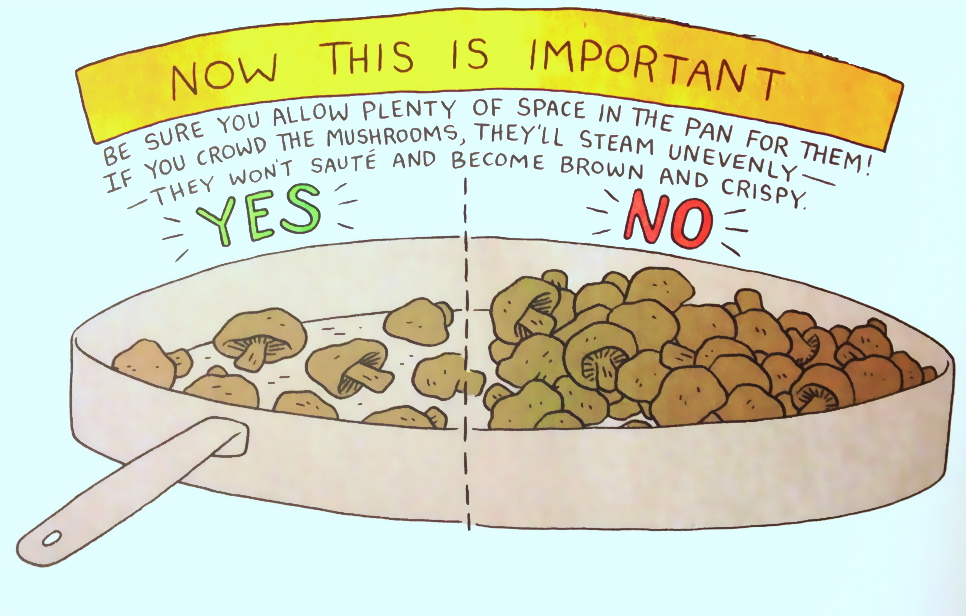 Enter Lucy Knisley and her graphic memoir Relish: My Life In the Kitchen, a bright collection of stories and memories centered on food, her family, and her upbringing. Following Knisley from the countertops of her childhood apartment in downtown Manhattan to early mornings at The School of the Art Institute of Chicago, her homemade meals and grocery lists guide the reader through a childhood of bustling movement and taste exploration. Not one to shy away from the use of color, Knisley portrays hand-drawn interpretations of dishes long since consumed, as though they lay perfectly preserved in her mind.
A self-described puppeteer, ukulele player and food/travel writer, Knisley grew up in a world surrounded by a family of foodies: her mother, a former Dean & Deluca employee who formed her own farmer's market stands in upstate New York, and her father, a refined eater who prefers to savor taste through dining out in search of the perfect meal. Her parents, who she likens to Zeus and Demeter, each independently accompany her on culinary journeys spanning the globe, plopping her everywhere from Japan to Canada —with every imaginable nourishment and delicacy waiting for us to optically feast. Like a time-traveling stowaway, we simultaneously indulge in Roman hot chocolate, roadside tamales with hot sauce and lime in San Miguel, and five apricot-jam croissants on the banks of a Venetian canal.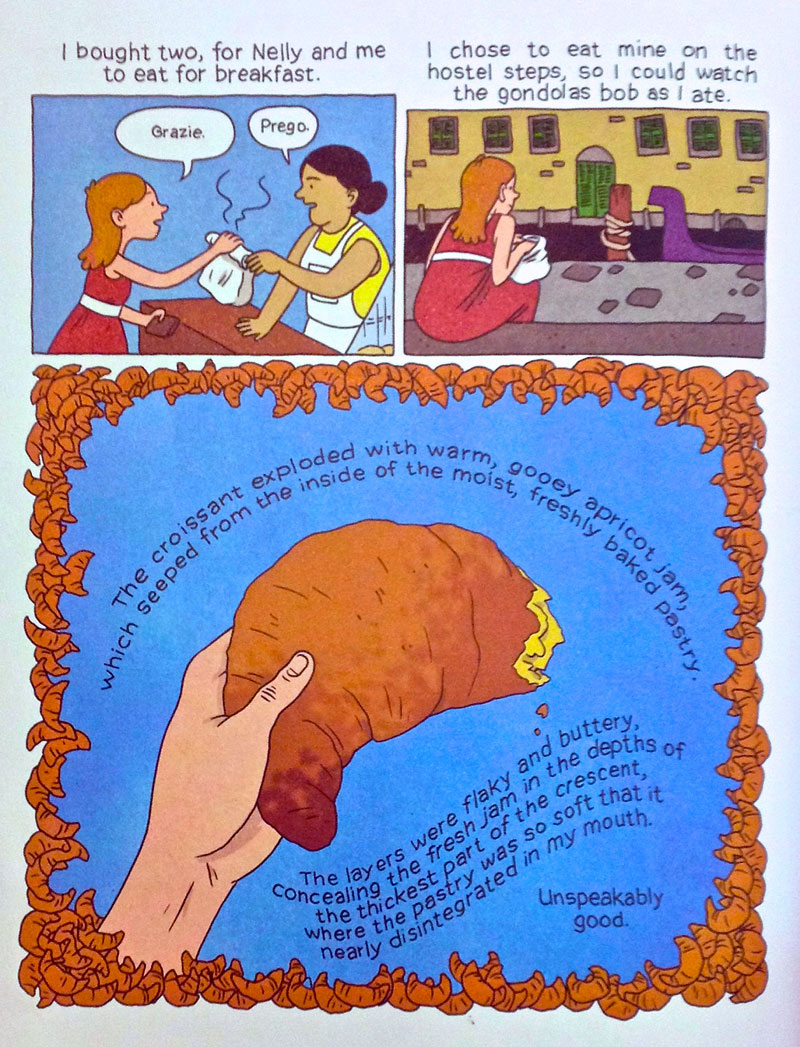 Wafting among the paneled stories like the sweet smell of those hot croissants lies the notion of food as a signal of place, specifically that of home. After a long trip with her father, the two embark back to Knisley's home to find stacked enchiladas made by the author's mother. This notion of repast as a portal to the familiar resurfaces again at the conclusion of Knisley's undergraduate years, when she is struck with a bout of homesickness. "I wanted to discover New York like I'd done with Chicago," she writes. "A new and old place at once, different from the perspective of adulthood."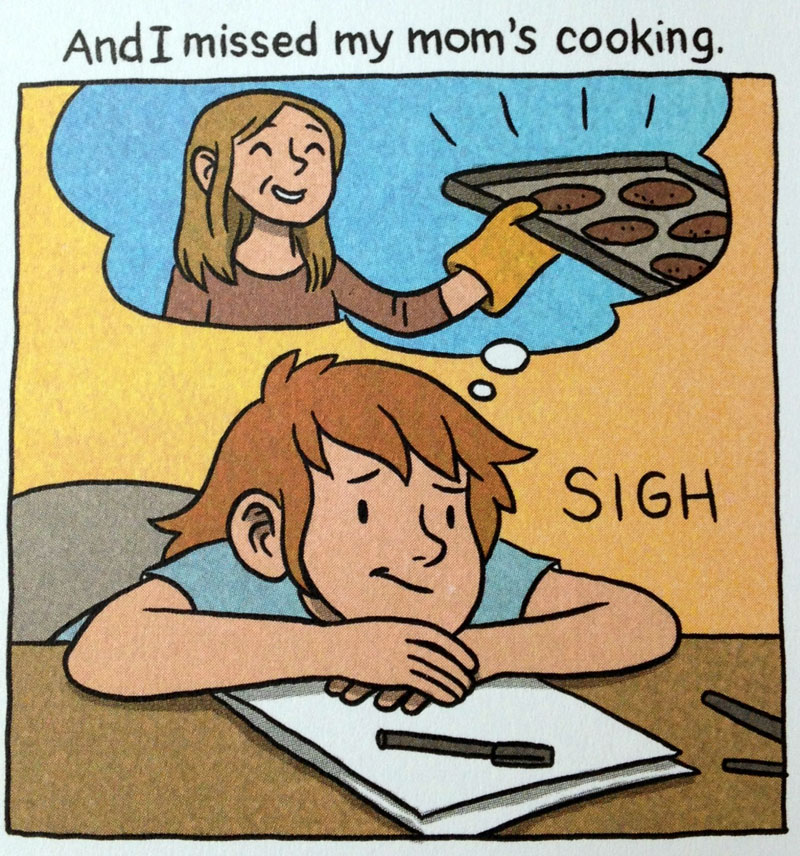 Perhaps in an attempt to jog the culinary childhood memory of the reader or just to share specific kitchen advice, Knisley has peppered recipes, tips, and guides at the end of each Relish chapter. She instructs in the voice of a master, one with humble expertise and patience that explains everything from how to make your own pickles and a cheese cheat sheet to the best way to roll your own sushi. Where words can only convey so much information, Knisley is there to provide the reader with an optical feast of color, texture, and just how a meal is supposed to look as it comes together. She allows her comedic voice to shine through, suggesting not to let butterflies anywhere near a butterflied leg of lamb and jovially recalling the juvenile misadventures she and a friend experienced in Mexico.
A regular renaissance woman, Knisley demonstrates with precision that she is an artist: both in the kitchen and on the page, her craft is polished, playful, and relatable to both young and seasoned readers. Whether read as a memoir about growing up, kitchen escapades, or tried and true recipes, Knisley's Relish: My Life in the Kitchen is delicious.
---

Stephanie Trott 
received a B.A. in English and Creative Writing from Bryn Mawr College in 2012. Her work has appeared in 
Polaris: An Undergraduate Journal of Literature
and Arts, Bryn Mawr's 
Nimbus
 magazine, and the premiere issue of 
Buffalo Almanack
. An aspiring writer and photographer, she presently lives and works in Mystic, CT.