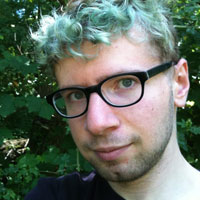 Gabriel Chazan, a filmmaker and writer, is from Toronto, Canada. He is a recent graduate of Sarah Lawrence College. He particularly enjoys writing about contemporary art and photography.
---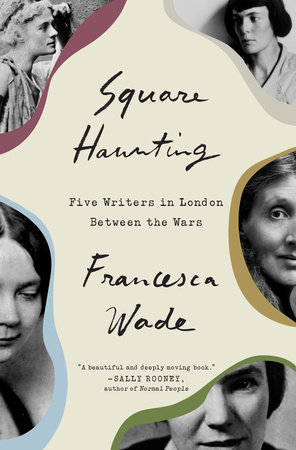 SQUARE HAUNTING
by Francesca Wade
Tim Duggan Books, 383 pages
reviewed by Gabriel Chazan
Purchase this book to benefit Cleaver
In a short piece of writing on "London Under Siege," written during World War II, Virginia Woolf wrote that "everybody is feeling the same thing: therefore no one is feeling anything in particular. The individual is merged in the mob." Reading these words now, as we live through a different collective social crisis, I am reminded of the significance of individual intellectual and emotional life as a key form of sustenance and even political action. I came across this quote in Francesca Wade's 
Square Haunting
, an examination of the intellectual and personal lives of five furiously independent women living in Mecklenburgh Square, at the far edge of Bloomsbury, between the two world wars. In her introduction, Wade expressly notes that "these women were not a Bloomsbury Group: they lived in Mecklenburgh Square at separate times, though one or two knew each other, and others were connected through shared interests, friends, even lovers." All five women were searching for ways to find fulfilling and engaged public lives in times of emergency, yet their views on how to do this ...
Read the full text
WAYWARD LIVES, BEAUTIFUL EXPERIMENTS: INTIMATE HISTORIES OF SOCIAL UPHEAVAL by Saidiya Hartman W.W. Norton & Company, 304 pages
reviewed by Gabriel Chazan
Purchase this book to benefit Cleaver
What is a free life? This seemingly simple question is, of course, anything but simple. Theorizing a possibility of a free life with a recognition of the various structural oppressions in society is a challenge brought to vivid life in
Wayward Lives, Beautiful Experiments
by Saidiya Hartman. For her study of the alternative paths traced by young black women in New York and Philadelphia at the turn of the twentieth century, Hartman, a professor of English at Columbia, adopts a literary rather than an academic register. She gives voice to a wide-ranging chorus of women telling a story of resistance to an oppressive reality. In search of the ordinary, the anonymous, she turns to the archives: to police reports, photographs, and clinical notes with the aim of locating those who are otherwise lost. These 'ordinary' lives offer glimpses of thrilling possibilities of how to live. Hartman allows these historical voices to fluidly reverberate in the body of the narrative.  Although the theoretical and cultural world of our contemporary moment, from Fred Moten ...
Read the full text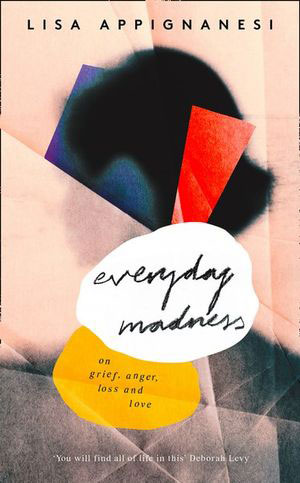 EVERYDAY MADNESS:
On Grief, Anger, and Love
by Lisa Appignanesi 4th Estate, 261 pages
reviewed by Gabriel Chazan
Lisa Appignanesi's latest book comes at a time in which most of us regularly feel beside ourselves in what she describes as an "everyday madness." She devotes herself to describing this mundane madness, something which could be called trauma but is experienced by almost everyone, in three manifestations. The first section of the memoir, on grieving her late husband John, is already startling in its blunt reality: his last words to her, which I will not include here, are far from kind. Already here, however, the reader finds something different from the narrative that might be expected: "this is not a romantic tale," she writes. Although we see a slow healing, what is presented here and what interests her most is a close examination of the taboo moments of anger and unmooring so bound up in grief.
This is a book of ideas almost masquerading as a memoir. Appignanesi is a writer acutely interested in psychoanalysis and literature, swiftly bringing both Freud and Hamlet to bear on her own story and toward thinking about the role of the widow.
If this were all ...
Read the full text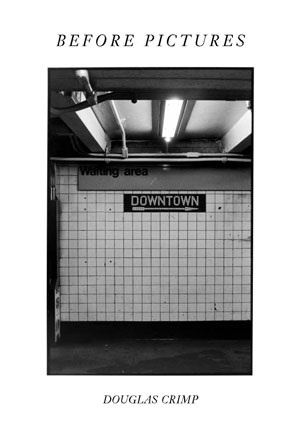 BEFORE PICTURES
by Douglas Crimp
University of Chicago Press/Dancing Foxes Press, 307 pages
reviewed by Gabriel Chazan
Douglas Crimp's memoir
Before Pictures
invites readers into the lively artistic and queer worlds of 1960s to 1970s New York where Crimp was formed as an art historian. This is the same New York which brought him to curate
Pictures,
a small exhibit at Artist's Space now considered pivotal to ideas about contemporary art. In the art history textbook
Art Since 1900
(2004),
Pictures
is historicized as having given a platform to artwork meant to give "a new sense of the image as 'picture'" and to "transcend any particular medium." Here, Crimp embraces this transcendence in a different way. In his consideration, no single art form, from fashion to architecture, comes out as primary. On the inside covers of
Before Pictures
are two New York City subway maps from 1972. The book structured by the stops where Crimp has resided—it is Crimp's many encounters, intellectual, artistic, sexual and architectural, on the city streets which anchor this memoir. Just as there are stops on the subway line, there are many different and often unexpected stops of interest in Crimp's own intellectual journey ...
Read the full text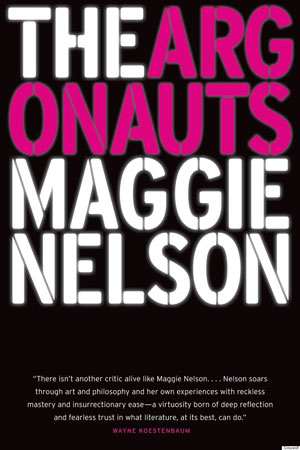 THE ARGONAUTS by Maggie Nelson Graywolf Press, 160 pages
reviewed by Gabriel Chazan
Sometimes an idea reverberates and echoes for a long time, like a song. This was my experience reading Maggie Nelson's revelatory new memoir,
The Argonauts,
which starts with an idea Nelson found reading Wittgenstein: "the inexpressible is contained—inexpressibly!—in the expressed…" She goes on to describe that its paradox is, quite literally,
why I write,
or how I feel able to keep writing." Nelson wrote the book while she was with her partner, the non-binary trans artist Harry Dodge, and pregnant with their first child. At one level, 
The Argonauts
recounts her experiences as a writer in a relationship with Dodge, whose gender identity consciously resists the traps of language. In attempting a reconciliation of the two perspectives, Nelson tries to find a freedom
through
language. More than simply telling a 'story', Nelson considers here the act of trying to bring experience into language and ideas, particularly those which seem to oppose this very act. She incorporates an array of ideas from theorists ranging from Judith Butler to Wittgenstein in order to consider the inexpressibles of gender, sexuality, joy, and the seeming contradiction of queer parenthood and marriage—an experience increasingly brought into the mainstream of social structures and ...
Read the full text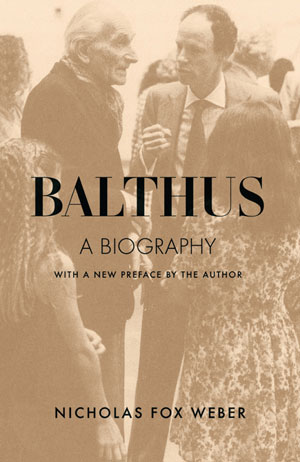 BALTHUS: A BIOGRAPHY
by Nicholas Fox Weber
Dalkey Archive Press, 656 pages
reviewed by Gabriel Chazan
When looking at the paintings of Balthus, the viewer can't help but react. Seeing paintings of young and often pre-pubescent girls and women in poses loaded with a strange sexuality, there is no possibility of cool remove. The viewer is made to consider actively their role in looking at the young women in these sometimes cruel, always compelling, provocative and often beautiful images. Balthus's images have a strange, almost dreamlike hold, as they look back at us, impenetrable and confrontational. Balthus himself is somewhere in them yet distant. He wished his life to be separate from his work, something to be never included in exhibits or official publications, only "a misleading and harmful screen placed between the viewer and painter…paintings do not describe or reveal a painter." He almost entirely obscured the true facts of his life, recreating himself as a count and rendering himself a challengingly elusive subject for biography. He placed the most responsibility on those looking at his work to react to whatever sexuality or darkness they might find in the work as their own perception. The relationship of ...
Read the full text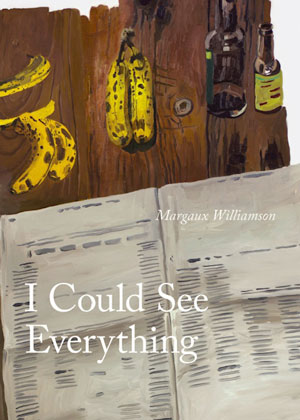 I COULD SEE EVERYTHING: THE PAINTINGS OF MARGAUX WILLIAMSON
by Margaux Williamson
Coach House Books, 164 pages
reviewed by Gabriel Chazan 
There's something otherworldly about the actress Scarlett Johansson. Earlier this year she played an alien in
Under The Skin
and, in one of the most striking paintings in the artist Margaux Williamson's new book,
I Could See Everything,
she plays the universe. The painting, called
I thought I saw the whole universe,
is a portrait of Johansson—or more precisely the infinite landscape represented by her wearing Versace for The New York Times. The dress is hypnotic, with what seems like a galaxy in the center. The dress becomes covered in shimmering stars and triangles. Something approaching the vastness of the universe can be seen emerging in Scarlett Johansson's absented figure and the dress, from this magazine page. This is even further eclipsed in the later painting
study: universe
in which the figure is entirely taken away to show only this vast space. Looking through Williamson's book, I found myself thinking of the Canadian landscape painters in the Group Of Seven. Like the Group of Seven and more contemporary artists like Peter Doig, Williamson brings us landscapes from the Canadian ...
Read the full text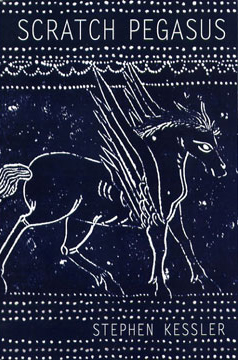 SO LONG, SILVER SCREEN
by Blutch
Picturebox, 88 pages
reviewed by Gabriel Chazan
Every film is a ghost story. When we go to the theater, we see flickering images of things in the eternal past yet present which persistently haunt us. This observation cannot be avoided reading the French cartoonist Blutch's new graphic essay/novel
So Long, Silver Screen.
With this book, Blutch summons the ghosts from his own filmgoing past to consider the film form. Death pervades the book from the very first panel in which a woman writes, "Adieu Paul Newman." When the woman tells her lover Newman is dead, he reacts in disbelief: "it can't be—I think about him every day" as if, by being captured onscreen, stars are immortal. Blutch has decided to try his hand at film criticism. The book is largely comprised of discussions and arguments between a man and woman about film. We get all of the enduring debates—theater or film, how are women treated in film, and many more. In the discussion of why film is better than theater, the unnamed woman says that "movies give us something plays don't...faces...and to top it off, dead people's faces, too." The book reminds us constantly ...
Read the full text