BEFORE PICTURES, a memoir by Douglas Crimp, reviewed by Gabriel Chazan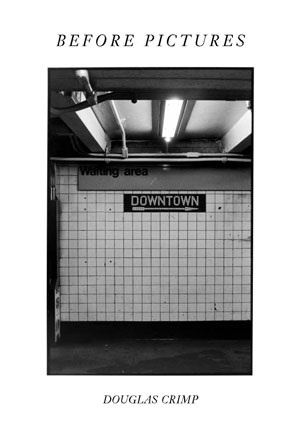 BEFORE PICTURES
by Douglas Crimp
University of Chicago Press/Dancing Foxes Press, 307 pages
reviewed by Gabriel Chazan
Douglas Crimp's memoir Before Pictures invites readers into the lively artistic and queer worlds of 1960s to 1970s New York where Crimp was formed as an art historian. This is the same New York which brought him to curate Pictures, a small exhibit at Artist's Space now considered pivotal to ideas about contemporary art. In the art history textbook Art Since 1900 (2004), Pictures is historicized as having given a platform to artwork meant to give "a new sense of the image as 'picture'" and to "transcend any particular medium." Here, Crimp embraces this transcendence in a different way. In his consideration, no single art form, from fashion to architecture, comes out as primary.
On the inside covers of Before Pictures are two New York City subway maps from 1972. The book structured by the stops where Crimp has resided—it is Crimp's many encounters, intellectual, artistic, sexual and architectural, on the city streets which anchor this memoir. Just as there are stops on the subway line, there are many different and often unexpected stops of interest in Crimp's own intellectual journey leading to Pictures.  One ramshackle building, "legendary among early art world inhabitants of Tribeca," is featured in a Joan Jonas performance and later a Cindy Sherman photograph and happens to be "just down the block from where I lived in the mid-1970s." Post-structuralism and love of dance intermingle in Crimp's friendship with his fellow critic Craig Owens and their many nights at the New York City Ballet. Crimp shares a night with Ellsworth Kelly at Kelly's apartment in the Hotel Des Artistes. With an early boyfriend, Crimp regularly attends Anthology Film Archives where he discovers a work by Joseph Cornell. The art history that Crimp recounts arises from the streets of New York and his experience of them.
As this brief summary makes clear, Crimp takes many detours from the expected framing of his art historical moment, discussing as much how he found fascination in disco as in the galleries. The book deviates from any simple delineation of scholarship and life, finding its structure in Crimp's movement around the city and thought, from the queer world to the art world. Crimp begins the book with a chapter on the division between the front rooms and back rooms of Max's Kansas City, an art bar. These rooms are seen by Crimp to represent the division "between the art world and queer world" that he "would negotiate throughout my first decade living in New York City," the time chronicled here. As a document of both the queer world and the art world of this period, Crimp's writing here is extremely valuable.
As Crimp notes at the end of the book, "the art scene as I experienced it in New York from 1967 to 1977 was small enough to seem fully comprehensible. That, of course, no longer holds true. And because it is so clearly not true, it seems unlikely that it could really have been true then." This new sense of perspective "has allowed me to write about what attracts me, challenges me, or simply gives me pleasure without having to make a grand historical claim for it." The excerpts of Crimp's historical writing from the earlier period included in Before Pictures show a constant effort to historicize and place art within trends and moments. While sometimes this proves simple, occasionally, as in the case of the painter Agnes Martin, it becomes a challenge and perhaps a limitation. The greatest enjoyment of this book is seeing Crimp's contemporary writing on art from his past liberated from simple historical argument, focusing on a multitude of types of art and open to complication. There is as much interest in pleasure, from wherever it comes, a trick or a photograph.
Toward the end of the book, in his description of his friend Craig Owen's translation of Derrida and commentary on his work, Crimp explains Derrida's conception of 'the Paragon' (detachment/frame) and the idea that:
we should attend to what aesthetic theory has heretofore excluded—the frame which supposedly differentiates the intrinsic from the extrinsic in a work of art. Derrida asks, What if aesthetics is not about what is intrinsic and what is extrinsic to the work of art but rather about the impossibility of distinguishing the two…In other words, heeding Craig's call to turn our attention to the paragon, among those aspects of the frame to which we need to attend are its instability, the impossibility of locating, fixing its place with regard to art's inside and outside.
Within Crimp's frame of the subway line and the time before Pictures, he moves past simple delineations of the intrinsic and extrinsic. The many frames of his life (historical, artistic and biographical) are made both central and destabilized. The political, social, and sexual context is placed equally alongside discussions of art. It is through its many diversions and side routes from a simplified frame that Before Pictures becomes such a quietly remarkable book. In both an act of scholarship and self-examination, Crimp offers a unique and varied exhibition of images and moments from his own coming of age and formation as an art historian. The images which are chosen here are all carefully selected and telling, including everything from Arnold Schwarzenegger posing at the Whitney to beautiful "cruising pictures" by Peter Hujar. A period of art history and a moment in New York is brought to life and newly complicated. The book allows us to see the omitted frame around Pictures and brings forward a new richness.
---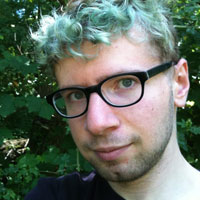 Gabriel Chazan, a filmmaker and writer, is from Toronto, Canada. He is a recent graduate of Sarah Lawrence College. He particularly enjoys writing about contemporary art and photography.