J.G. McClure's work appears in Gettysburg Review, Green Mountains Review, Colorado Review, The Pinch, and The Southern Poetry Anthology, among others. He has an MFA from the University of California-Irvine and is at work on his first collection. See more at jgmcclure.weebly.com.
---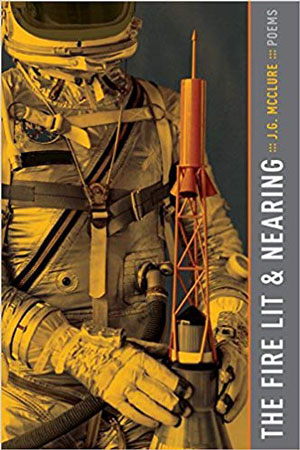 THE FIRE LIT & NEARING by J.G. McClure Indolent Books, 78 pages
reviewed by Kristen Sawyer
Purchase this book to benefit Cleaver
J.G. McClure's long-awaited first collection of poetry,
The Fire Lit & Nearing
meditates on the loss of romantic love and walks through darkness for an answer. McClure refuses, and simultaneously attempts, to mend himself on these pages. There are moments so quotidian—cutting nuts for pesto, a cat bringing gifts home—when McClure's desire to pull himself through his life, task by task, is visceral. Through gathering pieces of the material world, McClure attempts to construct an answer to the silence after heartbreak. This collection, and the answer it offers, is a darkly funny meditation on loss. With simple and honest language, these poems invoke a desire for recovery. The collection is laid out in four sections, nestled between an epigraph and epilogue. Each section can be seen as its own part of the healing process, one that invites the dark-minded to laugh at the misery and find solace in the discomfort of daily life. The first poem, "Multiverse Theory," is a lingering rumination on possible existences that he and the beloved "you" may have lived. He writes: There are ...
Read the full text