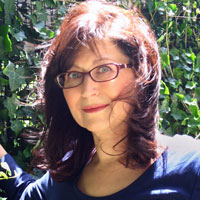 Lynn Levin is a poet, writer, translator, and teacher. Her work has appeared in Cleaver Magazine, Michigan Quarterly Review, Per Contra, Painted Bride Quarterly, Boulevard, and other places. She teaches at Drexel University and the University of Pennsylvania. Her website is www.lynnlevinpoet.com. The second edition of Poems for the Writing: Prompts for Poets (Texture Press) by Valerie Fox and Lynn Levin is expected to be published in 2018. "Eve and Lilith Go to Macy's" and Levin's other Lilith poems may be found here.
---
The superhero is a staple of pop culture, but poets can use elements of superhero identity to craft poems and explore their own mythology. Lynn Levin offers a writing prompt designed to allow poets to reach beyond the real in search of other truths.
WRITING THE SUPERHERO POEM
A Craft Essay
by Lynn Levin
Gods and demigods, the superheroes of myth and legend, have provided people with drama, wisdom, moral lessons, and hopes of divine intervention for thousands of years. Thunderbolt throwers like Zeus and Thor, fierce beauties such as Athena and Artemis, super-mortals like Hercules, not to mention countless deities and folk heroes from other world traditions may be seen as the forerunners of Superman, Batman, Zena Princess Warrior, Wonder Woman, and the rest of the comic book pantheon. Anthropologists tell us that the transcendent, that sense of unearthly force, is a universal feature of human perception (or the human imagination, depending on one's point of view). Today's supernatural pop-cultural good guys and bad guys tie into our attraction to the transcendent. We want larger-than-life fictional superheroes to rescue those in distress, combat the forces of darkness, and entertain us. While comic book writers, TV or movie producers, and ...
Read the full text