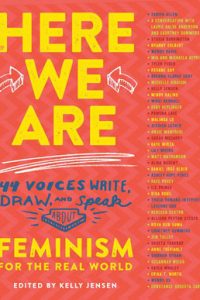 HERE WE ARE: FEMINISM FOR THE REAL WORLD
edited by Kelly Jensen
Algonquin Young Readers, 218 pages
reviewed by Kristie Gadson
Feminism. It's an ideology that has long been approached with trepidation, met with both skepticism and controversy. There have been countless articles, papers, films, and books exploring and defining the concept. However,
Here We Are
is more than a series of essays on feminism. It's a collection of stories, blog posts, comics, drawings, and interviews featuring an array of different voices – each more unique than the last – describing what feminism means and how it plays a role in our lives. Each page encourages readers to think about how they, as individuals, can relate to a belief that strives to unite us as a whole. "The people and the world around us shape our individual path to feminism…The journey is always changing, always shifting, and influenced by our own experiences and perspectives." The book is structured like a scrapbook, having a combination of calligraphy, designs, and doodles drawn across the pages, accenting each chapter. Not only is this visually appealing, it creates a sense of comfort that softens the intensity of the subject matter. Through its playful design ...
Read the full text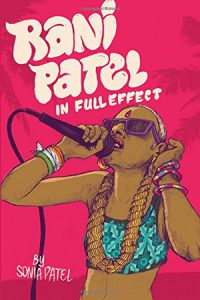 RANI PATEL IN FULL EFFECT by Sonia Patel Cinco Puntos Press, 314 Pages
reviewed by Kristie Gadson
In her debut young adult novel
Rani Patel in Full Effect,
Sonia Patel takes us back to the era of faded box cuts, high-top Adidas, and gold chains as thick as your wrist; to the era where hip-hop reigned supreme and rhymes flowed out of boom boxes like water down Moaula Falls. The year is 1991, and here we meet Rani Patel, a straight-A student council president by day and an emerging rapper under the stage name MC Sutra by night. In a one-of-a-kind mixture of nineties slang, pidgin Hawaiian, and traditional Gujarati, Rani's story is told from a perspective that's undeniably fresh and unapologetically raw. From the very beginning the book ensnares you with a powerful scene of Rani shaving her head after seeing her father with another woman. As her tears fall so, too, does all of her hair, giving herself the Indian mark of a widow. Her father once meant everything to her, and she meant everything to him—or so she thought. He lovingly called her his princess, and for a time they were nearly inseparable. With her father now ...
Read the full text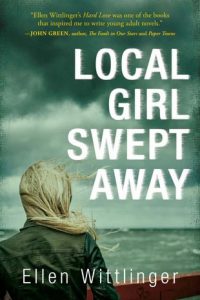 LOCAL GIRL SWEPT AWAY
by Ellen Wittlinger
Merit Press, 269 pages
reviewed by Kristie Gadson
Ellen Wittlinger's
Local Girl Swept Away
is a gripping story of loss, denial, and deception wrapped up in a page-turning mystery that's hard to put down. When Lorna is pulled underwater during a storm, her death shakes the community of Providencetown, but no one is more shaken than her best friend Jackie Silva. Lorna was everything Jackie feels she isn't: untamed, beautiful, brave, and outgoing—not to mention lucky enough to have had Jackie's crush, their best friend Finn, as her boyfriend. Jackie is the undisputed number two and it's something she has accepted about herself. But, with Lorna gone, life becomes confusing and uncertain. Who is she now? In Lorna's absence, Jackie slowly builds the strength to rediscover parts of herself she had forgotten. Her love of photography takes on a new fervor and, through the camera lens, she experiences the parts of her life that still hold meaning. Her increased volunteer work at the Jasper Street Arts Center opens doors that she didn't know could be opened: a chance at getting into her dream school, the Rhode Island Institute of design, and ...
Read the full text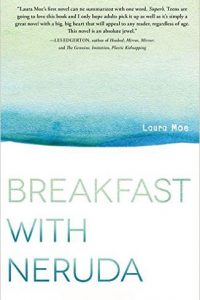 BREAKFAST WITH NERUDA by Laura Moe Merit Press, 252 pages
reviewed by Kristie Gadson
At some point in our lives, many of us bury parts of ourselves that we aren't ready to face. These layers can form over time; from people we've encountered, from situations we've endured, or from issues we've found lodged deep within our psyche. They can protect us, like a shield, from life's many fluctuations, and they can contribute to a great part of who we are. However, this protection can come at a cost–we can become distant, untouchable, and unreachable to those we love or resist the change we need to grow. In Laura Moe's debut novel,
Breakfast with Neruda
, we journey with Michael Flynn as he learns to peel back the layers that have shielded him for so long. We first meet Michael spending the summer cleaning his school, which serves as the first part of his two-part sentence after detonating his locker in an ill-conceived attempt to destroy his ex-best-friend's car. Through Moe's simple, yet, descriptive, writing, we soon realize that being condemned to custodial work and having to repeat his senior year are the least of Michael's worries. I go out to my car ...
Read the full text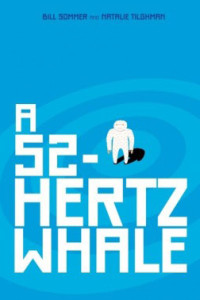 A 52-HERTZ WHALE by Bill Sommer and Natalie Haney Tilghman Carolrhoda Lab, 197 pages
reviewed by Kristie Gadson
When a humpback whale becomes separated from its pod, it emits a unique song in an effort to find its way back to its loved ones. When certain people experience feelings of isolation, they seek companionship through indirect social interaction. Bill Sommer and Natalie Haney Tilghman's
A 52-Hertz Whale
explores the nature of loneliness through a series of email correspondences, all between people with little else in common other than the desire for understanding. From the conversations of these starkly different people springs a series of beautiful, if uncanny, friendships.
A 52 Hertz-Whale
reveals that some of the most meaningful relationships can be forged even when the only thing we have in common is the fear of being alone. Fourteen-year-old James Turner ("whaleboy4ever@gmail.com") sends his first email after discovering that his adopted humpback whale, Salt, was separated from its migratory pod. Recent film graduate Darren Olmstead ("the.darren.olmstead@gmail.com") receives the long email detailing James' efforts to uncover the lost whale's whereabouts, and a plea for Darren's assistance. What a kid from a middle school social skills class wants with the guy who ...
Read the full text
---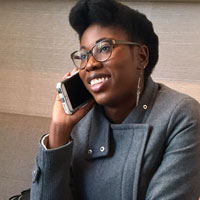 Kristie Gadson is a recent graduate of the University of Pennsylvania with a Bachelor's in English. But, formalities aside, she knew that children's books would become her passion when she found herself sneaking into the children's section of Barnes & Noble well after she turned eighteen. She is a strong advocate for diverse children's books, and writes diverse children's book reviews on her blog The Black Sheep Book Review.