RANI PATEL IN FULL EFFECT, a young adult novel by Sonia Patel, reviewed by Kristie Gadson
RANI PATEL IN FULL EFFECT
by Sonia Patel
Cinco Puntos Press, 314 Pages
reviewed by Kristie Gadson
Purchase this book to benefit Cleaver
In her debut young adult novel Rani Patel in Full Effect, Sonia Patel takes us back to the era of faded box cuts, high-top Adidas, and gold chains as thick as your wrist; to the era where hip-hop reigned supreme and rhymes flowed out of boom boxes like water down Moaula Falls.
The year is 1991, and here we meet Rani Patel, a straight-A student council president by day and an emerging rapper under the stage name MC Sutra by night. In a one-of-a-kind mixture of nineties slang, pidgin Hawaiian, and traditional Gujarati, Rani's story is told from a perspective that's undeniably fresh and unapologetically raw.
From the very beginning the book ensnares you with a powerful scene of Rani shaving her head after seeing her father with another woman. As her tears fall so, too, does all of her hair, giving herself the Indian mark of a widow. Her father once meant everything to her, and she meant everything to him—or so she thought. He lovingly called her his princess, and for a time they were nearly inseparable. With her father now out of the picture Rani turns to the one thing she can count on: rap.
For Rani, rap is more than just the kind of music she listens to. It comforts her amidst her mother and father's constant fighting, it's there when her father isn't giving her his undivided affection, and it soothes her during her loneliest moments. The lyrics of famous rappers like Run DMC, Queen Latifah, LL Cool J, and De La Soul help Rani make the best out of her difficult situation. In time, Rani gets the courage to put pen to paper and let her emotions loose on the page. By writing lyrics of her own she channels her thoughts into raps that express her sorrows, her fears, and the triumph she hopes to achieve at the end of it all. "Rap saved my life yo. And it's been saving me ever since."
When Rani receives a mysterious note inviting her to an underground rap society called 4eva Flowin', she's offered the chance to finally showcase her rapping prowess. With the help of of her friends and fellow 4eva Flowin' members, Pono and Omar, Rani takes to the stage. As MC Sutra, Rani channels an inner strength she never knew she had. With the mic in her hand and rhymes on her tongue, Rani becomes her truest self on the stage. During those moments she is a powerful force, she can stand up to her father's abuse, condemn him for his infidelity, and critique a culture that dictates a woman's worth is determined by the men around her.
Isolated wife, his alone—he's deprivin'
He got no love for her—cuz his ego lackin'
Wife a commodity—mirror crackin'
Had a kid to appease the masses, curry—curry culture
Raise her as your boo—perverse nurture…
…descended from his slaughter
me and a thousand other daughters.
As MC Sutra becomes increasingly involved with 4eva Flowin' so, too, does Rani's involvement with its founder, Mark. Despite warnings from Omar, Pono, and some of the 4eva Flowin' crew, Rani can't help but fall head-over-heels for him. Mark showers her with love, affection, and attention—the main things that are lacking in her life ever since her father left. Rani feels complete when she is with Mark, she is his queen, and she craves his love like batu (the Hawaiian slang term for crystal meth). Yet, as their relationship grows into something more serious, she notices the parallels between Mark's love and her father's, a harbinger of what's to come. Despite the signs that point to danger, Rani finds it hard to practice what MC Sutra preaches.
Sonia Patel combines her past experiences and her love of hip hop with her formal training as a psychiatrist to tell Rani's story. With a command of language that even the most seasoned of writers would envy, Patel tackles these difficult topics with ease. Through Rani, Patel addresses sexual abuse among women, a topic that many people tend to avoid. Patel explores it head on, revealing the ways in which different cultures perpetuate this behavior and how society places a stigma upon those unfortunate to have suffered through it. Patel masterfully examines this unavoidable truth and invites readers to think critically about these issues while giving them a story worth reading.
Rani Patel, MC Sutra herself, is so much more than a character on the page. As I read this book I thought of all the young girls, including myself at her age, looking for love in all the wrong places, whose experiences with their fathers shape their future interactions with men. Rani shows us the power every girl has inside themselves to break the cycle of abuse and reminds us that self love is what frees us up to become the amazing beings we are.
To my ladies it's up to you—
Stay strong through this life like you're bamboo.
His control ain't love, do not misconstrue…
Stand up to the persecution
and make your contribution.
Check out Sonia Patel performing lyrics from the novel on her YouTube channel.  
---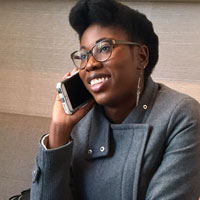 Kristie Gadson is a recent graduate of the University of Pennsylvania with a Bachelor's in English. But, formalities aside, she knew that children's books would become her passion when she found herself sneaking into the children's section of Barnes & Noble well after she turned eighteen. She is a strong advocate for diverse children's books, and writes diverse children's book reviews on her blog The Black Sheep Book Review.