WORTHY OF LOVE, a young adult novel by Andre Fenton, reviewed by Kristie Gadson
WORTHY OF LOVE
by Andre Fenton
Formac Publishing Company Limited, 199 Pages
reviewed by Kristie Gadson
Purchase this book to benefit Cleaver
Two hundred and eighty pounds.
For Adrian Carter that number isn't just his weight, it is his shame. A shame he tries to hide underneath layers of black clothing but still faces every day as he is bullied for his size. Tired of the constant ridicule and feelings of inadequacy, Adrian decides enough is enough, and he vows to shed the pounds one way or the other…no matter the cost.
Andre Fenton's heartful debut novel Worthy of Love follows Adrian as he struggles not only with his weight, but with his own sense of self-worth. Candid, earnest, and full of emotion, Fenton gives us a unique yet personal story about one journey toward self-love.
Desperate to drop his weight, Adrian scrounges up enough money to enroll in a few kickboxing classes. Along the way he meets Melody Woods, a skinny, quirky girl with a passion for health and fitness. Strong-willed but gentle, Mel's confidence shines – which both intimidates and enthralls the less confident, timid Adrian.
Much to Adrian's surprise, Mel is unfazed by his size and decides to help him develop a health regimen to get in shape. Despite her kindness and understanding, Adrian's anxieties start to get the better of him.
Maybe someday I'll be skinny…Maybe Mel will like me if I am.
With support from Mel and his kickboxing trainer, Scarlett, Adrian makes steady progress…until he looks at the scale. Against Scarlett and Mel's encouragement he regards the slowly decreasing numbers as a personal defeat. Adrian decides to take matters into his own hands to speed up his weight loss, but his drastic methods end up doing more harm than good – not only to his body, but to his mental health as well.
I stuck two fingers in my mouth. It was graphic, painful, and afterward my throat really hurt… [but] If it meant I would lose the weight faster, then maybe that was the way to do it.
Fenton doesn't just give us a weight loss journey, he also gives us the frenzy of emotions that surround one's struggles with weight. For Adrian, the greater damage is his self-image. Years of bullying, internalized views of masculinity, and self-pity have eroded his confidence. Mirrors and scales become the measures of his self-worth, flinging him into a downward spiral that hurts, not only himself, but those who care about him. Adrian's journey starts at weight loss but quickly transitions to a loss of self.
Fenton writes with such emotion it's as if he lays bare Adrian's soul on every page. But this is the allure of Fenton's writing – he's a spoken word artist, and his poetic flow connects Adrian's story with our own individual ones. His words never miss a beat, pulling readers in as if they are listening to his stunning live reads.
Candid, earnest, and full of emotion, Fenton gives us a unique yet personal story about one journey toward self-love.
Readers who've struggled – or continue to struggle – with their own weight will find themselves in Adrian; but the beauty of his story is that it applies to anyone who wrestles with self-image in some way, shape, or form. Without being heavy handed, the narrative is one of body positivity from a unique perspective. Adrian's plight is universal. His feelings are relatable and his path is hopeful and illuminating. What readers will take away from this story is a profound message that may take a while to sink in but will have an effect that will last a lifetime.
No matter what we look like, and no matter what the circumstance, we are all worthy of love.
---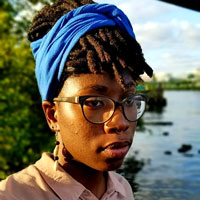 Kristie Gadson is a copywriter by day, a book reviewer by night, and an aspiring comic book artist in-between time. Her passions lie in children's books, young adult novels, fantasy novels, comics, and animated cartoons because she believes that one is never "too old" to learn the life lessons they teach. Kristie resides in Norristown on the outskirts of Philadelphia PA, which she lovingly calls "her little corner of the universe."
*If you or a loved one is suffering from an eating disorder, please contact the National Eating Disorders helpline at (800)-931-2237 or visit their website at www.nationaleatingdisorders.com.