Shinelle L. Espaillat writes, lives and teaches in Westchester County, NY. She earned her M.A. in Creative Writing at Temple University. Her work has appeared in Midway Journal.
---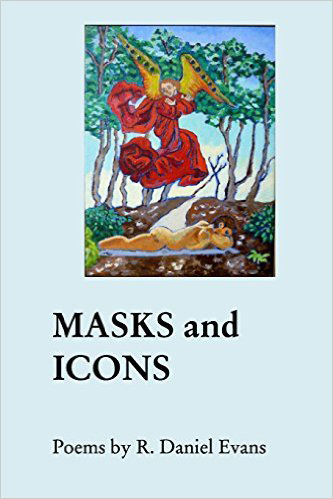 MASKS AND ICONS
by R. Daniel Evans
Blurb, 82 pages
reviewed by Shinelle Espaillat
In his fourth poetry collection,
Masks and Icons
, R. Daniel Evans examines the complexity of love and desire, and exposes the ways in which these emotions both intersect with and deviate from each other. Evans brings a microscope to the multiple small evidences of love in the world, using the lens of art to view the beauty and pain of interpersonal connection, inviting readers to look through the mask of the self and perceive the extraordinary. Section I, "From The Land of Walt Whitman," focuses on the intimacy and inner-life of a speaker's relationships with individuals, beginning with a one-sided conversation with Whitman himself. The narrator sits on a beach, fairly melting with desire over a distant beauty to whom he never speaks, but whom he imagines as Whitman's muse. He wonders how, with such an object of desire near him, Whitman "ever got any poems written," noting, in this metaphysical moment, that desire is an obstacle to his own work. Sexual desire, then, is all-consuming, and the speaker suggests that poets instead mine the world at large for the rich possibilities of interaction, with the ...
Read the full text