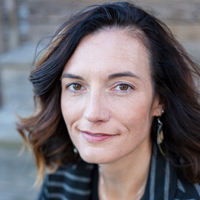 Ryan K. Strader earned a B.A. in Russian Literature from George Mason University and an M.A.T. from Clayton State University. She is currently an instructional designer and researcher. Her most recent instructional design project is the development of a class in writing and qualitative research methods at Georgia State University, where she is also a doctoral student. Her most recent publication is an upcoming book chapter on populism in young adult novels. She lives and works in the Atlanta area.
---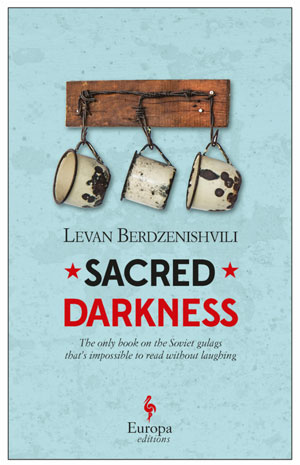 SACRED DARKNESS: THE LAST DAYS OF THE GULAG
by Levan Berdzenishvili
translated from the Russian by Brian James Baer and Ellen Vayner
Europa editions, 240 pages
reviewed by Ryan K. Strader
"As with any book, my book had its own special fate—it was born by mistake," claims Levan Berdzenishvili, in the opening chapter of
Sacred Darkness
. Levan wakes up in a hospital, sick and disoriented, with a high fever. He realizes he has some debts to pay before he can jaunt off to Hades. Levan is a specialist in Greek literature, so he doesn't talk of "dying." He refers to "my departure to Hades." Fortunately, Levan recovers from his fever and decides he has to deal with those debts. His debts have names: Misha, Borya, Vadim, and many others Levan knew when he was a political prisoner in the Soviet Gulag in 1983-1987. (The "Gulag" is a Soviet system of forced labor camps, where people convicted of everything from petty theft to political crimes were sent.) The first person Levan wants to write about is Arkady Dudkin: "I set pen to paper (or rather, glued myself to a keyboard) not to write a great work of literature or to search ...
Read the full text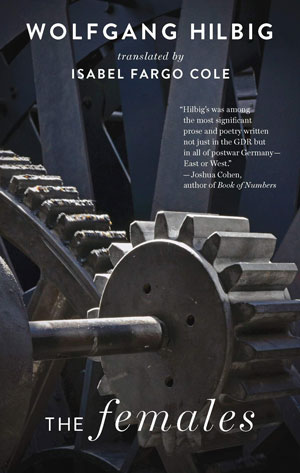 THE FEMALES by Wolfgang Hilbig translated by Isabel Fargo Cole Two Lines Press, 129 pages
reviewed by Ryan K. Strader
"Perhaps…I should speak of castration, castration that mutilated my interior world," mutters Herr C., the unnamed narrator of
The Females
. "I wasn't operated on, it was all left attached to me, but the cells that steered it were dimmed; my cells, certain cells of mine, were sterilized and castrated. It was a castration of the brain, and fair femininity was the forceps they used." Herr C. is speaking from the German Democratic Republic (East Germany), and his narrative addresses the problems of gender and sex in a society where gender divisions are supposed to be a thing of the past. Herr C. isn't physically castrated, but his masculinity is supposed to be "sterilized," the "cells" that govern his male perceptions are supposed to have been made inert. Except, the cells did not remain inert. It seems to be a general rule of human experience that whatever is denied becomes an obsession, and it's certainly true for Herr C.: his stream-of-consciousness narrative is shaped by "the females." He thinks about them constantly and looks for them everywhere. Is this a failure ...
Read the full text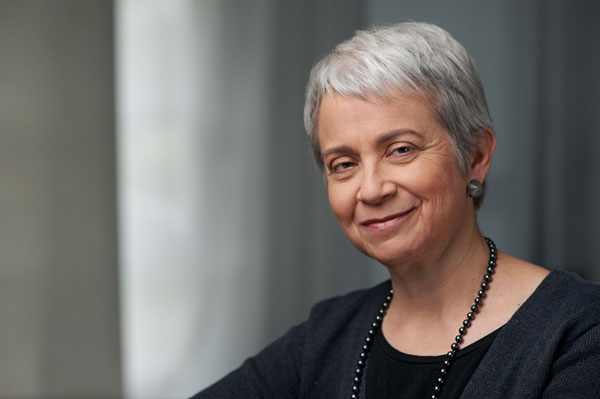 A Conversation with Translator Marian Schwartz Interview by 
Ryan K. Strader
"If books don't get published, they don't live," argues Marian Schwartz, the prolific and award-winning translator of over seventy Russian works. Thanks to Schwartz, significant 20th and 21st century Russian books have been brought to life, including work by Nina Berberova, Polina Dashkova, Mikhail Shishkin, and now Leonid Yuzefovich.
While doing research for
Cleaver's
review of Yuzefovich's
Horsemen of the Sands
,
I was intrigued by Schwartz's commitment to bringing Yuzefovich to English readers. She has translated the first of three novels in a historical detective trilogy by Yuzefovich (
Harlequin's Costume,
2001). And now Archipelago Books has just published
Horsemen of the Sands,
which contains both the title novella and a more recent novella,
The Storm
. Schwartz graciously allowed me to interview her about her advocacy for contemporary Russian literature in general, her appreciation for Yuzefovich in particular, and why we should read more translated literature.—
Ryan K. Strader
Ryan K. Strader: You translated Yuzefovich as early as 2001, and in a wonderful 2010 interview with The Writer's Guide, you describe Yuzefovich as a Russian novelist who you think the rest of the world should be reading. What is it about ...
Read the full text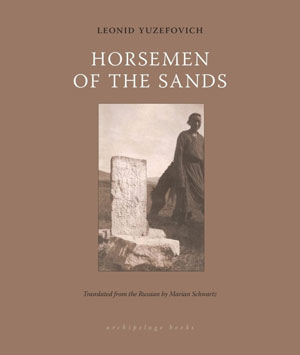 HORSEMEN OF THE SANDS
by Leonid Yuzefovich
translated by Marian Schwartz
Archipelago Books, 232 pages
reviewed by Ryan K. Strader
The translation initiative
Read Russia
characterizes Leonid Yuzefovich as a writer whose books "gray the lines between faction and fiction," using historical figures and settings in his work. "Faction" is for artful historians (or for historian artists, perhaps), writers who know how to be suspicious of fictionalizing, but also know that history is never just facts. This description of Yuzefovich makes sense, since he is a historian by training and taught history for many years, but has emerged as an influential contemporary fiction writer in Russia. Yuzefovich has been publishing fiction and nonfiction in Russian since 1980, but his work first appeared in English in 2013 with a series of historical detective novels, translated by the prolific Russian translator Marian Schwartz.
Horsemen of the Sands
is a new volume, also translated by Schwartz. The volume contains two novellas:
The Storm,
which takes place in an elementary school, and
Horsemen of the Sands,
a mystical tale about the real-life warlord R.F. Ungern-Shternberg, who fought both the Chinese and the Bolsheviks for control of Mongolia during the Russian Civil War, which ...
Read the full text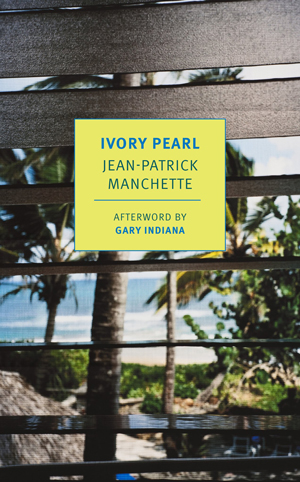 IVORY PEARL
by Jean-Patrick Manchette
translated by Donald Nicholson-Smith
New York Review Books, 170 pages
reviewed by Ryan K. Strader
The young heiress of a black market arms dealer is kidnapped, a kidnapper is decapitated, there are two fiery explosions, one man has been shot through and is still roaming around, and there is a rescue attempt. The rescue might be an inside operation, or it might be another kidnapping. The young heiress has vanished with a violent man who might be good or might be bad, and there are some other people looking for her, who might be good or might be bad. All this occurs on the first nine pages of
Ivory Pearl
. The bloody mayhem is dexterous and supple, perfectly choreographed and so
cool
. The cars are shiny and Italian, the weapons are exotic and expertly wielded.
Ivory Pearl
is Jean-Patrick Manchette's final and unfinished novel, now available in an English translation by Donald Nicholson-Smith. Manchette was known during his lifetime for his 1970s crime novels, noir that gained popular movie adaptations and made him a standard among French crime writers. This translation features endnotes on how Manchette envisioned the novel ending, and an introduction written by ...
Read the full text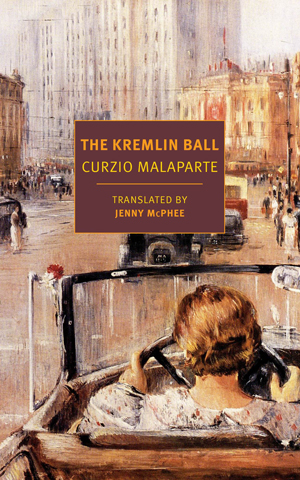 THE KREMLIN BALL
by Curzio Malaparte
translated by Jenny McPhee
New York Review Books, 223 pages
reviewed by Ryan K. Strader
In his introductory comments for
The Kremlin Ball
, Curzio Malaparte claims that his novel is "a faithful portrait of the USSR's Marxist nobility." Such a thing should be anachronistic: a Marxist nobility? A communist high society? But that is exactly what Malaparte, as the novel's narrator, is describing. In the late 1920s, the years following the Bolshevik victory but prior to Stalin's Great Terror, the "greedy, vicious […] profiteers of the Revolution" took up the old imperial aristocracy's places as an
haute société
. Malaparte describes the actresses, ballerinas, writers, government officials, athletes, and diplomats, all busy with their "court intrigues" of infidelity, peculiar obsessions, jealousies, blackmail, and backstabbing. Far from being a class of revolutionaries that Malaparte had imagined when he traveled to Moscow, these are a class of people willing to exploit revolutionary ideals so that they can enact the same class disparities that existed under the Tsars. Malaparte describes
The Kremlin Ball
as a "Proustian" novel, and it is in the sense that is largely an investigation of social class, with Malaparte as our "impartial" and critical ...
Read the full text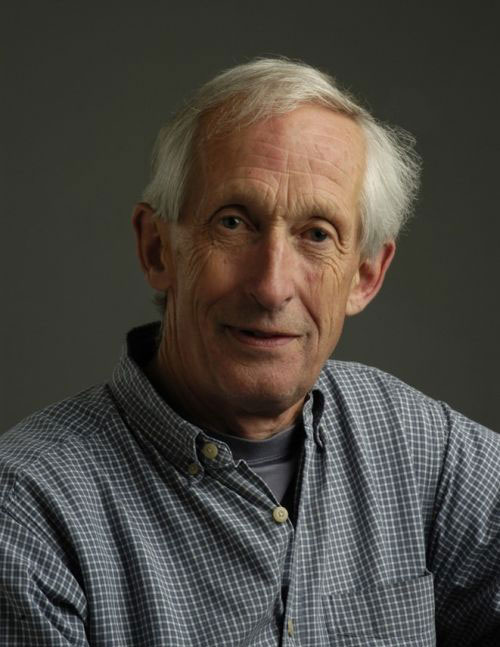 A Conversation with Peter France
translator of Gennady Aygi's TIME OF GRATITUDE
Interview by Ryan K. Strader
In 1974, Peter France visited Russia to do research for a new translation of Boris Pasternak. He was invited to meet Gennady Aygi, a Chuvash poet who, as a student in Moscow, had been friends with the much-older Pasternak. France describes that meeting with Aygi as having altered the trajectory of his life, both professionally and personally. For the next forty years, France would translate Aygi's work, bringing him to a Western audience, a task that has been criticized by those who argue that Aygi's poetics do not conform to Russian tradition.
France's most recent publication of Aygi's work is
Time of Gratitude,
published by New Directions in December 2017. Based in Edinburgh where he was a professor of French until 2000, France has written widely on French and Russian literature and has published an
Anthology of Chuvash Poetry
, and translations of Blok, Mayakovsky, and Mandelstam, among others.
I came into contact with France while researching Aygi for Cleaver's review of
Time of Gratitude
,
and was taken with his warmth and willingness to discuss all things connected with Russian literature, share his photos ...
Read the full text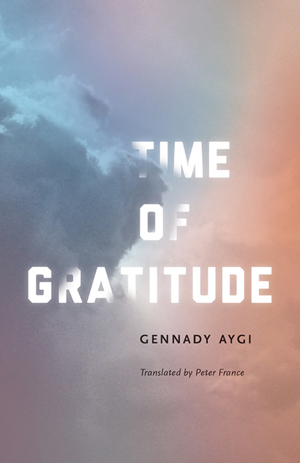 TIME OF GRATITUDE
by Gennady Aygi
translated by Peter France
New Directions, 135 pages
reviewed by Ryan K. Strader
When I was a twenty-one-year-old college student and had zero sense of self-preservation, I rode alone on the train in Russia several times between Petrozavodsk and St. Petersburg—unaccompanied, on an overnight train, sleeping in a bunk car with strangers. I was also very chatty because I was trying to learn Russian. Talking up Russians who wanted to sleep seemed like a way to endear myself to my bunkmates and perfect my language at the same time. At first, it was hard to start conversations. Finally, at one point, one drunk Russian man was lamenting my lack of useful knowledge—I didn't know card games or anything about professional swimmers. "What
do
you study?" he asked me. When I mentioned that I knew Pasternak's poetry, his face lit up. "Your schools aren't complete shit after all!" he said joyously, as though his faith in American education had just been fully restored. Suddenly we had something to talk about. Poetry. Russians know their writers. That lesson stayed with me. From then on, I advanced conversationally on my bunk-mates by mentioning Pushkin, Pasternak, Akhmatova, Tsvetaeva ...
Read the full text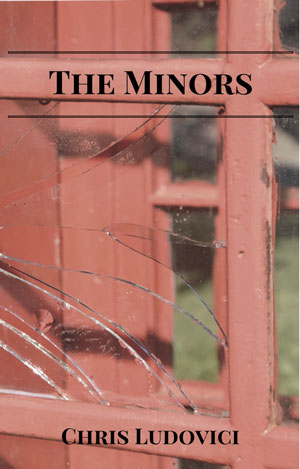 THE MINORS
by Chris Ludovici
Unsolicited Press, 376 pages
reviewed by Ryan K. Strader
Hitting a baseball is the hardest thing to do in professional sports. A fastball travels at 90 miles per hour, moving from the pitcher's mitt to the catcher's glove in approximately .44 seconds. If the batter blinks, he'll miss. For the last few feet that the ball travels, it is essentially invisible to the hitter. He has to have made his decision by then, whether to swing, how he'll swing. I did not know anything about baseball when I picked up Chris Ludovici's
The Minors
. Nick Rogers, one of the protagonists, reflects on the difficulty of hitting a baseball, and I ended up spending too much time engrossed in an ESPN
Sport Science
episode checking Nick's information. It turns out that, football fanatic though I am, the fastball is a formidable opponent: 90 mph is a frightening, lethal speed, and statistically speaking, it is almost impossible to hit. However, when we meet Nick in
The Minors
, baseball is part of Nick's past, thanks to a shoulder injury. Back home and living with an aunt, the 28-year-old Nick tries to forge ahead by working as a ...
Read the full text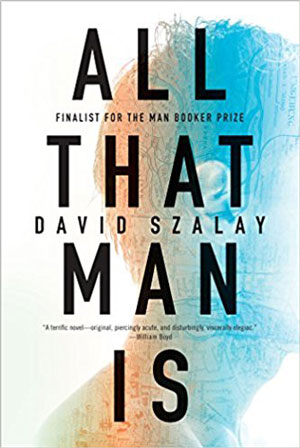 ALL THAT MAN IS
by David Szalay
Graywolf Press, 362 pages
reviewed by Ryan K. Strader
In an
interview with NPR
, David Szalay pointed out that the title of his novel,
All that Man Is
, can be read two different ways: "either as a sort of slightly disparaging, sort of all that man is, and this is it. Or it can be read as a sort of almost celebratory—everything, all the kind of great variety of experience that life contains." Szalay seems to see his work as falling somewhere in between, not entirely "disparaging" nor precisely "celebratory," since it is a study of men dealing with situations of personal crisis. While many reviewers have described
All that Man Is
as bleak and depressing, Szalay confesses that he might have a "lower expectation of life than the average." Whether the story is bleak or not, Szalay's masterful writing has won
All that Man Is
significant international recognition, including being a finalist for the 2016 Man Booker Prize, Britain's 2016 Gordon Burn Prize, and it was listed by the
New York Times
as one of the 100 Notable Books of 2016. Szalay is Canadian-born and currently lives in Budapest, but lived most ...
Read the full text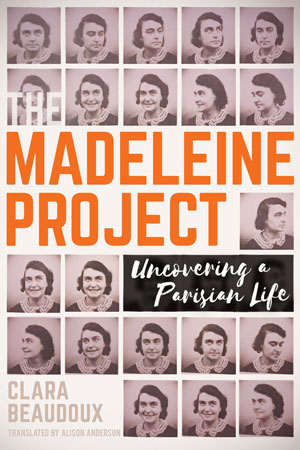 THE MADELEINE PROJECT
by Clara Beaudoux
translated by Alison Anderson
New Vessel Press, 285 pages
reviewed by Ryan K. Strader
In 2013, a young journalist named Clara Beaudoux moves into a Paris apartment. The previous tenant, a woman named Madeleine, lived there for 20 years before passing away in her nineties. Strangely, Madeleine's things have not been removed from the cellar. "All I had to do was open a door, the door to my cellar, for the adventure to begin," writes Beaudoux. At first, the nature of Beaudoux's adventure is journalistic and intellectual: curious about who Madeleine is and why she has left a room full of old memorabilia, Beaudoux decides to go through Madeleine's items on Twitter—as she opens each box, she tweets its contents. Dishes, jewelry, old mattresses, mysterious little gadgets that have been tucked away in envelopes for decades emerge in tweeted photos, with 140 character captions: "I could see right away that Madeleine seemed to be well organized. She kept back issues of Historia." (2 Nov. 2015) "I think Madeleine must have inherited her parents' things too, like these coal coupons." (2 Nov. 2015) "There are vast quantities of photographs in these suitcases, I'm a bit ...
Read the full text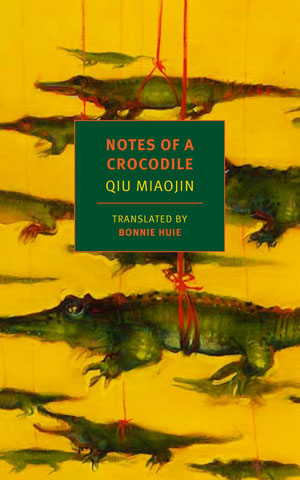 NOTES OF A CROCODILE by Qiu Miaojin
translated by Bonnie Huie
New York Review Books, 242 pages
reviewed by Ryan K. Strader
"Even if this book is neither popular nor serious, at least it's sensational," claims Lazi, the narrator of Qiu Miaojin's
Notes of a Crocodile
. "It's about getting a diploma and writing." Lazi is a clever satirist though, so don't take her at her word. As it turns out,
Notes of a Crocodile
was both popular and sensational in Taiwan, Qiu's native country. Lazi does get a diploma and she writes quite a bit, but it's hardly prosaic.
Notes of a Crocodile
is Lazi's coming of age story as a lesbian at a university in the years following the collapse of Taiwan's martial regime. In the novel, Lazi grapples with a series of relationships that teach her what self-inquiry and liberation are, how to navigate the gender labels that have warped her, and how to stop warping herself and her close relationships with her own fear and self-loathing. Lazi's reflections are dated from the late 1980s, emphasizing the sudden public emergence of queer communities—and other Taiwanese communities oppressed under almost four decades of martial law—during those years ...
Read the full text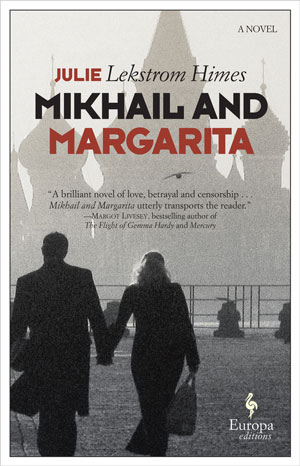 MIKHAIL AND MARGARITA
by Julie Lekstrom Himes
Europa Editions, 336 pages
Reviewed by Ryan K. Strader 
Today's Moscow has plenty for tourists who are fans of the writer Mikhail Bulgakov: museums, character statues, and guided city tours dedicated to the 20th century writer and his work, especially his most famous novel,
The Master and Margarita
. In 2002, I was a college student studying in Russia and Bulgakov tourism had not yet exploded; those of us with a resolute affection for all things Bulgakov had to be content to walk around Patriarch's Ponds, a park that figures prominently in
The Master and Margarita
, and imagine the characters sauntering over to join us on a park bench. I used to do just that: sitting on a bench, I would imagine Professor Woland walking by and joining me, accompanied by Korovyov in his ugly trousers and Behemoth, the large cat who walks upright and carries a pistol. Professor Woland is, of all things, the devil, incarnate as a learned magician. Korovyov and Behemoth are his demonic minions. Perhaps the naked witch Hella would join us next on the bench… 
In
The Master and Margarita
this unholy group easily wreaks havoc on a Moscow that ...
Read the full text