NOTES OF A CROCODILE, a novel by Qiu Miaojin, reviewed by Ryan K. Strader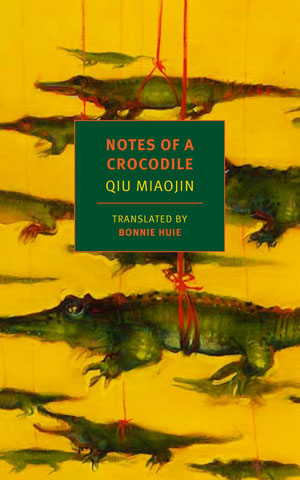 NOTES OF A CROCODILE
by Qiu Miaojin
translated by Bonnie Huie
New York Review Books, 242 pages
reviewed by Ryan K. Strader
"Even if this book is neither popular nor serious, at least it's sensational," claims Lazi, the narrator of Qiu Miaojin's Notes of a Crocodile. "It's about getting a diploma and writing."
Lazi is a clever satirist though, so don't take her at her word. As it turns out, Notes of a Crocodile was both popular and sensational in Taiwan, Qiu's native country. Lazi does get a diploma and she writes quite a bit, but it's hardly prosaic. Notes of a Crocodile is Lazi's coming of age story as a lesbian at a university in the years following the collapse of Taiwan's martial regime. In the novel, Lazi grapples with a series of relationships that teach her what self-inquiry and liberation are, how to navigate the gender labels that have warped her, and how to stop warping herself and her close relationships with her own fear and self-loathing.
Lazi's reflections are dated from the late 1980s, emphasizing the sudden public emergence of queer communities—and other Taiwanese communities oppressed under almost four decades of martial law—during those years. The literary scene of 1990s Taiwan experienced a glasnost-style explosion of experimental literature and openness to new social theory. One unexpected result of this was that queer literature moved easily into the mainstream. Notes of a Crocodile, first published in Chinese in 1994 and now available in English translated by Bonnie Huie, was considered a significant literary arrival for the Taiwanese queer community. While it wasn't Taiwan's first popular piece of "gay literature," it was an engaging and exceptionally popular book that established Qiu as a cult figure in queer literary circles for its treatment of sexuality and identity, and earned her mainstream attention for its experimental structure. The book was popular enough that the main character's name, Lazi, became a slang term for "lesbian."
The novel's unique historical context is important to Lazi's story, and to Qiu's background as a writer, but part of the novel's context is also that Qiu, an open lesbian, took her own life in 1995, at age 26. Just before her death she wrote a second novel, Last Words from Montmartre, available in an English translation by Ari Larissa Heinrich, and described by Heinrich in an interview, at City Lights Bookstore in San Francisco, as an "experimental suicide memoir." Like Notes from a Crocodile, Last Words from Montmartre also features a lesbian narrator; in both texts the narrator's biography is similar to Qiu, but the character is also fictionalized extensively. Qiu's death has meant that the two novels are examined extensively for clues as to why she took her own life, but Heinrich cautions anyone from drawing conclusions, pointing out that Qiu's family and friends have remained very quiet on that issue.
Notes of a Crocodile would have been oddly predictive when Qiu first wrote it. Lazi seems to have her finger on the precise gender-centric issues and anxieties that our culture is presently addressing. During one conversation with friends, Lazi suggests, "Hey, we should form a gender-free society and monopolize all the public restrooms!" The proposition is meant to be fantastical and comic, but most of Lazi's "fantastical" ideas are connected to her very real and very universal struggle to "join the rest of humanity" by having transparent relationships, where she can be honest with herself and others. As Lazi realizes, the only way to enjoy real friendship and love "was to gradually reveal my secret. I would begin to construct my internal blueprint. There was no other way I could go on. For me, it was a matter of life and death, and of pain."
But, just as Lazi gets serious, Qiu introduces: a talking crocodile.
Qiu inserts chapters featuring the comical adventures of several crocodiles—who usually wear "human suits" when they venture among humanity—throughout Lazi's "notebooks," her collection of letters and recollections about her years at a university in Taipei.
The first time the reader meets the crocodiles, two of them are visiting a Lacoste shop (the crocodile label) and admiring the clothes, particularly a mink coat. But they cannot ask to try it on, because that would involve removing their own coats, and then they would be exposed as crocodiles.
Much better to just stroke the mink coat and imagine wearing it.
Meanwhile, rumors of crocodiles circulate, and the tabloids print stories. It is rumored that the college age population has been infiltrated by crocodiles, while the older crowd purchases the tabloids and watches the news for any mention of them.
"What was everyone after, anyhow?" wonder the crocodiles. "If that many people secretly liked them, that'd be totally embarrassing."
The crocodiles are Qiu's clever and engaging metaphor for queerness. They hide from the media (which seems to be talking about them a lot), go grocery shopping, take baths, have gatherings where they can admire each other's human suits, and sometimes they try to go on television and talk about themselves. Even though the crocodiles spend most of their time trying to mask their identity or at least down play it, their short moments of comedic focalization satirize straight perceptions of queerness and queer attempts at blending in, while appealing to the universal human problem of performance and impersonation: when we fail to accept ourselves and choose to wear masks, we become some other strange animal, and give up the possibility of being known by others. As Lazi learns, other people cannot really love her without knowing her. The performance separates the crocodiles from the human company that they crave, just as Lazi realizes that her "secret" is separating her from the people who would love her.
We learn almost nothing about Lazi's family of origin or her childhood, except that she has always known she cares for girls. During her freshman year, she falls in love with an older student, Shui Ling; the relationship is passionate but problematic, bringing out the worst in both women. Her second relationship, again with an older woman, is also ill-fated, but it's through these two experiences that Lazi achieves an admirable degree of self-awareness and moves beyond fantastical, passionate ideals of love to a reality in which she can "confront the meaning of every great love that has shattered." Her shard-by-shard self-inquiry is a formidable attempt at liberation from her destructive patterns.
Qui has created a panoply of colorful characters around Lazi. These include Meng Sheng, a rich kid with a violent streak, his co-dependent sometimes-lover Chu Kuang, Tun-Tun, a brilliant and musically gifted woman, and Zhi Rou, Tun-Tun's artistic girlfriend. Seen only from Lazi's perspective, we can enjoy Lazi's humorous and sometimes caustic recollections, but we miss out on knowing these characters' deeper motivations, or how they really see Lazi. With the short-sightedness of youth, Lazi records that many of the important images from her university years have accumulated "a weight I never expected," and so at the time "I never did say goodbye or thank you to all the people in those images. With a stiff upper lip, I stood back and watched as they slipped out of my life."
This isn't a crusade novel, or fiction that lectures about gender and sexuality; nor does Lazi wallow in her outsider status or embrace a victim's stance toward the world. Her growth as a character is satisfying, and Qiu knows how to engage the reader with Lazi's failures as well as her epiphanies. While Notes of a Crocodile presents itself as a "school novel," it is not location-driven the way school novels like Prep (Curtis Sittenfeld) or The Secret History (Donna Tartt) are. Instead, I was reminded of the angsty drama of J.D. Salinger, the episodic and tongue-in-cheek experiments of Kurt Vonnegut, and the persistent cultural exegesis through literary and film references of David Foster Wallace, more than I was of other coming-of-age-at-school tales.
There is no way to know the degree to which a loved book influences the larger culture. We like to believe in the activist value of art; Lazi seems to understand that great love and great art is revolutionary, maybe political; one of the crocodiles certainly hopes so, as he attempts to go on television and sing for us. Taiwan has led Asia as the country most accepting of the queer community: the Taiwanese courts became the first Asian court system to recognize same-sex marriage, in May 2017, the same month that this English translation of Notes of a Crocodile came out. That's a serendipitous connection, but nevertheless it seems to honor Qiu. In the City Lights interview, Heinrich points out that Notes of a Crocodile made Qiu "a household name of sorts in Taiwan—she's even taught in high schools." That kind of attention would certainly have aided the cause of the singing crocodile who wanted some attention, but Heinrich suggests that it might also have been disruptive for the introverted Qiu. We're left to wonder what Qiu's comments might have been on her book's cultural influence and the legal acceptance of same-sex marriage.
Lazi argues that mapping secrets and pain can be a matter of life and death, and Qiu's suicide seems to attest to that. Considering the stresses of our present age, where identities and ideologies are masking and unmasking, the intrapersonal mapping of identity is even more significant for artists that would influence culture. That might be another way that Notes of a Crocodile is oddly predictive; or, its tendency to speak so clearly to our global present might mean that Lazi—and Qiu's—struggle for self-identification is timeless. In either case, Notes of a Crocodile is an important addition to literature that addresses identity and sexuality, as well as a significant stylistic legacy from a writer prematurely lost.
---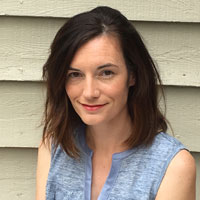 Ryan Strader earned a B.A. in Russian Literature from George Mason University, and an M.A.T. from Clayton State University. She is currently an instructional designer and researcher. Her most recent instructional design project is the development of a class in writing and qualitative research methods at Georgia State University, where she is also a doctoral student. Her most recent publication is an upcoming book chapter on populism in young adult novels. She lives and works in the Atlanta area.