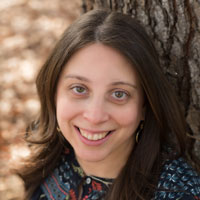 Melissa Sarno is a freelance writer and editor with an MFA in screenwriting. She lives in the Lower Hudson Valley of New York with her family. Just Under the Clouds, her debut novel for middle grade readers, is out now. Read more about her at melissasarno.com.
Author Photo: Katie Burnett
---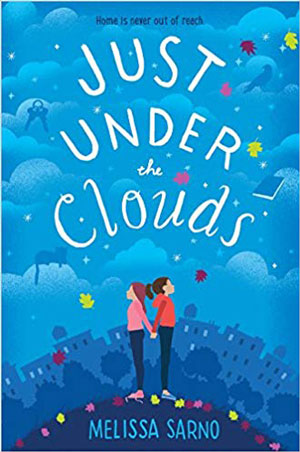 A Conversation with Melissa Sarno
author of JUST UNDER THE CLOUDS
published by Knopf Books for Young Readers
Interview by Kathryn Kulpa
Melissa Sarno reviews children's and young adult books for Cleaver and has just published her debut middle-grade novel,
Just Under the Clouds
(Knopf Books for Young Readers, 2018). It tells the story of Cora, a middle-school girl trying to find a place to belong. Cora's father always made her feel safe, but now that he has died, she and her mom and her sister Adare have been moving from place to place, trying to find a stable and secure home they can afford. Cora is also dealing with bullying at school and is sometimes challenged by looking after her sister, who has learning differences. But her life holds some good things, too, like a free-spirited new friend and her father's tree journal, where he kept notes about the plants he took care of. Cora has kept his book and uses it as a way to record her own observations and feelings as she looks for her own true home in the world.
While many children experience homelessness, it's a subject that is seldom explored in contemporary children's fiction, ...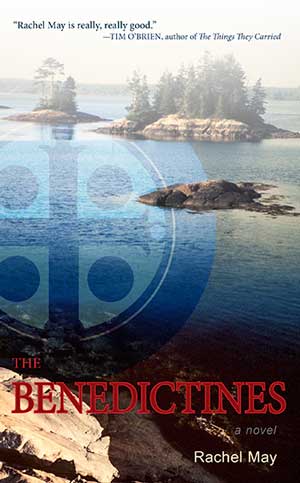 THE BENEDICTINES by Rachel May Alleyway Books, 115 pages reviewed by Melissa Sarno Rachel May's The Benedictines opens like a film. There's are white-capped mountains and rolling hills, narrowing into focus on a Benedictine school campus where our narrator, Annie James, teaches writing. It's on this campus where we tour her emotional landscape, as she struggles to understand her relationships with others, as well as her own religious faith, within the structure of Benedictine life. Told through a series of vignettes, we puzzle together Annie's life at the school, where she sits at a remove from those around her. We slowly learn about her students, her "Devout Roommate," some of her suitors, the monks, and the staff. May intersperses excerpted chapters from The Rule of Saint Benedict, faculty handbooks, memos and emails from the school, and the haunting story of Mr. Souci, who died, mysteriously, three years prior. We stand at a distance from Annie, watching the lives around her evolve, as she tries to find her place among them. Annie is, at times, smug in her separation. Coming from Utah, she doesn't understand the physical landscape of Maine;, the wind and ocean next to the whitecaps. And this stranger ...

Melissa Sarno
FALL ON ME I'm on a crowded subway, clutching a heavy book that requires two hands not one, but where to place my fingers? On the warm metal pole, or balance, maybe lean, against a door or a railing where the puff of a stranger's sleeve already peaks through. I'm lost in rolling sentences, in the rain of words, and I am close, too close, to the tangle of her hair and the backpack strap slapping at my wrists, with my messenger bag smashed between an angry stare and the dull hum of his headphones. When she comes on, I'm pushed by someone else and then I'm flailing, slipping from the grip of memory where the period had nudged up against a space. I wonder which word had come before it, which might come next, because suddenly the page is a mash of words I have to puzzle together, like the time I lost a fluttering bookmark to the water on the tracks and there went my place. She talks of the goodness of God and I would mind it if she was yelling, like the others do, but she's just talking, like we're listening. She likes a crowded train, ...