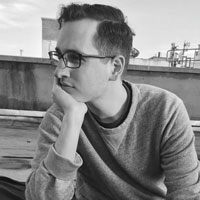 Cleaver Senior Poetry Editor Matthew Girolami is a poet from New Jersey. His work appears in the Susquehanna Review. He is a graduate of Franklin & Marshall College, where he was Arts & Entertainment Editor of The College Reporter. He is currently an MFA student at the Iowa Writers' Workshop.
---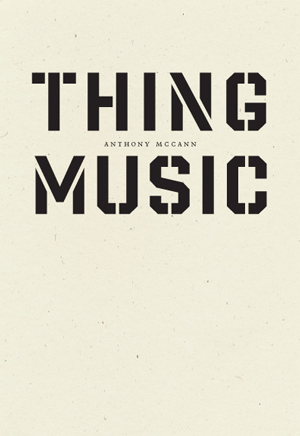 THING MUSIC by Anthony McCann Wave Books, 113 pages
reviewed by Matthew Girolami
Anthony McCann's newest collection,
Thing Music
, is not unlike a player piano, only instead of standards it plays John Cage or even Merzbow. That is to say, that while the reader recognizes McCann's
Thing Music
to be poetry as one recognizes Cage's compositions to be music, the common associations with either art—melody and harmony, form and line—are rearranged, actively dissonant, and yet nonetheless beautiful. Unlike familiar emotional confirmations found in melodrama or more confessional lyric poetry,
Thing Music
's reward is one of discovery: of new pleasures found in innovative poetic forms, and of newfound emotional connections made with the imagery and diction belonging to those forms. That is not to say
Thing Music
overtly plays with common poetic restraints; rather, the collection challenges the idea of form through its overall free-form stylistic execution, only leaving recurring motifs of formal structures, words, and images throughout the collection as trail blazes to unify the poems and enhance the reader's comprehension of the collection as a whole text. But what is a "text"? It seems McCann explores the text's limits as an object, that is, as a set of ...
Read the full text