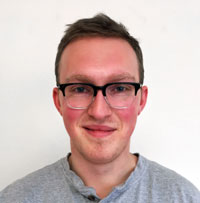 Ansel Shipley is a graduate of SUNY Purchase college with a degree in literature. While there he was the senior literary editor of the student-run art and literature publication Submissions Magazine. He currently lives in Brooklyn where he writes freelance critical reviews and volunteers at Hullabaloo Books.
---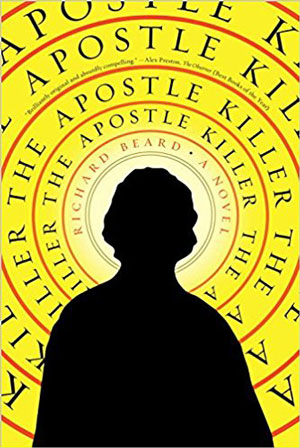 The Apostle Killer by Richard Beard Melville House, 331 pages
 reviewed by Ansel Shipley
Jesus is the enemy in
The Apostle Killer
: a socialist anti-establishment religious extremist. In the novel, Richard Beard creates a world that melds both the superstitious past, in which a self-described Messiah could amass a frighteningly large following, and the skeptical present that labels such men religious extremists and terrorists. "With Jesus, the trickery is without end. If he feigned his death he was extending a pattern that started with the miracles because what you see, with Jesus, is rarely what you get." The protagonist, Cassius Gallio, is a counterinsurgency agent, a "Speculator" tasked with stamping out superstition and political threats to Rome's control over Jerusalem. As a young man, Gallio found himself assigned to disprove Jesus's miraculous resurrection and quickly became embroiled in a twisted web of uncertainty and dangerous machinations. A series of dead-ends and Judas's suicide (which Gallio is convinced was a hit performed on Jesus's orders) results in Gallio being sent to Moldova in career exile. After his old partner Valeria, now a major mover-and-shaker in Rome, reopens the case against Jesus, Gallio returns to Jerusalem to prove once and for ...
Read the full text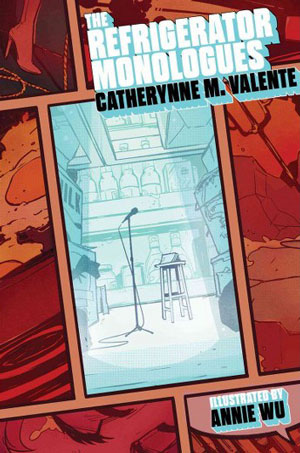 THE REFRIGERATOR MONOLOGUES
by Catherynne M. Valente
Saga Press, 147 pages
reviewed by Ansel Shipley
Catherynne M. Valente's most recent novel,
The Refrigerator Monologues
, exists in an odd space between novel and what could be called a pseudo-parable. Valente's six protagonists and her interconnected narratives clearly parallel famous female comic book characters and their narrative arcs. Each of them, in fact, exhibits numerous traits that link her to a specific DC or Marvel property, ensuring that nothing is lost on the reader. The goal then of the novel is not to tell a unique story, but to point out the flaws of another medium's storytelling, such as when a character—clearly playing off supervillain Harley Quinn—remarks that "Grimdark" (Valente's Batman parallel) is motivated by nothing more than "some seriously freshman poli-sci haiku that sounds super deep and means jack except that a rich man's going to make a poor man bleed." This stylistic choice has both benefits and drawbacks: while the writing often feels pedantic and obvious, Valente's goal is to point to a very specific trend in comics, and superhero comics, as a rule, lack subtlety. Having written an extensive library of novels, short fiction, poetry and non-fiction, ...
Read the full text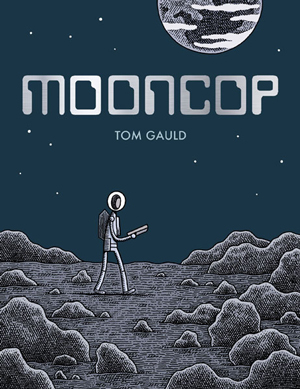 MOONCOP
by Tom Gauld
Drawn and Quarterly, 96 pages
review by Ansel Shipley
Melancholy can be a difficult tone for authors to elicit. Paired with too much unwarranted levity, or depicted as flat sadness without the requisite quiet contemplation, it can easily shift to the maudlin. Tom Gauld's graphic novel,
Mooncop
, manages to delicately balance the emptiness of outer space with the intimacy of solitude, a tone which stayed with me days after putting the book down. Gauld packs an impressive amount of feeling into a tiny package—
Mooncop
is less than a hundred pages long and takes a maximum of thirty minutes to finish. I never felt overwhelmed by any single emotion, however, as a thin layer of meditative calm acts as a barrier between the potentially crushing despair of loneliness.
Mooncop
traces the life of the sole police officer in a shrinking lunar colony. He follows a simple routine, buying the same order (a coffee and glazed donut) every morning at a "Lunar Donuts" stand, responding to the few calls he might receive, and then repeating everything over again. There is no change in his day-to-day life. The closest he comes to experiencing excitement is when the ...
Read the full text