THE REFRIGERATOR MONOLOGUES, a novel by Catherynne M. Valente, reviewed by Ansel Shipley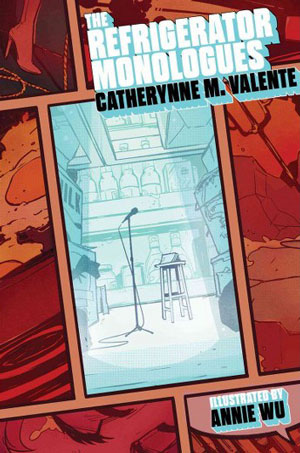 THE REFRIGERATOR MONOLOGUES
by Catherynne M. Valente
Saga Press, 147 pages
reviewed by Ansel Shipley
Catherynne M. Valente's most recent novel, The Refrigerator Monologues, exists in an odd space between novel and what could be called a pseudo-parable. Valente's six protagonists and her interconnected narratives clearly parallel famous female comic book characters and their narrative arcs. Each of them, in fact, exhibits numerous traits that link her to a specific DC or Marvel property, ensuring that nothing is lost on the reader.
The goal then of the novel is not to tell a unique story, but to point out the flaws of another medium's storytelling, such as when a character—clearly playing off supervillain Harley Quinn—remarks that "Grimdark" (Valente's Batman parallel) is motivated by nothing more than "some seriously freshman poli-sci haiku that sounds super deep and means jack except that a rich man's going to make a poor man bleed." This stylistic choice has both benefits and drawbacks: while the writing often feels pedantic and obvious, Valente's goal is to point to a very specific trend in comics, and superhero comics, as a rule, lack subtlety.
Having written an extensive library of novels, short fiction, poetry and non-fiction, Valente is far from a newcomer to feminist writing. She received the James Tiptree, Jr. Award and the Lambda Award for GLBT Science Fiction or Fantasy. The briefness of The Refrigerator Monologues shows that her goal when writing was not to craft a detailed world or write deeply engaging prose but to make a critical point in an enjoyable and effective manner. The novel becomes almost a thesis through fiction, establishing and following a clearly outlined argument and with each of the six stories depicting a new example affirming her position.
In general, this technique works. Each story is individually engaging, and Valente manages to link them all together satisfyingly while making powerful and cogent commentary on the misogynistic treatment of female characters in comic books. The first five protagonists are clearly drawn from characters created in the 1980s and 1990s, when comics were notably aggressive in their misogyny: the first, "Paige Embry is Dead," references Gwen Stacy's involvement in Peter Parker's powers and her eventual death; the second, "The Heat Death of Julia Ash," acts as a commentary on the treatment of Jean Grey's Phoenix Saga, where it was revealed that Professor X, worried that Grey would become unstable and dangerous, placed psychic bindings in her mind to contain her powers.
This plot became both an iconic part of the X-Men mythos and a clear example of the way female comic characters were stripped of their powers "for their own good." As Julia Ash becomes more and more powerful, she remarks, "they turned on me, eventually. Oh, they were so concerned, my boys. Only for my own good, only because they were so worried about my delicate constitution!" This passage represents the best of Valente's criticism: instead of making a direct indictment of comic book plotting, she blends her anger at ingrained predatory misogyny into the narrative.
The Gwen Stacy narrative most recently depicted in 2012's The Amazing Spider-Man depicted her as an Oscorp employee whose actions led to Peter Parker's superpowers. 2014's The Amazing Spider-Man 2 revealed her death, a tragic plummet ending with the snapping of her neck. Valente employs the bones of this story almost beat-for-beat in "Paige Embry is Dead" to powerful effect. Many people consider Gwen Stacy's death to have marked the end of the "Silver Age" of comics, as comic books began to move in a more mature direction; characters could die brutally, and superheroes could truly fail. Valente's choice to begin The Refrigerator Monologues with a critical homage to this classic story speaks to her deep understanding of the comic medium. The novel follows an extremely effective trajectory and the plot and distinctive characterization between the sections ensures that the six stories are impactful both individually and as a combined work.
Valente suffers from a tendency to over-explain, however, leaving nothing to be inferred from her stories. Her characters repeatedly break the fourth wall to make a declamation against the terrible treatment they have experienced at the hands of the world. Near the end of "The Heat Death of Julia Ash," Ash states, "It's a funny thing. You go your whole life thinking you're the protagonist, but really, you're just backstory. The boys shrug and go on, they fight and blow things up […] and eventually you're just a story your high school boyfriend tells the kid he had with his new wife." The argument Valente makes here is important and certainly in need of greater recognition and investigation, but her ham-handed exposition can become tiring, particularly in the second half of the novel as the frequency of her explicit commentary increases.
The final story, "Happy Birthday, Samantha Dane," proves to be the most effective argument in the novel. Unlike the first five protagonists, Valente uses Samantha Dane not as a specific parallel but instead as an example of how contemporary comics treat female characters. Over the past decade, Marvel Comics (and, to a lesser extent, DC Comics) has made a concerted effort to diversify their superhero line-ups: a female Thor, an Afro-Hispanic Spider-Man, a Muslim Ms. Marvel, a gay Iceman, etc. While these actions are commendable, Valente argues that there remains deep-seated misogyny within the comic world. "Happy Birthday, Samantha Dane" depicts a new, hip, young superhero team called "Avant Garde," whose superhero identities and powers are vaguely related to art.
The girlfriend of an Avant Garde member—the titular Samantha Dane—is eventually murdered, stripped naked, and crammed into a refrigerator. Valente demonstrates that even though this diverse superhero team includes male and female superheroes on equal footing, the women in the periphery are just as disposable as women in comics have always been. Samantha Dane remarks, "I belong in the refrigerator. Because the truth is, I'm just food for a superhero. He'll eat up my death and get the energy he needs to become a legend."
While Valente's overt exposition can be blunt and poorly integrated at times, there is no denying it is deeply effective. She forces her readers to see the prevailing misogyny in comics and how despite a great deal of lip-service to progressivism, comic book stories are still brutalizing women to give their male protagonists a little extra motivation.
---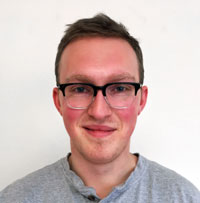 Ansel Shipley is a graduate of SUNY Purchase college with a degree in literature. While there he was the senior literary editor of the student-run art and literature publication Submissions Magazine. He currently lives in Brooklyn where he writes freelance critical reviews and volunteers at Hullabaloo Books.
You may also like:
FINGERPRINTS OF PREVIOUS OWNERS, a novel by Rebecca Entel, reviewed by Elizabeth Mosier
MIKHAIL AND MARGARITA, a novel by Julie Lekstrom Himes, reviewed by Ryan K. Strader 
BARDO OR NOT BARDO, a novel by Antoine Volodine, reviewed by Amada Klute