THE GALAXY CLUB by Brendan Connell reviewed by Ashlee Paxton-Turner
THE GALAXY CLUB
by Brendan Connell
Chômu Press, 189 pages
reviewed by Ashlee Paxton-Turner 
In his novel, The Galaxy Club, Brendan Connell, who was born and raised in New Mexico, reinterprets the landscape of a small New Mexico town, insisting that the comfortable and familiar all of a sudden feel slightly foreign. Connell has published both short fiction and several novels, notably Metrophilias (Better Non Sequitur, 2010) and Lives of Notorious Cooks (Chomu Press, 2012), and in The Galaxy Club, he experiments with making the conventional unconventional. From the first page of The Galaxy Club, Connell plunges his reader into a world that feels like it should be familiar but is riddled with the mythical and supernatural. I kept thinking that I should know this small, dusty town Connell describes—after all, I currently live in a small, dusty town. But Connell's small town isn't conventional. In a sense, it can't be: it's the late 1960s or early 1970s and the place bristles with sex (or anticipation of it, anyway), drugs, and rock and roll. It's also soaked in the supernatural, which seems to stem from Connell's interpretation of the spiritual aura of New Mexico, where he still lives. In the first chapter, which is only a page, Connell tells the reader that the dead "can still smell the colors." I knew then reading Connell would be an act of true literary disorientation.
Connell's town is earthly and unearthly at the same time; the story itself is a meandering quest for the world's end that becomes a search for buried gold along the way. The narrative rambles. Connell forces the reader to backtrack in order to piece things together—which I rather enjoyed doing, once I got used to the rhythm of the book. Early on, the reader meets Blue Boy and his Demon Taming Stick, a dynamic combination that slays dragons in a creek.  The massacre spurs the rest of the dragons to seek revenge. Blue Boy, the son of Ibbie and Theodore Montoya, is made of part of the sky, and he becomes an integral thread to the loose narrative. Blue Boy appears throughout the book all the way to the end. He becomes familiar to the reader, though he does not necessarily help the reader find his or her bearings.
Blue Boy does whatever he pleases. He does not succumb to anything but his own desires, and he greets the reader with this attitude of self-assurance, something many of the other characters either lack or doubt. The first time the reader meets Blue Boy, he is killing the little dragons in the creek, and the dragons are asking him to stop. Blue Boy completely disregards the pleas from both Smooth Stone Dragon and Little River Dragon. "You're an ugly fish and I'm going to bring you to Mom and Dad. Mom's going to cook you for dinner tonight. She's going to fry you up," he says. And later: "I don't care what you are. We're going to eat you for dinner tonight."
Near the end of the book, Blue Boy acknowledges that "they say [he] cause[s] trouble," and that he seems content and confident; he has no fear of the Galaxy Club, the supernatural mafia that wants him killed. In fact, Blue Boy refers to them as "the Galaxy Clowns." He knows who he is, and his confidence in his identity, even if an impulsive and sometimes troublesome identity, certainly is comforting to the reader amidst the haze of this small town and its numerous residents.
Connell's story unfolds in alternating first person accounts told by the various characters. The same events, and their back-stories, appear in the various accounts so that the reader's picture builds from multiple perspectives all at once. We're faced with different pieces of information that eventually we realize are somehow all related. Some of the characters are real people, others residents of the spiritual world, others typically inanimate, such as Blue Boy's Demon Taming Stick. The reader becomes fairly well acquainted with Blue Boy, Elmer, Ramona, Alfonso, and Ibbie and Theodore Montoya. The reader recognizes these recurring characters but only in the same way a visitor might recognize a few faces if he or she stays long enough but still does not really know the full story.
Of course, Connell does much more than provide a few familiar faces amidst this disorientation. He grounds his reader in his wandering would-be hero, Cleopatra, a first person narrator who also appears in other characters' chapters. The Cleopatra chapters are scattered throughout the book in the same haphazard way that Cleopatra wanders around the town, ultimately finding a woman and hidden treasure and only maybe finding what he sets out to find—the world's end.
Perhaps, what I appreciate most about Connell's work is how he uses Cleopatra to create a narrative where the form reflects the content. While Cleopatra starts his journey as a hitch-hiker, accepting the ride offered to him, the reader, too, jumps into The Galaxy Club and can only read the perspectives that are offered up as they appear. Moreover, as Cleopatra winds through the community and sifts through the many personalities either directly or indirectly, the winding chapters leave the reader with the exact same task. The reader's only real touchstones are Cleopatra and reaching the end of the book, and maybe truly reaching the end of the book is like Cleopatra actually finding the world's end. After all, in the very last sentence of the book, Ramona Roybal, the woman Cleopatra has run off with, says "I just sat there and looked out the window until I heard him coming," and that "him" is presumably Cleopatra. She's waiting for Cleopatra. We're waiting for Cleopatra, and if we wait long enough, then we might as well start the book all over again. The end of the book is just a brief pause in the search, and it is not even told by Cleopatra, who is as close to an anchor as we can get. If he hasn't really told us that he is through searching, then how can we be sure we have really reached the conclusion of our own search (reaching the book's end)?
But I'm not sure if I should like Cleopatra or if I can trust him. Not to mention that Cleopatra drinks a lot. He loves cough syrup, and so it makes it that much more complicated to trust him. His thoughts are not always as coherent as I want them to be, but I am nevertheless excited to reach one of his chapters. It should help me find my bearings except when it doesn't. Cleopatra is the Queen of Egypt, but our Cleopatra is a man wandering around in the 1970s, who nonetheless thinks he is Queen of the Nile; for all the reader knows, his name really isn't even Cleopatra.
However, as soon as he says, "…it made my lips go dry and I wanted to speak but there wasn't anything to say. Or maybe there was everything to say and I had all the time in the world, but I didn't think so. No, eternity would go by like a flash," I knew ultimately I wouldn't be able to avoid liking him, and I knew that, despite all of the mythical and fantastic elements, Connell's work is much more than something meant to disorient me. I think that it should say: I think for all of the supernatural elements that Connell weaves into his narrative, the honesty of Cleopatra, in fact his base humanity, in his more lucid moments is what works for me most. There is Blue Boy, who is made of part of the sky, killing little dragons in the creek, but there is also Cleopatra trying to think of what to say and how to say it; that's real regardless of the plane of reality.
Cleopatra, thinking about the next part of his journey, thinking about the rumor of the buried treasure, contemplates going back for Ramona: "Sure, I would be a fool to go back, but I had been a fool most of my life and didn't see any reason to stop now. You have to dream a little if you want to live. Not just remember, but also dream."
And he goes on to consider the way he has been living his life. He is about to steal a car, to go back for Ramona, to do everything that seems risky. In his raw honesty, albeit an honesty tainted with cough syrup, he muses, "If I had lived safe I'd have probably been some kind of high priest grown fat, some clean shaven man at a desk quietly watching time go by."
Connell succeeds because, by the end of the book, he makes it clear that there is some inherent value to the journey and to the wait and the accompanying risks. It is the anticipation of the quest, what is next, and the risks that make individuals wade through the blurred personalities and realities and discover a raw honesty that stretches across time and across reality.
---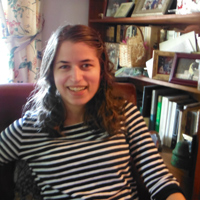 Ashlee Paxton-Turner is a native of Williamsburg, Virginia and a graduate of the University of Pennsylvania, where she was an English major with a concentration in creative writing. A former Teach For America corps member, who taught high school mathematics teacher in rural North Carolina, Ashlee is now a law student at Duke University.