DISPLACEMENT by Lucy Knisley reviewed by Travis DuBose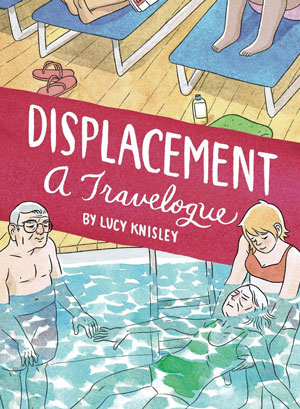 DISPLACEMENT
by Lucy Knisley
Fantagraphics, 168 pages
reviewed by Travis DuBose
Lucy Knisley's Displacement follows her previous graphic travelogues focused on carefree adventures in Europe with a diary about aging and constriction. In the winter of 2012 Knisley accompanied her elderly grandparents on a cruise through the Caribbean, a vacation that, given her grandparents' condition—her grandmother was suffering from advanced stages of Alzheimer's and her grandfather was mentally sharp but physically frail—was, by her own admission, ill-advised and possibly dangerous. As she recounts the difficulties of caring for her grandparents, Knisley ruminates on the role they've played in the life of her family. In particular, she quotes from and illustrates selections from her grandfather's memoirs of the second world war.
The illustrations of her grandfather's war experiences are the most compelling element of the narrative. I found myself excited when I turned the page to see stories of the war, accompanied by Knisley's keen eye for color and layout. Her grandfather's war recollections are all the more fascinating because he eschews easy patriotism for a soldier's realism, saying directly that he cared much more about surviving than being a hero.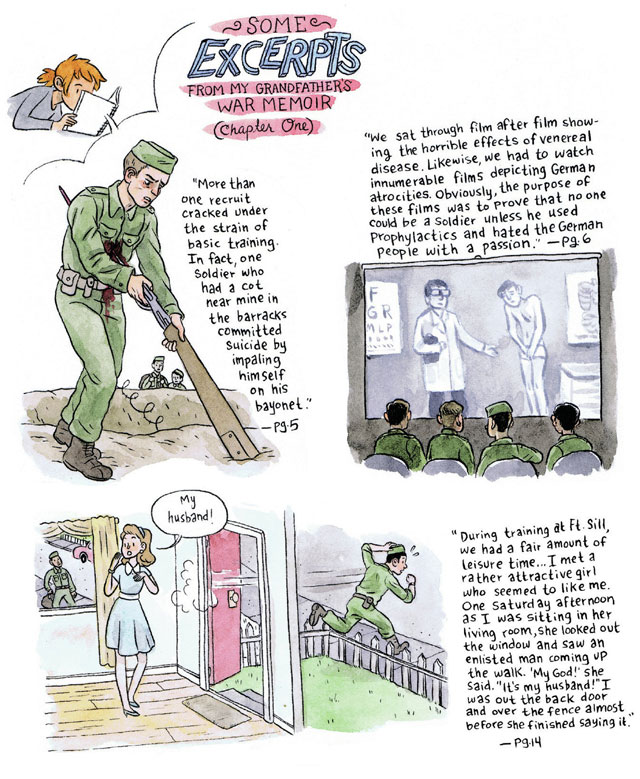 By comparison, Knisley's experiences accompanying her grandparents on the ship seem less substantial, and not just because she isn't taking enemy fire. The narrative continually raises issues—for example, Knisley's difficulty grappling with her father's post-divorce relationships—only to sweep them aside to take up the next issue without ever returning to the previous. In this way, a narrative about old age and mortality ends up feeling strangely breezy, which, I suppose, could be argued is appropriate for a book set on a cruise ship. But, by the end of the book, when Knisley describes the unbelievable stress of the experience, I realized that I hadn't often felt that same stress alongside her, even as she was describing the harrowing experience of coming back from a snorkeling trip to find her grandparents missing. She'd find them, I'd known all along, and then the fact that they'd temporarily gone missing would be lost to the breeze.
Potential power is lost in an attempt to encapsulate so much of her grandparents' lives in a slim volume based on a weeklong vacation. Part of the difficulty in exploring the depth of the story comes from the book's structure, which is signaled early on, before setting sail, when Knisley delineates potential themes the trip might evoke. In her attempt to impose all these meanings on a weeklong trip, she never has the time to truly explore any one of them. As a reader, I found myself wanting either more or less authorial intrusion: either a restructuring of the trajectory to fit her personal conclusion about connection across generations, or a pulling back, to allow readers to reach their own conclusions.
Though the narrative sometimes lacks heft, the artwork throughout Displacement is enjoyable cover to cover. As mentioned, Knisley's eye for color and design is so impeccable that the result often seemed to me more like an illustrated book than a graphic narrative. Take, for instance, the passage excerpted below: the framing of the central drawing with ribbons is charming, and the deflation of the bottom caption is made all the funnier by its also being enclosed, ceremoniously, in a ribbon.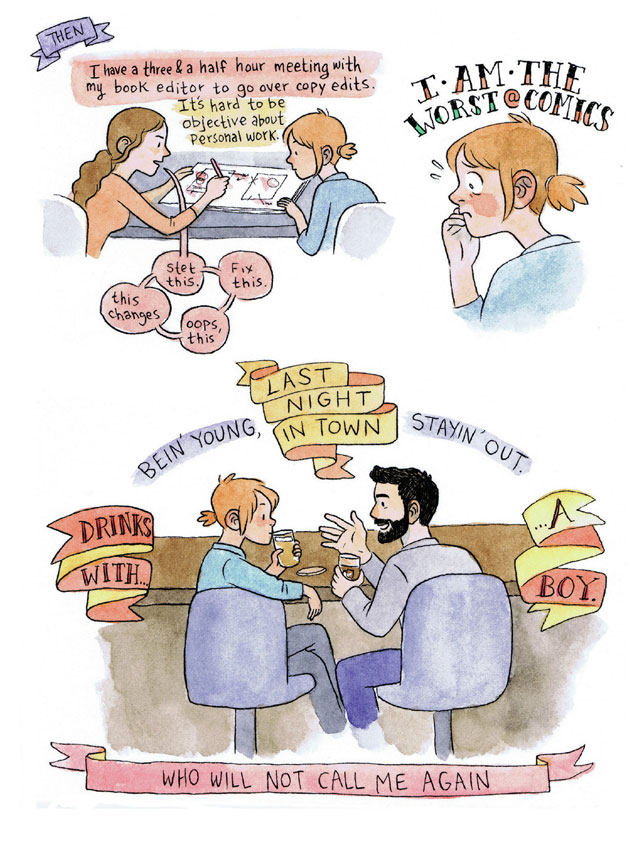 Knisley's sense of color and scale is often sublime, as when she illustrates the depth of dark water on her snorkeling tip: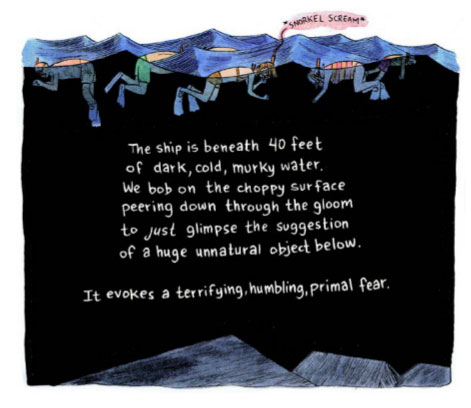 Even if the individual parts of the narrative are less than a whole, each of the individual episodes is itself either poignant or harrowing. Knisley's illustrations and prose work together to capture the horror of a plane ride during which Knisley's grandmother gets sick. The caption "HORK," outlined in sickly pea green, is, for me, the new high water mark of illustrating the repugnance of someone vomiting in an enclosed space. And the image of Knisley's taciturn and often confused grandmother kicking peacefully in a shallow pool while her husband looks on is moving and beautifully illustrated, even if its effect might have been stronger had we been able to linger there and contemplate through narrative.
---

Travis DuBose's fiction has appeared in Apiary and Petrichor Machine, and he was the recent recipient of a Jan-Ai Scholarship Foundation award. He lives in Philadelphia with his wife.