URBAN WILDLIFE: WRITING TO COEXIST, Co-taught by Lucy Spelman and Susan Tacent | September 12 to October 3

4 Saturdays
September 12, 19, 26, and October 3
1pm-3pm Eastern Time
Click here to register
$225 early bird / $250 regular
Open to writers of all genres and all levels of experience
Class limit: 10

This workshop is designed for writers of all genres who wish to express their love and concern for all creatures through writing that is both informed by science and emotionally charged. This is a hybrid workshop, with meetings on Zoom and written work via Canvas, a text-only platform for drafts to be shared in a supportive and practical environment. There will be weekly science presentations, craft discussions, readings, writing assignments, and group critiques. Writers interested in a particular animal will be able to tailor their research accordingly.
---
SYLLABUS
Week 1: Why are we here?
By way of introduction, we'll share our individual perspectives on animals and consider representational strategies in pertinent literary texts. We'll set out some of the scientific and literary terms useful for discussions, and go over some best practices for how to approach the science materials that will be used in the weeks to come.
Week 2:  How do we deal with the sad?
National and international news carries stories about the number of species threatened with extinction. How can we embed these small and large tragedies into our writing to move readers to understand, learn, share, or even act instead of turning away? We'll consider existing strategies for incorporating difficult truths in fiction and nonfiction and brainstorm new approaches.
Week 3: Good fences, good neighbors?
We pave roads, put up fences, put out our often delectable trash, as if the land were ours alone. Understanding the ways nonhuman animals use the land and its resources will get us closer to being good neighbors to all. During this week's meeting, we'll also work on how to cut through the plethora of science materials available online to find reliable sources, and how to glean useful information from them.
Week 4: There's no place like home.
Diurnal, nocturnal, crepuscular—whatever our habits and rhythms, we all need somewhere to live. What does affordable housing mean in the context of all living creatures? This final week will also include discussion and suggestions for how to continue connecting with the science, scientists, and field experts to create work that reaches a wider audience and empowers others to care and to act.
---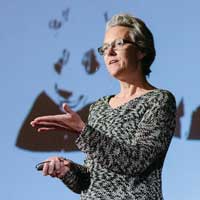 Lucy Spelman is a board-certified zoo and wildlife veterinarian with degrees from Brown University and the University of California at Davis. During her tenure as the first woman and youngest person to head the Smithsonian's National Zoo, she brought two giant pandas to the US from China and launched a major renovation plan. She worked as a consultant for Animal Planet before moving to central Africa to run the field program for the Gorilla Doctors. Inspired by the many connections between the arts and sciences, she began teaching biology to students at the Rhode Island School of Design in 2010, and founded the non-profit, Creature Conserve in 2015. She is the author of over 40 scientific articles, the National Geographic Animal Encyclopedia, and The Rhino with Glue-on Shoes.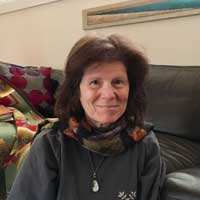 Susan Tacent's work has been published in a variety of academic and literary journals including Dostoevsky Studies, Tin House Friday Fiction Online, Michigan Quarterly Review, DIAGRAM, and Cleaver. She's taught literature and creative writing in classrooms from kindergarten to college. She also facilitates an assisted living book club, six years strong now, where the participants' collective age exceeds 900 years.  Visit her website.