TO EACH HER OWN by Natalie Kawam
Natalie Kawam
TO EACH HER OWN
The world, I never thought, was worth its wake
In my image alone, kicking storms about itself
Like me, a bright desert whore in plain, my face
Alift like plated offerings to a sky on neckless horizon
Gleaming hot and dry, a pillar of salt. Even beneath the sun
I pray for everything in context of myself
And all my questions are answers to opening rain
Dropped in the sand to no one who wanted it.
---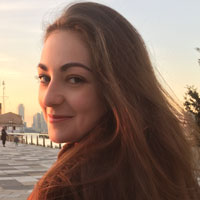 Natalie Kawam is a poet and writer.  In May, 2016, she was awarded the Academy of American Poets Prize, and published with the Academy the following September. Natalie's poetry has also appeared in the Crab Orchard Review. Her work explores elements of the human condition, including the nature of one's personal evolution. She is an undergraduate student at Barnard College of Columbia University, and currently composing her first chapbook. Visit her bio page here.