THIRTEEN POTSHOTS AT THE PROSE POEM, a Craft Essay by Mike James
THIRTEEN POTSHOTS AT THE PROSE POEM
a Craft Essay
by Mike James
An alien lands at a city basketball court at night. He either lands inside a science fiction story or he lands inside a prose poem.
◊
Prose poems are the pulp fiction of poetry. They exist to be read with flashlights beneath wool blankets at night.
◊
Prose poems are kept in basements and attics. They are seldom invited to dinner parties and award shows.
◊
Howie Good, wrote, "The prose poem exists to challenge and provoke and to raise a defiant middle finger to all who would colonize consciousness." Howie Good knows how to write a prose poem.
◊
Readers consider prose poems to be autobiographical at the same rate as they consider all other poems.  The introduction of aliens, mermaids, parrots, Bhutan, private detectives, or drag queens will not dissuade this tendency.
◊
A prose poem can start as a dream and end as a wish. The wish might contain quotes and letters, found objects and dreamscapes.
◊
Prose poems are not simply poetic prose, a la Thomas Wolfe. Prose poems are as far form purple prose as Mercury is from Pluto.
◊
Prose poems can trick the unsuspecting poetry hater into falling in love. The world is full of marriages consecrated by the prose poem.
◊
Because prose poems have a shorter history than free verse or blank verse or most traditional forms, they are not as burdened by history. Prose poems can exist in the circus of now.
◊
If a good poem is about the connective leap of language and images, a good prose poem creates a world where people leap instead of walk. Each line is a leap within a made up place.
◊
A prose poem can tell a story that doesn't end. Abruptness can thrive within the confines of a prose poem.
◊
People look for a field guide for prose poems. The best advice is always to get lost.
◊
A prose poem might be a letter filled with facts. The addressee might be an antelope and the fact might be the weight of angels.
---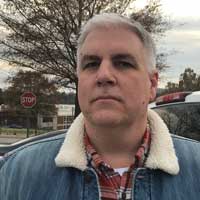 Mike James makes his home outside Nashville, Tennessee. He has published in numerous magazines, large and small, throughout the country. His many poetry collections include: Leftover Distances (Luchador), Parades (Alien Buddha), Jumping Drawbridges in Technicolor (Blue Horse), and Crows in the Jukebox (Bottom Dog.)