THE ART OF THE SCENE, a Workshop in Fiction and Creative Nonfiction, taught by Lisa Borders | January 3 to February 5, 2021

5 weeks
January 3 to February 5
introductory Zoom meeting at 2 pm ET on Sun Jan 3

$225
Class limit: 12
Questions: [email protected]
The writer Sandra Scofield describes a "pulse"—that spark that makes the story come alive— as a vital element to all scenes. This pulse is especially crucial for opening scenes, as many agents and editors report that if they are not hooked on a manuscript within the first five pages, they will not read on.
But what is a "pulse," and how can a writer ensure that each scene—not just the opening— has one? How can we write in such a way that our characters come to life, that a scene breathes emotion and urgency, while moving the plot forward and keeping tension taut?
In this class we'll look at opening scenes, pivotal scenes and transitional scenes in published novels and memoirs, analyzing them for a "pulse"—that spark that makes the story come alive—and for the ways in which they hook the reader, introduce the characters, and (for opening scenes) signal the book's scope. We'll define the elements of a scene and discuss techniques for writing scenes that breathe emotion and urgency while moving the plot forward and keeping tension taut.
We'll also workshop an opening scene from your novel or memoir in progress of no more than 1800 words in length, applying a checklist to help you determine whether your book's opening passes the "pulse" test—and if not, strategies for creating a first scene the reader can't put down. You will then revise these scenes, or submit a new opening scene for instructor feedback.
This class will have one synchronous meeting: an introductory Zoom meeting on Sunday, January 3 from 2 – 3:30 pm EST. Writers will receive a schedule for submitting scenes to be workshopped in Weeks 2 – 4 as part of the Week 1 lesson.
Readings will include scenes from works by Rishi Reddi, Hanya Yanagihara, Joan Didion, Elizabeth Strout and Piper Weiss, among others.
---
SYLLABUS
Week 1: Introduction
What is a scene?
Scene elements
Creating tension within a scene
Readings
Week 2: Types of Scenes – Part I
Opening Scenes
Pivotal Scenes
Readings
Four scenes workshopped
Week 3: Types of Scenes – Part II
Flashback Scenes
Transitional Scenes
Readings
Four scenes workshopped
Week 4: Scene vs. Exposition
Definitions
Debunking "show don't tell"
Pacing
Readings
Four scenes workshopped
Week 5: Scene CPR
Checklist for revision
Revise workshopped scene or submit new scene to instructor
---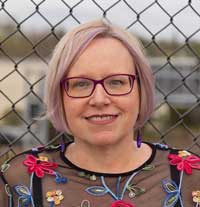 Lisa Borders' second novel, The Fifty-First State, was published by Engine Books in 2013. Her first novel, Cloud Cuckoo Land, was chosen by Pat Conroy as the winner of River City Publishing's Fred Bonnie Award, and received fiction honors in the 2003 Massachusetts Book Awards. Lisa's short stories, essays and humor have appeared in The Rumpus, McSweeney's, WBUR's Cognoscenti, Post Road, Washington Square and other journals. She has received grants from the Massachusetts Cultural Council, the Somerville Arts Council and the Pennsylvania Council on the Arts, and fellowships at the Millay Colony, Virginia Center for the Creative Arts, Hedgebrook and the Blue Mountain Center. Lisa also teaches at Boston's GrubStreet, where she founded the Novel Generator program and co-founded the Novel Incubator program. More information on Lisa is available at lisaborders.com.
---