TELL ME WHAT YOU EAT: Writing About Food and Ourselves, taught by Kristen Martin, June 7-28, 2022

Writing About Food and Ourselves


taught by Kristen Martin
for beginner to advanced nonfiction writers
Four weeks
June 7–28
Zoom meetings 5:30–7:30 PM ET on Tuesdays 6/7, 6/14, 6/21, 6/28
Class Limit: 12
$250
POSTPONED
TELL ME WHAT YOU EAT and I will tell you who you are. Food writing most often calls to mind food criticism: reviews that capture and evaluate the experience of a meal. But the best food writing illuminates beyond food's immediate appeal, providing insight into identity, culture, memory, and place. A sub-genre of food writing that provides that insight is the food-centric personal essay or memoir. In this four-week course, we will read and discuss work by writers like Toni Tipton-Martin, Francis Lam, Michelle Zauner, Mayukh Sen, and Ruth Reichl, and we will use our own memories of food as lenses into exploring ourselves.
Each week, we will meet on Zoom (5:30–7:30 PM EST on Tuesdays) for synchronous discussions of readings and writing exercises. During the last two weeks, participants will have the opportunity to workshop one essay/memoir piece with their peers. Participants will also receive written instructor feedback on one essay/memoir piece.
Week One: The Proustian Madeline—Using Food as a Doorway to Memory
Week Two: Food and Personality
Week Three: Food and Cultural Identity / Workshop Group 1
Week Four: Smorgasbord / Workshop Group 2
---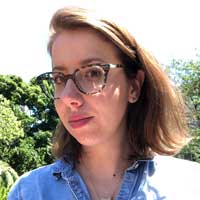 Kristen Martin is working on a narrative nonfiction book that deconstructs myths of American orphanhood for Bold Type Books. Her writing has been published in The New York Times Magazine, The Los Angeles Times, NPR Books, The Baffler, Lapham's Quarterly, The Believer, Bookforum, and elsewhere. She received an MFA in nonfiction writing from Columbia University and is a graduate of the University of Pennsylvania, and the Università degli Scienze Gastronomiche in Italy, where she was a Fulbright-Casten Family Scholar. She has taught at the University of Pennsylvania, New York University, Columbia University, and CUNY Baruch College, as well as for the Philadelphia literary community Blue Stoop.