HOME AWAY FROM HOME by Cecile Callan
Cecile Callan



HOME AWAY FROM HOME 
Into the sleek metal shaker went the whiskey, Frangelico, white crème de cacao, heavy cream. The bartender reached for an egg—crack—and slid the yellow orb from shell to shell as the white jiggled slithery down. She leaned across the bar, arms folded snug beneath her breasts making soft mounds under her green sweater, and opened her mouth. He slid the yolk in, she accepted, swallowed and smiled.
Vigorously now he shook the contents as she watched the muscles in his upper arms push against the tight white of his shirt sleeves. He turned to pluck a coupe from the glass shelf and set it down before him. Adding ice to the shaker he shook it again, six short strokes, just enough to chill, then scooped out the cubes with a slotted spoon and poured. Creamy white liquid climbed the curves of the glass until the last drop, followed by the foam head, stiff as meringue. A sprinkle of cacao, and into her pursed red lips she drew the first thick sip of white heaven.
"Mmmm… what's it called?" she murmured, moving the minty vapors up to the roof of her mouth and the back of her tongue.
"Home Away From Home," he said, the music of his foreign tongue strumming his lips.
Moments later, the seat next to her became vacant. A thin man in a business suit and a gold band asked if he could sit with the kind of politeness that doesn't wait for an answer. He was from the heartland he told her, though she'd only nodded to acknowledge his arrival. In the city doing the business of raising millions for a school that had an endowment in the billions. "People are surprised by that," he said, searching her eyes for enthrallment.
"Wow, billions," she said, providing it.
She swiveled her body away from the bar to take in the cozy, wood-paneled room crammed with frizzy tourists, Latin music, and theatergoers. With her body angled out the businessman faced two great-looking thighs spilling out of a short wool skirt encased in thick black tights saying no, saying yes. She shifted her tiny clutch with a bejeweled blossom to the safety of her lap. "Do you set yourself goals?" she asked him. "How much do you raise?"
He explained that, yes, the numbers were carefully calculated before being divvied up and assigned to each person on the team.
"What's your portion?" she asked.
"Sixty million."
"Every year?"
"Yes." She raised her eyebrows. "Just about." He leaned in close and put his elbow on the bar. "I talk to a lot of very rich people, and not like this," he said, splaying his thumb and pinky to his mouth and ear like a phone. "Like this," he said, moving two fingers from his eyes to hers, back and forth.
"Wow." She widened her eyes so he would know she understood. "Do you work on commission?" she said with a tease in her voice. The idea of making a buck while wringing millions from the very wealthy to pay for the higher education of normal folk tickled her. She really wanted to hear him say yes, he did make a commission.
"No," he said. Perhaps he saw the disappointment in her eyes because he smiled then as though she were the only woman in the entire world. "If only I did, I would buy you the most expensive bottle of Dom Perignon this place had!" He took a step back and swept his arm up in a gesture of easy chivalry, à la Fred Astaire in a scene where he dances a woman across rooftops. Male shorthand adopted from another era that said, 'I'd do anything for you, babe, if only—that's the kind of willing guy I am.' In other words, he said nothing.
What he was, was on the prowl. She saw in his face the fade of age, the lightest dusting of loss. His muddied eyes, probably once quite blue, were sharp with natural intelligence. He exuded the kind of confidence one finds most often in white men who take confidence for granted, who've fashioned robust livelihoods out of ample lifelong opportunity. He loosened his tie and leaned in, unshakable as a retriever, offering her his warm and easy smile.
"My name's Mark, by the way," he said, offering his hand.
She glanced at it but reached across and grasped instead the knot of his silk tie, slipping her thumb in to loosen it further as she pulled him firmly toward her. He shifted so as not to topple over and the corners of his eyes crinkled as he understood how quickly their connection was taking hold.
"Well, okay," he giggled amiably, his cheeks blotching red.
She held his neck and face inches away, closed her eyes, and breathed him in. When she opened them she saw how this changed him, how thoughts now flew behind his eyes as he considered, perhaps, logistics; the where, the when; maybe hoping he remembered to toss his dirty underwear into his suitcase rather than on the hotel room floor. He'd had onions at lunch, she could tell. "Well, Mark, if only, indeed," she said, her smile warm as his.
"Pardon?"
"If only I put out," she said. "I would give you the best fuck of your entire life. I would do warm, wet things to you better than any middle-aged woman you will ever meet sitting alone at a bar. But I don't." She released his tie and swiveled back, taking a sip of her drink and wiping the frothy white foam from her lip. She stuck her finger in her mouth and looked at him.
His mouth dropped open, and his eyes registered shock. "Oh, I… okay," he stuttered. "I didn't mean to—Hey, wait. Did I misunderstand something?"
She put her hand on top of his and leaned in close to his face. "Don't worry about it," she said, releasing it.
He blinked at her, pissed as he realized he'd been played. Without missing a beat, he shut the door between them and X-ed her out of his field of vision. He reached down to his left and set his briefcase on top of the bar, unclasped the front pocket and retrieved a sheaf of papers scribbled with notes that now commanded his full attention. He was handling her as though she were a fly, a ghost, not there, as deftly as he did any awkward encounter that went unexpectedly south. Ignore the problem. Go over your notes. Drink your beer. The rules of disengagement men like him revert to. She'd seen it before. Just another dance move to hide behind.
The front door burst open and in on a waft of cold air bubbled a group of young women sheathed in glittering dresses with long necklaces, headbands stuck with feathers, and faces so beautifully painted with color and eyelashes and white teeth that she felt uplifted. They had gone to great trouble to build hairdos of yesterday, big fat curls piled high and sprayed stiff, luxurious swaths of blonde and raven and red, evening gloves and kitten heels, unmistakably young like a feather is soft and a bullet is lethal. The Latin band played on inside the old wood-paneled bar as she sat right there in the present, a strange man's back walling her out as thoughts of her past came flooding back and she knew, somewhere along the way she'd gotten something very wrong. What was it? What was that feeling?
---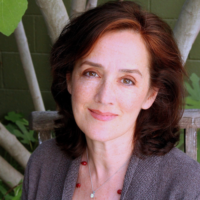 Cecile Callan's poetry and fiction appear in Quartz Literary, The Fish Anthology, and Louisiana Literature. The award-winning L.A. production of her controversial play about abortion, Angels Twice Descending, is in development as an indie feature. In a former life, she was an alien with four nostrils, a dumb bank robber, and a sexy geologist among other professions, including the oldest. Insomniacs know her from reruns. Cecile Callan holds an MFA from the Bennington Writing Seminars and lives in the Hudson Valley where she is at work on a novel.
Cover Design by Karen Rile