FORM AND FORM-BREAKING POETRY CONTEST 2023
CLEAVER'S FORM AND FORM-BREAKING POETRY CONTEST
Judge: Diane Seuss
Show us your poems that hold up the perfect iambic pentameter of a Shakespearean sonnet or crash it on the rocks of free verse. Show us a villanelle with textbook patterning or show us the villanelle who just crashed her car. Whatever the form, we want to see your poems that use form consciously, whether that's to execute them to perfection or execute their expectations. The one requirement is that your work engages with a form of poetry; whether it gets married to that form or breaks up at the last couplet is up to you.
Some examples of poetic form:
Sonnet, Villanelle, Haiku, Haibun, Ghazal, Acrostic, Pantoum, Prose Poem, Golden Shovel, Elegy, Rondel, Sestina, and many more.
Feel free to bring us a form we haven't listed.
Judge: Diane Seuss
$500 First Prize 
$250 Second Prize
$100 Third Prize
Prizewinners will be published in Cleaver's Fall Issue, September 2023. Finalists may also be offered publication.
Submission Guidelines:
The initial submission fee is $15 for 1-2 poems of up to 3 pages each, with an option to upload additional poems for $10 apiece.

No previously published work.

Please remove your name and any other identifying information from your manuscript, including removing your name from the file name.

All work must be submitted through Submittable by 11:59 pm ET on March 31.

DEADLINE EXTENDED TO APRIL 15 at 11:59 pm ET.

We cannot accept paper submissions.

Winners will be announced in June. Prior to the announcement, all submitters will receive an email notifying you of any decisions regarding their work.
---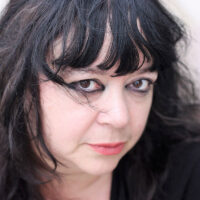 Form and Form-Breaking Poetry Contest Judge Diane Seuss is the author of five books of poetry. Her most recent collection is frank: sonnets (Graywolf Press 2021). Seuss is winner of the PEN/Voelcker Prize, the Los Angeles Times Book Prize, the National Book Critics Circle Award, and the Pulitzer Prize. Still Life with Two Dead Peacocks and a Girl (Graywolf Press 2018), was a finalist for the National Book Critics Circle Award and the Los Angeles Times Book Prize. Four-Legged Girl (Graywolf Press 2015) was a finalist for the Pulitzer Prize. Wolf Lake, White Gown Blown Open (University of Massachusetts Press), received the Juniper Prize. Her sixth collection, Modern Poetry, is forthcoming from Graywolf Press in 2024. Seuss was a 2020 Guggenheim Fellow. She received the John Updike Award from the American Academy of Arts and Letters in 2021. She was Writer in Residence at Kalamazoo College for many years. She has taught as a visiting professor for the Helen Zell Writers Program at the University of Michigan, and for the MFA program at Washington University in St. Louis. She will be the Mohr Visiting Poet at Stanford University in the spring of 2023. Seuss was raised by a single mother in rural Michigan, which she continues to call home.