CLOSET by Neeru Nagarajan

Neeru Nagarajan
CLOSET
"This closet can hold many dead bodies. At least fifty."
That was the first thing I told my roommate when I first met her.
The closets in our bedrooms really are huge. They are wide. They are tall. You could stack corpses up in there like sacks of rice. One on top of the other, rows of stacks. Many tall stacks. Not moving, not breathing.
My roommate uses her closet to line up faux fur coats and scarves. They're lined up like a small army of foxes. I like to run my fingers on the soft furry surface and pretend that I am raising obediently still pets in her closet space.
But me, I keep mine simple. I walk past all the clothes, mounds of clothes strewn on my bedroom floor like defeated soldiers at the end of a long-fought battle. I slide the heavy wooden door open, get under my warm sheets, slide the door back closed, and lie still, until I fall asleep in the perfect dark.
---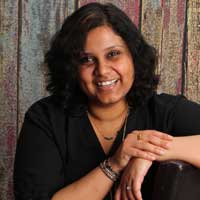 Neeru Nagarajan is a writer from Chennai, India. Her work has appeared or is forthcoming in The Forge Literary Magazine, Hypertext, Kitaab, The Adirondack Review, Sahitya Akademi's Indian Literature, and elsewhere. She currently lives in Bowling Green, Ohio, where she is at work on a novel.
Image credit: Adrienne Leonard on Unsplash