THE WOMAN IN THE DREAM by Mirande Bissel

THE WOMAN IN THE DREAM
by Mirande Bissell
hands the swaddled child over. A dream is no place
for a baby. She has seen revelers pour the baby
from a carafe—he's white wine, fruity like the summer
he is born into, and they drink the baby in the purple
dusk of a dream-cafe. She's always too late to stop them.
She's seen the baby become a city she might one day
reach, but the map shifts, its topographical lines
crowning, and her finger never lands on the same town
twice. Once, the baby grows up and becomes a murderer,
though not on purpose. She knows his heart is good.
He comes to her despairing, the knife slick and still
in his hand. His mother has splinters under her nails.
She has clawed the empty kitchen cabinets searching
for the baby. She's flung open all the closets, ferreted
through the hamper, calling his name in ashen circles,
her light late and industrial, but his crib stays empty.
The numbers flicker silver on the afternoon clock
when the woman from the dream just hands her the baby,
adjusting the blanket on his head so his mother
will recognize him, saying, Keep him. Let him always
be a baby, and the woman pauses and scoops up
a stray piglet, pink and winky-eyed, and tucks him
under her shoulder before she turns to go.
---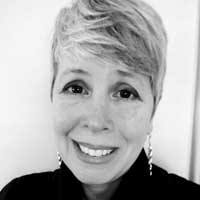 Mirande Bissell lives in Ellicott City, Maryland, where she loves to hike in the Patapsco River valley with her beagle. Her poem "The Mammoth Steppe" was the winner of the 2019 Stone River Poetry Review contest. She is a recent grad of the MFA program at Bennington College.
Cover Photo by insung yoon on Unsplash