WE ARE ALL MIGRATING TOGETHER
Painted Bus Routes and Immigrant Roots
Mural Arts in Philadelphia by Shira Walinsky
Introduction by Raymond Rorke
Philadelphia, the City of Brotherly Love and home of the famous LOVE statue by Robert Indiana, is taking love to new places.
If you happen to be in Philly, chances are you'll catch sight of the 47 Bus. You can't miss its bright blocks of color or its bold, emphatic message: WE ARE ALL MIGRATING TOGETHER.
[slideshow_deploy id='27671′]
This "mural on wheels" is the brainchild of Shira Walinsky, mural artist, and filmmaker Laura Deutch. It runs daily from South Philadelphia's Whitman Plaza, on through Center City, and all the way up to 5th and Godfrey in North Philadelphia, connecting several multilingual, multiethnic neighborhoods and commercial corridors. Riding the bus through this cross-sectional slice of the city you'll inevitably hear a cross-cultural variety of languages spoken, while being wrapped in a welcoming collage that represents the patchwork of diverse people whose lives intersect every day. The back of the bus reads "We Are All Migrating Together"—words from the mouth of one of its drivers—and along the way you'll see murals by and about refugee groups who have recently settled in Philadelphia—the Karen and Chin of Burma, the Bhutanese, the Nepalese.
The bus's first stop, 8th and Snyder, is the site of Southeast by Southeast, a public arts space and social services community center originally founded as a six-month, pop-up storefront in 2011 by Shira Walinsky, artist Miriam Singer, and social worker Melissa Fogg under the Mural Arts Program with funding by the Department of Behavioral Health and Intellectual disAbility Services.
Five years later, Southeast by Southeast is still going strong, a space for immigrant and refugee families to learn from one another, gain access to important social services, and lend their voices to highly visible public art projects. There, with the help of many volunteers and artists within the refugee community, Southeast by Southeast hosts regular ESL classes, citizenship classes, and grandparents' groups. Monthly workshops draw from refugee skills and talents and include Burmese food night, Bollywood vs. Breakdance events, weaving and sewing demos, and more.
And there's more ahead. Along the 47 Bus route you'll find that Shira has created a number of murals in collaboration with refugee groups to mark their collective stories of identity and migration.
MURALS ALONG THE WAY
Namaste (7th and Shunk) depicts a monastery in Bhutan. This mural was originally for the owners of Namaste Grocery.
El Chilito Loco (8th and Jackson) appears at the restaurant El Chilito Loco. Shira worked with the restaurant owner to create a mural using iconography from the Mayan number system and the Aztec calendar.
From the Mountains to the City (7th and Emily) tells the story of leaving home, being forced to flee, and moving into the city. Most of the Karen, Chin, Burmese, and Bhutanese refugee groups who have settled in South Philadelphia have come from very rural areas or refugee camps.
Farming Up the Mountain (8th and Emily) tells the story of farming in a rural area and here in South Philadelphia. Most of the recent immigrants in South Philadelphia were farmers in their home countries. This mural is next door to the Growing Home Gardens, a refugee garden project by the Nationalities Service Center. The colors come from Karen and Nepali textiles.
Storefront (7th and Dudley) is the site of the original Southeast by Southeast location. This mural is evocative of textiles by the Karen people of southern and southeastern Myanmar (Burma).
Language Lab (7th and Moore) celebrates the over thirty languages spoken in South Philadelphia. If you are waiting for the 47 Bus you can learn a word in another language!
* * *
But all these projects and programs go beyond public perceptions of ethnic, immigrant minorities. There's also the private joy and insight that comes from getting to know a refugee personally.
Shira writes:
There are many inspiring community members, but working with Ma Kay Saw has been really inspiring. Ma Kay Saw is a refugee from Burma. She grew up in Eastern Mountain Burma and is part of the Karen ethnic group. The Karen and other ethnic groups such as the Chin have been oppressed and engaged in civil war with the Burmese government for many years.
Ma Kay Saw had a 4th grade education, and worked helping her father farm in Burma. She also learned to weave. Each ethnic group in Burma has its own weaving traditions, and Karen weaving has beautiful, richly saturated colors.
Ma Kay Saw and her family fled from Burma, escaped through the jungle, and made it to a refugee camp in Thailand.
She arrived in the U.S. in 2011 with her husband and five children. She came with no English. She has been coming to the Southeast by Southeast community center since 2012 for ESL and women's group activities. She has learned English and knows the 100 citizenship questions and is preparing to take the test.
A goal of the Southeast by Southeast community center has been to identify artists in the refugee community and find frameworks for their work. When I first saw Ma Kay weaving and making Karen clothing I was blown away by the complex patterns and rich color. I asked her if she would be able to do a weaving demo. At the time, a translator was needed to help present the demo, and she was somewhat hesitant, but in subsequent years she has led many demos and sales with confidence. Today, Ma Kay feels happy to connect people with Karen identity and traditions.
I am glad to be in a space where traditional and indigenous artists are given a framework and space for their work. I am inspired each time I see Ma Kay Saw and see her weaving—to see a resilience, an ability to learn, and to continue traditions from home.
* * *
Philadelphia, one of our nation's forty sanctuary cities, has long been known as "a city of neighborhoods," and South Philadelphia has long been a welcoming neighborhood for immigrants—the Irish of the 1840s, the Italians of the early 1900s, the Eastern European Jews of the 1920s, the Vietnamese and Cambodians of the 1970s, the Mexicans of the 1990s. Today, it's the Burmese and Bhutanese who are arriving and settling in, and the annual Philadelphia New Year's Day Mummers Parade, largely made up of South Philadelphians, is just around the corner.
We are all in this together, migrating together. Happy New Year.
—Raymond Rorke, December 2016
Postscript: It turns out that the Southeast by Southeast Brigade—Burmese, Sham, Chin, and Nepali dancers from the refugee community in South Philadelphia—got to strut their stuff in their very first Mummer's Parade this year! Young members gave out Lao-style sukwon/mut khaen blessings, while elder women showed off their dancing skills.  "We were such a small group compared to the others we marched with, but everyone was very nice to us, and we heard from so many folks about the diversity, inclusivity, and culture we brought to the parade," says Catzie Vilayphonh, a South Philly native who grew up watching the Mummers. "I think this may be the beginning of some great New Year traditions!" —RR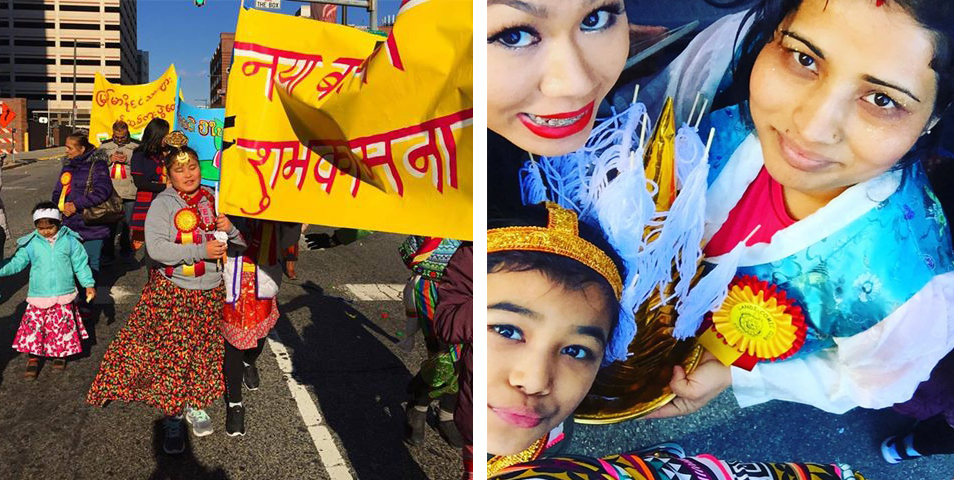 ---
Shira Walinsky lives and works in Philadelphia. As a painter, printmaker, muralist, and educator, she is focused on expanding the possibilities of partnerships between artists and communities. Shira received her MFA in painting from the University of Pennsylvania, and has completed eighteen murals in Philadelphia under the Mural Arts Program. In addition she created a series of seven lunch trucks focusing on identity, immigration, and work. She is currently co-teaching at the University of Pennsylvania with Jane Golden, Director of the Philadelphia Mural Arts Program. While pursuing interdisciplinary work both in teaching and her own work, Shira is interested in the cultures and subcultures of the city. How do personal stories fit into larger issues of the city? How has immigration continued to change the narratives and the face of the city? Shira's work with people in local communities helps transform public spaces, and each project is a new hybrid with new sets of challenges for artists and communities to grow from. Visit www.shirawalinsky.net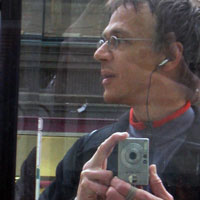 Raymond Rorke is an ardent fan of Cleaver Magazine. As a longtime writer and designer who has lived through the evolution of hand-set type into hand-coded webpages, he is fond of tinkering with words—and what goes into making them sing. Check out his ceramics portfolio here.