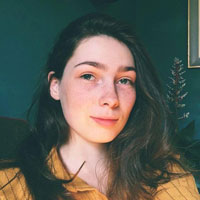 Cleaver Poetry Reviews Editor Claire Oleson is a writer hailing from Grand Rapids Michigan. She's a 2019 grad of Kenyon College, where she studied English and Creative Writing. Her work has been published by the University of Kentucky's graduate literary journal Limestone, Siblíní Art and Literature journal, Newfound Journal, NEAT Magazine, Werkloos Magazine, and Bridge Eight Magazine, among others. She is also the 2019 winner of the Newfound Prose Prize and author of the chapbook Things From the Creek We Could Have Been. Contact her by email.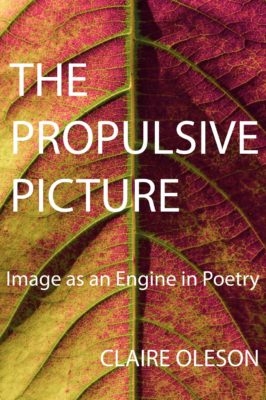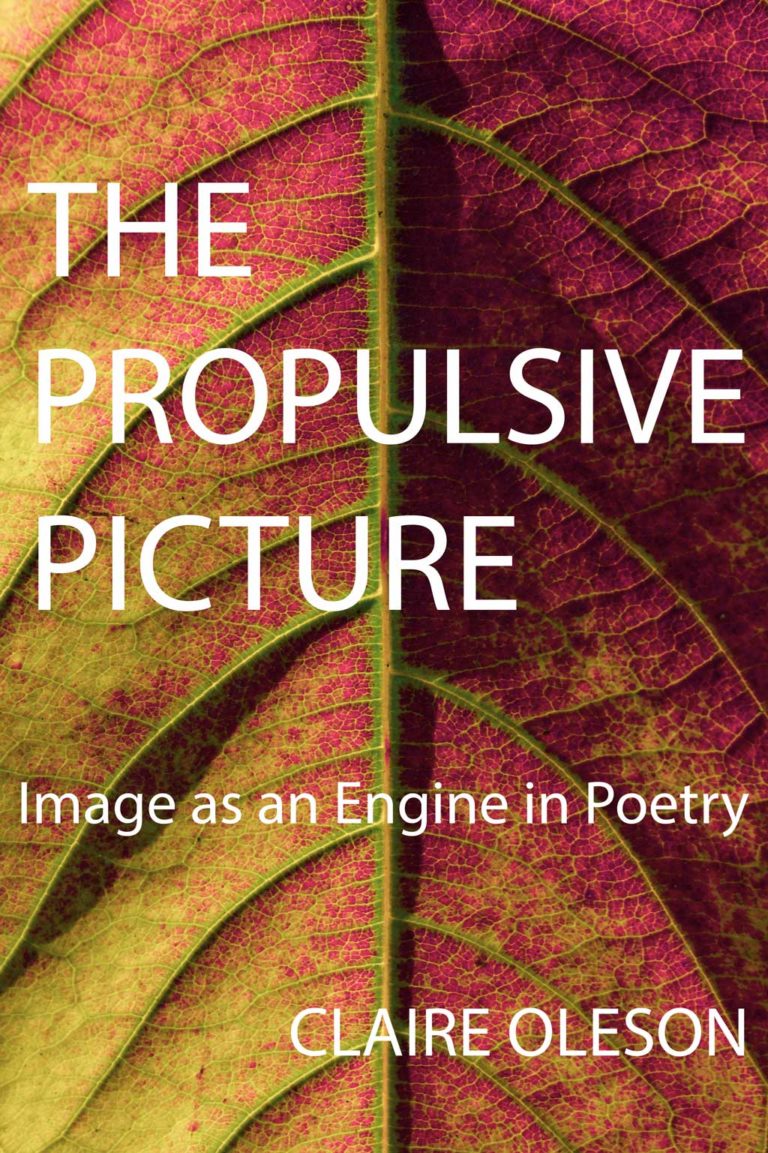 THE PROPULSIVE PICTURE
Image as an Engine in Poetry
Taught by Cleaver Poetry Editor
Claire Oleson
5 weeks July 11-August 15
SOLD OUT
Class limit: 12 Questions: claireoleson@cleavermagazine.com In this course, we will explore how images can serve as the engine in a poem: driving the language as a plot might in a story or novel. We will work primarily on generating new work, encouraging participants to push their boundaries and hone their voice to create memorable and authentic pieces. The workshop model will facilitate constructive responses from both peers and the instructor. Particular attention will be placed on the visual life of the poetry we read and write. We will read a few selections of poetry weekly that demonstrate the potential of images as communicative engines. The readings will be brief but rich, with the intent of inviting multiple re-readings, close readings, note-taking and flexibility for everyone's lives and work. Supplemental reading will be available for those hungry for more plums from the proverbial icebox. Prompts will be provided inspired by the week's reading, but will be designed more as springboards for beginning rather than hard-and-fast regulations. Participant work will be submitted weekly for peer and instructor review. One ...
Read the full text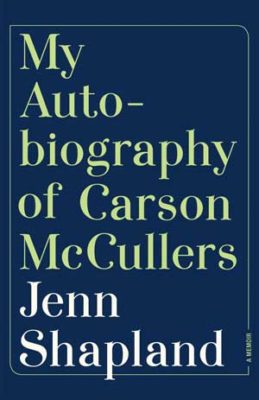 MY AUTOBIOGRAPHY OF CARSON MCCULLERS
by Jenn Shapland Tin House Press, 266 pages Reviewed by
Claire Oleson
Jenn Shapland's hybridized memoir and biography straddles what its seemingly-impossible title suggests: an ability to write about oneself by writing about someone else. Far from taking on a myopic or narcissistic project, ​
My Autobiography of Carson McCullers
i​s eager to talk about the self for the sake of empathy, to revive written-off lives, to question presumed heterosexualities, and to make a bodily connection with now-irrecoverable marginalized bodies. Spurred by discovering letters written between the Southern playwright and novelist Carson McCullers and a woman named Annemarie, Shapland dives into the paper trail of a writer she wasn't previously researching. On the hinge that the letters she discovered while interning at the Harry Ransom Center were highly unexpected love letters between two women, Shapland opens the door into the book that follows and into her own still-forming identity simultaneously. So much of this biography lives in flux. It jumps anachronistically between times and places, between Carson's young adulthood, her time at Yaddo (an artist's retreat in Saratoga, New York) and at the February house (an artistic commune in Brooklyn), and even back and forth between ...
Read the full text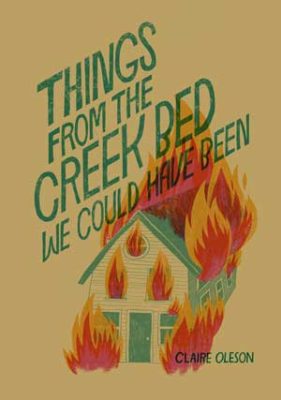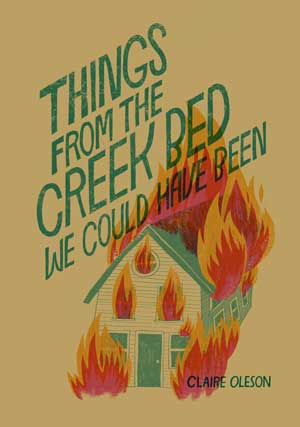 An Interview with Claire Oleson Author of THINGS FROM THE CREEK BED WE COULD HAVE BEEN Newfound Press, 64 pages by Andrea Caswell
Claire Oleson's chapbook, Things From the Creek Bed We Could Have Been, is the winner of the Newfound 2019 Prose Prize, awarded annually to a chapbook-length work of exceptional fiction or nonfiction that explores how place shapes identity, imagination, and understanding.
In the following interview, she discusses the work, and how making art can reshape our understanding of what we see in the world.
Andrea Caswell: The stories in this collection are language-driven, intensely intimate, and saturated with beautiful images. Did any of these stories begin as poems or prose poems?
Claire Oleson: I enjoy navigating in the spaces between prose and poetry; in 
Creek Bed, 
I hope a poetic dedication to the individual word is visible alongside the breathing space that prose gives to its subjects. I wanted the size, the "living room" of a story, with the minutia and pace that poetry can offer. Also, somewhat in retrospect, I've found my writing across genres is often propelled by sight more than distinct action. I wanted image to offer propulsion, like plot can, but I wanted everything I ...
Read the full text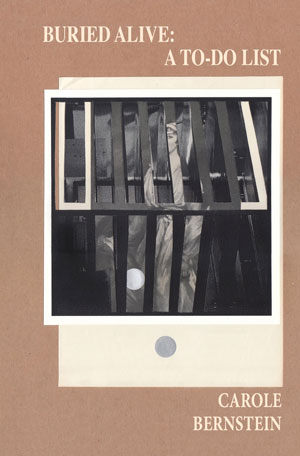 BURIED ALIVE: A TO-DO LIST by Carole Bernstein Hanging Loose Press, 80 pages. reviewed by
Claire Oleson
Purchase this book to benefit Cleaver
From satirizing the mechanics of the American workplace to discovering motherly devotion in the myth of Persephone, Carole Bernstein's third poetry collection
Buried Alive: A To-Do List
takes readers through caves and coffins alike, showing what living things still kick inside the previously presumed-dead. The book follows a loose chronology, drawing from glimpses of her living to form the picture of a complete and complicated life. Bernstein is unafraid in her direct examinations of familial sexual abuse, injury and aging, and the unfolding joys and strains of motherhood in clear, occasionally very casual language. This book trusts its reader with image and metaphor but also consciously stays married to narrative; a majority of the poems in Buried Alive: A To-Do List navigate by chronology, desiring to approach the terrifying and mundane with equal clarity. Before the life of the speaker unfolds, the second poem and the titular piece of the book takes us to her coffin. In "Buried Alive: A To-Do List," we see the speaker contend with waking up buried alive, a circumstance which prompts them ...
Read the full text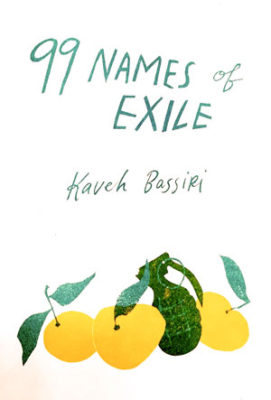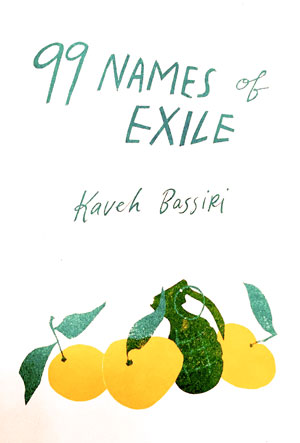 99 NAMES OF EXILE by Kaveh Bassiri Newfound, 40 Pages
reviewed by Claire Oleson
In his poem "Memorial Day" Kaveh Bassiri tells us: My absence is momentous. When I left Tehran, a revolution ......swelled in my place. When I left Berlin, the wall came ......down. And when I leave tomorrow, the airports will close. It is inside this momentous absence that Kaveh Bassiri's prize-winning chapbook
99 Names of Exile
traces its focus⁠— a conscientious unravelling of what it might mean to be gone from a place and have it be (at least partially) gone from you. The specific absence Bassiri focuses on is accompanied by a sense of irrevocable inaccessibility; it comes after forced immigration and it leaves behind it a different Tehran, a different Berlin. This exile is complex and shifting, it is not the product of a static or singular expulsion, but perhaps more accurately, it's an imposed exercise that takes continual effort survive. Later in "Memorial Day" the speaker notes "Each morning, in order not to sink, I have to bail the news out/ of me." Staying aloft is not a default in Bassiri's poetics of absence, it too requires a constant expulsion of words as news ...
Read the full text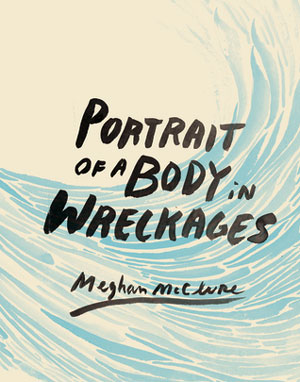 PORTRAIT OF A BODY IN WRECKAGES
by Meghan McClure
Newfound, 43 pages
reviewed by Claire Oleson
Excellent writing is often lauded for its ability to transport and disembody the reader, to enrapture so completely that its audience floats along the sentence and forgets their place in the room. Meghan McClure's
Portrait of a Body in Wreckages
does not do this, instead, much of its excellence is found in its proficiency to embody the reader, to address them in their own physicality, and move along the level of the cell as well as the sentence. Composed in blocks of poetic prose, this work explores the speaker's relationship with their body, its limits and its multitudes, its wholeness and breakages, and its existence within both anatomy and language. Oscillating in focus and tone, much of
Portrait of a Body in Wreckages
educates, telling us "Your right lung is bigger than your left" and "Ounce for ounce, bone is stronger than steel" These quick and fascinating statements begin inside the medical and clinical, categorizing, and analyzing of anatomy which demands a distance from the body to know (it is very difficult to test for yourself, on an inhale, which lung feels larger). But ...
Read the full text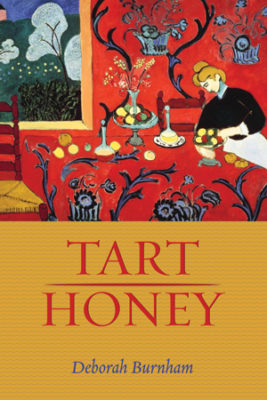 TART HONEY
by Deborah Burnham
Resource Publications, 72 pages
reviewed by Claire Oleson
Purchase this book to benefit Cleaver
Divided into four sections, Deborah Burnham's poetry collection
Tart Honey
seems cut into citrus slices— edible, organic, and aware of some lost and bodily whole it re-composes in the formation of its parts. The poems feature modern relationships with too much absence, a dissolving picture of Apollo 13 soon taken over by a persona attempting to collect her body into experiencing her partner, and paintings with colors that spill into cells, among other simultaneously harmonizing and divisive images.
Divided into four sections, Deborah Burnham's poetry collection Tart Honey seems cut into citrus slices— edible, organic, and aware of some lost and bodily whole it re-composes in the formation of its parts.
Experiences and sensations become as important, if not more so, than physical presence, even on occasion manifesting into doppelgängers of bodies. For instance, in "The night the screen fell out" Burnham's persona has learned "to live bravely with no other body/ in the house" just in time to have a bat cut through her room at night. This bat is not alone either, but casts a reminder for the persona's ...
Read the full text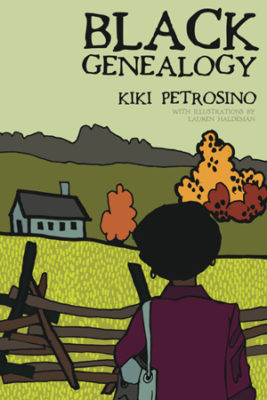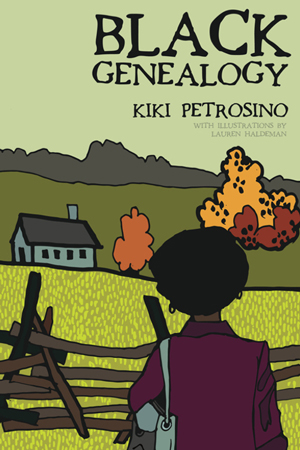 BLACK GENEALOGY
by Kiki Petrosino
with Illustrations by Lauren Haldeman 
Brain Mill Press, 45 pages
reviewed by Claire Oleson
Purchase this book to benefit Cleaver
Situated between a national and a personal history, Kiki Petrosino's poetry book
Black Genealogy
sifts through the past in search of lost identity, language, bodies, and self-possession amidst the legacy of the Civil War and slavery in America. The book details an exploration of both a familial and a larger American reality through the lens of a contemporary African American persona. Split into two sections,
Black Genealogy
consists of both unlineated prose poetry as well as highly-structured villanelles, a style of poem originally associated with ballads and oral storytelling. Both forms, especially in the context of Petrosino's subject, seem to bring a sense of narrative story to the poetry, and because of this, a noticeable absence when the narrative contended with proves to have been lost, ignored, and or intentionally obscured by the country in which it occurred. Negotiating with a history that was blind towards the humanity of Black people in America,
Black Genealogy
is a work of sight determined to bring the readers' eyes, thoughts, and awareness up close with ...
Read the full text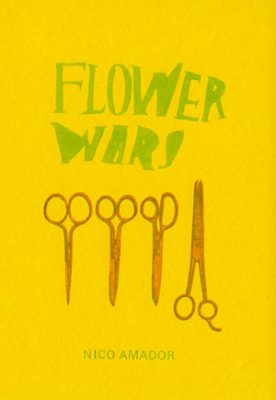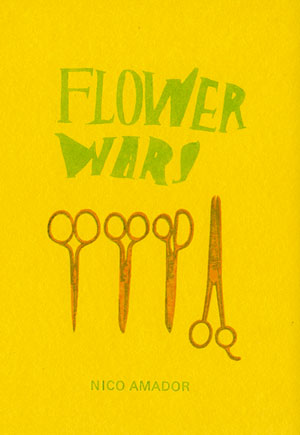 FLOWER WARS
by Nico Amador
Newfound, 35 pages
reviewed by Claire Oleson
Like a scene is set to music, a vision of the body is set to language in Nico Amador's poetry collection
Flower Wars
. In this book, biology is boiled into word, punctuation, metaphor, and syllable, leaving the reader's understanding of physicality and the human inhabitance of flesh up to a new breed of interpretation— that of one on the page. Moving between prose poems and lineated pieces, Amador addresses hair, gender, Pablo Neruda, shifting personal identities, hummingbirds, and so much more as a central narrative through-line begins to surface between stanzas. The opening poem of
Flower Wars
, "Self-Portrait With Cropped Hair," borrows its title from a Frida Kahlo painting and begins with the statement "There is the dream of exposure and then there is the act of it—" immediately drawing a boundary between rumination and action and perhaps also putting the poem itself, as a form that works an invitation to thought, into question. The reader, if familiar with Kahlo's painting, can call to mind the image of Frida in a suit and bearing a short, traditionally masculine-coded haircut. The image and the painting are stationary, ...
Read the full text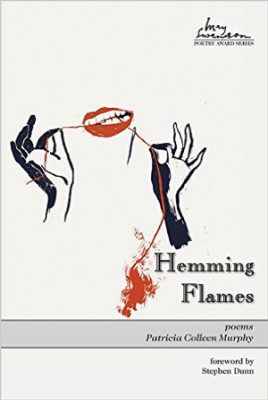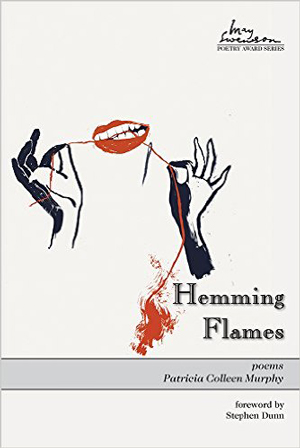 HEMMING FLAMES
by Patricia Colleen Murphy
Utah Sate University Press, 78 pages
reviewed by Claire Oleson
On the peripheries of almost constant domestic emergency and conflict, Patricia Colleen Murphy's poetry collection Hemming Flames lights up disaster and familial antipathy with humor and endurance. Many of the pieces in this collection share threads of the same story, featuring reoccurring family figures and familiar, though often growing, conflicts. There is an undeniable amount of devastation and trauma inside these family stories, but Murphy's true skill lies not in showing what's often the obvious and expected pain of it all, but in bringing a humor and an odd sense of the mundane to seemingly shocking moments. In the collection's opening poem "Losing Our Milk Teeth," the speaker details how their father "will be all/ smiles. He'll say pass the mother/ fucking peas." These lines are at once foreboding and strangely funny; in a scene where the mother is not wholly present, a request for her return is tucked into an expressed desire for peas, all barbed with an impatience and anger which suggests familiarity coexisting with aggression. As in the opening poem of Hemming Flames, many of the poems to follow also ...
Read the full text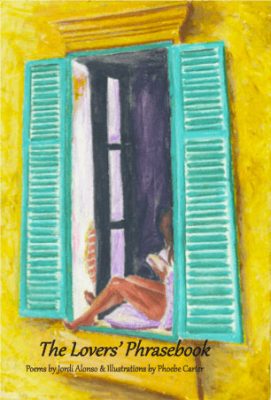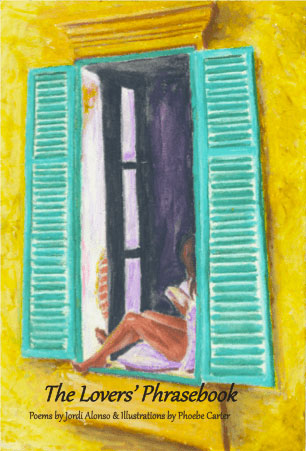 THE LOVERS' PHRASEBOOK by Jordi Alonso Red Flag Press, 68 pages
reviewed by Claire Oleson
Translation arguably holds a fascinating and unique role in literature—acting as a conduit between ways of understanding and communicating—but whether or not translation is used for uniting or differentiating separate languages is something more complicated and baffling to answer. In one of the best responses to this question I've encountered, Jordi Alonso's poetry collection
The Lovers' Phrasebook
unpacks words considered 'untranslatable' in English into full, articulate poems. Alonso's approach is particularly interesting in how it avoids direct or literal translation; Alonso's pieces do not exchange one 'untranslatable' word for one English word, but instead, dismantle and reconstruct the word out of its native language and into an expanded experience or story.
The Lovers' Phrasebook
is able to at once communicate the untranslatable while also acknowledging the gaps and deficiencies in the English language which prevent a word-to-word exchange from being an adequate way of presenting the relationship between languages. In the collection's opening poem, the only piece not titled after an untranslatable word, one of book's most integral themes is introduced. The poem, "The Dream of Uncommon Language," begins: I do not dream of ...
Read the full text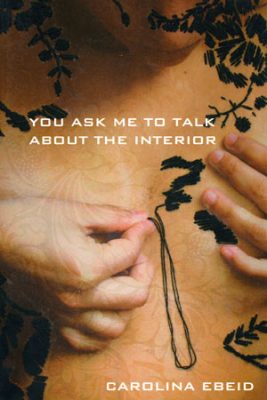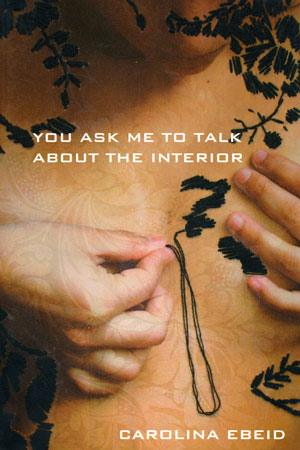 YOU ASK ME TO TALK ABOUT THE INTERIOR by Carolina Ebeid Noemi Press, 75 pages
reviewed by Claire Oleson
Poetry is often in danger of being understood as purely conceptual material in need of processing and interpretation in order to become meaningful or real. It can be easy, after wading through stanzas, to lose a grip on time and place and the sensation of occupying a body. However, despite the ethereality and distance from reality poetry often possesses, Caroline Ebeid has proven that it can also be used to ground and remind us of the physical rather than simply blur or distract from it. In her collection
You Ask Me to Talk About The Interior
, Ebeid employs a sort of "bodily language," flexing smoothly between word and body until the two seem irredeemably tied. I would argue that Ebeid, and this collection in particular, works to close the distance between words and what they mean, bringing the signified and signifier together on the physical stage of the paper. In the opening poem "Something Brighter Than Pity," a persona spends "hours folding & unfolding" the learned forms of "swans in origami". Because this picture is the first detailed in the book, ...
Read the full text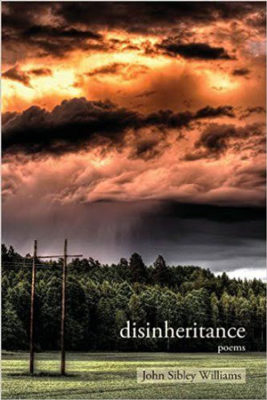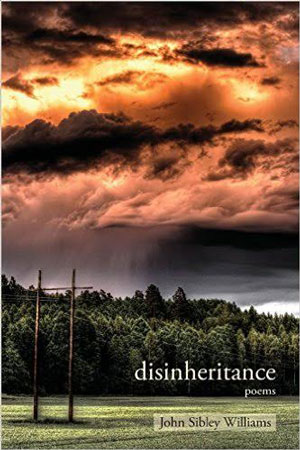 DISINHERITANCE
by John Sibley Williams
Apprentice House, 98 pages
reviewed by Claire Oleson
Language is almost intuitively understood as a tool for possession—a form of communication which allow us to hold and deliver ideas between minds. However, John Sibley Williams's latest poetry collection,
Disinheritance
, demonstrates how language itself is anything but concrete or possessable. By employing themes of abstraction, fictionalization, and absence,
Disinheritance
depicts a reality that is only accessible through distortion. Williams' poems hone in on the moments where language breaks off, proves insufficient, or only serves to describe a situation rather than explain it. In this way,
Disinheritance
investigates how poetry can both be made out of language and escape it. Like a snake eating itself, Williams' lines often turn back on themselves, admitting that their bodies are made out of English while also refusing to be limited by the borders of their syllables. One of the first poems in this collection, "November Country," uses a sense of abandonment to raise questions about presence and absence that much of the collection concentrates on. In "November Country," instead of helping his grandfather dig a grave, the speaker decides to gather the earth rather than empty it, declaring, I ball ...
Read the full text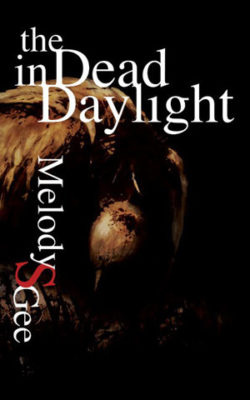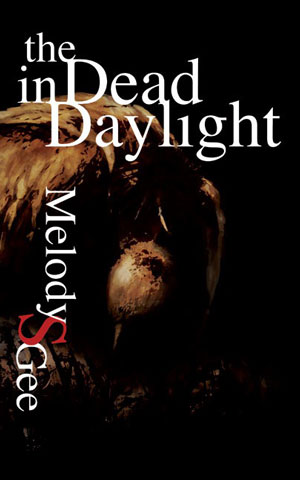 THE DEAD IN DAYLIGHT
by Melody S. Gee
Cooper Dillon, 55 pages
reviewed by Claire Oleson                            
Communicating soreness, strength, weariness, and victory by tapping a reader's own muscles for empathy, Melody S. Gee's latest poetry collection,
The Dead in Daylight,
uses language to both construct and dismantle bodies and lives. As if preparing an animal for the table, Gee's poems divide "body" from "life" and "muscle" from "meat." Divided into two halves, "Separate Blood" and "Bone," this book reaches out to its reader with both life and decay, fingers extended from the pages to read the pulse of its audience. In what can be understood as taxonomies, eulogies, butchering instructions, and ways to heal a nerve,
The Dead in Daylight
confronts life and death directly and sharply and softly, a heartbeat edging out from behind every line. The first poem of the collection, "I Cannot Make a Torch of Green Branches", begins: The living does not burn, even after cold protests of smoke. Green branches will not take a spark like the dead. Here, Gee provides imagery that immediately seems to contradict itself. What's still living is portrayed as not volatile, not useful, not bright or active, while the ...
Read the full text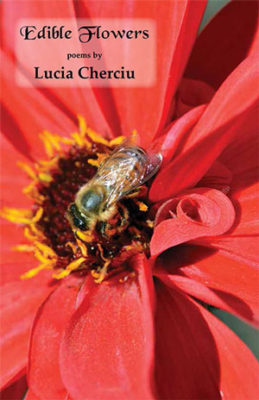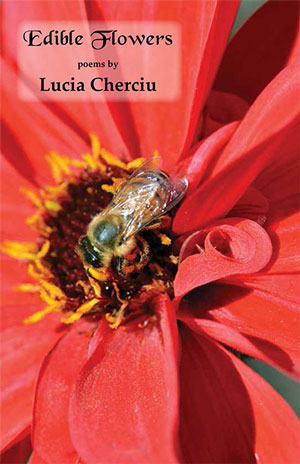 EDIBLE FLOWERS by Lucia Chericiu Main Street Rag, 62 pages
reviewed by Claire Oleson
It's easy to forget, in the middle of reading a stanza or a paragraph or a recipe for sauerkraut, that language is something constantly occupied with its author's intention and its reader's reception — it is not still nor discreet nor impersonal, no matter how inhumane the result may taste. Lucia Chericiu's poetry collection
Edible Flowers,
through its personal and intimate depictions of history, home, fruit, bodies, and language, communicates how language is constantly in translation, moving between nerve-endings and letters, and irrevocably infused with the humanity that authored it and the humanity that receives it. The poems of
Edible Flowers
are largely occupied with how both the material and the lingual in people's lives come with human stories ingrained in their meanings and purposes. In these poems, and in the reality they came from, all objects and words betray a time and a place and a person. A tree grown in a drought means a neighbor has stolen water, an old women's hands aren't merely tools but things which "bespoke hours and years she toiled," and the propaganda people are forced to memorize is made ...
Read the full text