J. Bradley Minnick
THE BANKRUPT CIRCUS
Before the Bankrupt Circus came to town, my bud, Decie, and I spent our summer lunch breaks arguing about the merits of olive loaf sandwiches while we sat on the curb in the midst of chores in front of his mother's house—a squat typical one-story brick affair—two eleven-year-old boys caught in the grip of the summer lunch-time economic blahs.
Remember olive loaf? It's a working man's lunch meat: one-part salty bologna, one-part salty olives, a third-part salty preservatives—a super salty concoction that went down perfectly with cold orange sodas in pull-tab cans.
Thus, during our lunch breaks, Decie and I found ourselves embroiled in arguments about the merits of proper condiments. It was difficult for me to agree with what my bud, Decie, said, even when the bold and ludicrous statements that verily fell from his salt-encrusted tongue turned out to be true. We were both in perfect agreement, however, that mustard added a layer of sticky brine to the meat; ketchup was just plain gross; combinatorial spread mixtures sat too heavy, even on an eleven-year-old belly; heretofore, Decie boldly stated that only a cool layer of mayo spread deliciously atop the part-olive, part-meat would do—I opted for Miracle Whip.
"Expeller Pressed Organic Soybean Oil, then," Decie smirked.
"Low-fat whipped cottage cheese," I gagged.
We both stuck our fingers down our throats at the mention of low-fat.
Decie and I argued for a while longer and then turned to the importance of bread—we both agreed individual hoagie rolls purchased from Benvenuti's Market on the corner were essential and far better than the crusty stuff in the Bread Depot. Benvenuti and his baboushka-wearing wife, Carm, baked fresh bread on Fridays. I argued that Friday's rolls were fresher; Decie argued that Saturday's rolls gained in experience.
Then, Decie's mother stuck her head out the door and pointed to the lawn mower, the gutters on the roof, the hose in the yard, and the paint cans next to the door.
As I said, until the Bankrupt Circus came to town, arguments about the merits of olive loaf, the most lubricating condiments, and the best day for purchasing bread had been the cultural capital of our summer vacation—as much ado about anything and everything as nothing at all.
Enter: Decie's neighbor—Mr. Rancer.
For every day of the year save one, the summer solstice—the longest day of the year—Mr. Rancer refused to allow anyone to set foot on his perfect grass. Neighborhood boys, almost grown, heads filled with the unpleasant and humiliating memories of being lectured to and berated by Mr. Rancer in his Economics class, spent their nights rambling through the middle of his yard. This intrepid battle raged on until Mr. Rancer literally raised the stakes, knocking spiky metal heads into the ground and through cause and effect tore Tommy Tutonie's oil pan right out from the bottom of his car. All Mr. Rancer had to do was follow the oil leak up the street and write down the license plate number. Afterwards, Mr. Rancer's KEEP OFF THE GRASS sign became a permanent fixture, except on the longest day of the year when he took it down and put up another to promote his garage sale, thus letting all trod on his beloved grass.
As far as I could tell, Mr. Rancer imagined himself the middleman of garage sales. In late spring he frequented them most weekends, when he wasn't tending to his lawn, bought the most unusual items, and then waited for his fortunes to improve by staging his own super-saver-summer-solstice garage sale blow-out. That's what his sign said anyway. Problem was, when it came time to resell the junk, Mr. Rancer never remembered quite how much he had originally paid, and he never put price tags on anything. Each time one tried to hand him money, he insisted on haggling for both fun and profit.
Mr. Rancer would wait for an offer and then begin right away to drive up the price. "Simple supply and demand," he would say. "You'd know this, Decie, if you ever had the G's to ante up and take macro-economics. Simple liquidity, son. The beauty of the free market at work right here in the ol' neighborhood."
"The two miniature unicycles," Mr. Rancer told me, "had belonged to THE Bankrupt Circus, and they had only been ridden by clowns—not bear cubs." Rancer said he "picked 'em up for a song. The Bankrupt Circus," he explained, "had gone belly-up and stalled just outside of Hiemont." Bank officials, Rancer told me, had seized nearly everything, and when it was clear the Bankrupt Circus would forever be insolvent, officials began selling off items in lots.
Immediately, I could tell Mr. Rancer regretted that he had tipped his hat and whispered, "Nick, let's just keep these little particulars between you and me, okay?" Along with the unicycles, Rancer bought flashy fringed costumes worthy of tightrope walkers and trapeze artists, and he displayed these costumes all along the concrete walls of his garage. Additionally, he had procured a human cannon, two whips (he refused to sell these to children—said he was going to "use 'em on anyone who stepped on his grass"), two giant spheres (you could climb into them and roll around), and three hoops he lectured "an enterprising performer could light on fire and juggle."
For weeks that June, we had seen unemployed circus performers hanging around Hiemont's town limits with their animals—monkeys in military vests and caps, tiny pigs in summer dresses, and bear cubs wearing spiked collars—waiting for the 51C bus.
A photographer for The Hiemont Chronicle snapped a photo exposé, posing the down-and-out Strongman, an unkempt bearded woman, a flaccid Muscles the Clown, and a tattooed fire-eater holding the ends of the leashes attached to the befuddled animals, who in the pictures looked forlorn, sick, and down in-the-mouth.
Such stories usually go unnoticed, but this one, perhaps because of its high pathos, caught fire, and before Hiemont could issue "damage control," our best local newsman, Yippie Freeman, was busy interviewing the Bankrupt Circus performers.
The following statement was issued to Yippie by Muscles the Clown on KUKY: "When a clown, willing and humble, can't get work in America, the whole meritocracy is DEAD!"  Muscles the Clown was, of course, alluding to a whole way of life that had, in fact, been taken away when those multinational corporations had moved in right next to so many of Hiemont's independent mom-and-pop stores. Places like the Bread Depot.
On television, the circus performers were not drunk—although no one would have blamed them had they been. Instead, they used their wits and innate understanding of the entertainment news capital America was becoming—all an illusion—and they grabbed the big fat ill-fitting keys to even the most cynical grown-up child's heart.
Muscles the Clown, because of his facility with Standard English, quickly became the spokesman for the group of cast-out circus performers, all of whom decided exactly when it was best to let go of their leashes.
CBS broke the story nationally, and twenty million viewers tuned in. Each night, experts sounded off and provided multi-screened commentary underneath sad pictures. The Town of Hiemont was forced to issue an unremorseful apology for closing down the circus and trying bit by bit to sell it off. Nobody believed the town officials' apologies, and this disbelief turned America irate and further stoked the viral ether.
"In America," Muscles the Clown said, "a half-assed apology is worse than no bleeping apology at all." Twenty million viewers didn't even move to cover their children's ears, nor was there the expected outrage over Muscles the Clown's poor and un-calibrated statement. Even eleven-year-olds like us recognized that Muscles the Clown had spoken from his real, not his rubber heart. He was a person underneath that painted-on clown smile—after all.
Thankfully, I was able to haggle with Mr. Rancer for the unicycles before Show BIZ TV got whoopee-cushioned wind, flatulent and fetid, of the capitalistic unpleasantness going down in that bargain-basement garage sale across town.
On television, Rancer looked apoplectic, pointing and making great and pronounced finger gestures in the direction of the BIZ TV's news truck tires that had found purchase in his front lawn. "Doesn't a man have any rights? Isn't anything sacred?" Rancer howled red-faced into three different cameras while attempting to hurl a circus ball through the windshield of the news truck—the same circus ball, we later learned, that had spent most of its time encircled in the trunk of a well-worn and beloved elephant named FRIEDA, who preened and balanced and raced for The Cure. (YouTube showed footage of Freida extending an uncoiling trunk, snooted around a large-sized check for a sizable amount to thankful wig-wearing children, thus inflating several Big Top towns all across America.)
Yippie Freeman reported, "In this downtrodden economy with so many homeless and unemployed, there is something about the desperate pieces of this story that has found its way pluckily into the main artery of America's heartstrings. A Bankrupt Circus, dehydrated animals, and now an unemployed Muscles the Clown [backlit picture of Muscles flexing inverted arms] put a face on the problem."
Public television pontificated: "Picture yourself, standing there, holding the end of a forlorn leash, attached to an unhappy bear cub named Bubby. The animals, the clowns, and America is in bondage, and those of us who pay attention clearly realize Muscles' painted-on smile is the same smile we put on every morning. And, those of us who truly do care to reflect for even the shortest amount of time on this America, our America, realize that we are all down-and-out clowns; we are all pitiable circus animals attached to leashes, and we can't let go because we have held onto them for so long that we have come to believe they are extensions of our arms. Has America, as represented by this tiny northern town, turned into a Bankrupt Circus?"
And then, when the President, in an off-hand remark, referred to evidence of a "Bankrupt Circus" after pointing to a series of boarded-up financial institutions, those in the media suffered a veritable viral parapraxis. Quickly added to pop culture's idiomatic urban dictionary—The Bankrupt Circus came to mean more than "I sincerely apologize."
Luckily, though, while America was seemingly at a standstill, Decie and I had bought, paid for, and wheeled away two shiny Bankrupt Circus unicycles shortly before Biz TV's heavy news truck sullied Mr. Rancer's lawn, and he became known as "The Grass Crank from Hiemont."
Decie and I didn't give a shit about the news; we didn't read any newspapers, and although big events—usually celebrity deaths found their way to us later rather than sooner—in truth, we didn't care either way. We had more important things to argue about—the merits of olive loaf and figuring out how to ride those one-wheeled bicycles I had blown my birthday money on.
Decie grabbed a unicycle from my hands, ran astride of it, and attempted to hop onto the banana-shaped seat, as if he were an outlaw pulling himself up onto a galloping horse; he sat atop the seat for a few painful seconds, howled in a high-pitched falsetto and fell to the ground gently cupping his nads. He yelled, "My balls have become bruised olives," which brought to mind our constant arguments about olive loaf sandwiches and put me in no mood, I assure you, to eat them. Decie found his unsteady feet. He was still nursing his injuries. I prayed he wasn't going to ask me to take a look.
Aside from being nearly maimed, Decie was convinced that we had been gypped, and he insisted that we return the unicycles—invoking the Lemon Law.
Hell, I was trying to do a good thing, something different, you know?
By the time we wheeled the unicycles back to Rancer's house, the BIZ TV truck had set its tires permanently on his once-pristine lawn, and Mr. Rancer's comments were being edited into usable sound bites; there was footage of him hitting Yippie Freeman over the head with his big-super-saver-summer-solstice garage sale blow-out sign, stealing Freeman's handheld microphone, and spewing forth the following: "One of the consequences of such notions as 'entitlements' is that people who have contributed nothing to society feel that society owes them something, apparently just for being nice enough to grace us with their presence."[1] We last saw Mr. Rancer using the circus whip repeatedly on the BIZ TV truck tires before being wrestled to the ground and led away in handcuffs. "Arrested," Rancer's snarky lawyer said, "humiliated, disgraced, taken away from his own garage sale. Just a poor American man trying to make a buck."
Decie and I quickly learned on that summer solstice day that all wasn't quite as it appeared when an inexorable gaggle of clowns from the Bankrupt Circus suddenly replaced the haggling Mr. Rancer with wide-angled, make-up-smeared shots of tear-filled clown faces reunited with their beloved costumes, juggle rings, cherry noses, fake ears and pairs of floppy shoes.
There is that now infamous picture of Muscles the Clown, who stands in his polka dotted socks pointing with wonder and reunited with his bulbous shoes, the laces of which dangle by a nail pounded into the block cement with a sign that read, "Best Offer."
Muscles the Clown points to his hammer-toed feet and says, I quote, "We thought everything, even our shoes, had been sold off and were long, long gone, but it's all here!"
While Mr. Rancer was presumably being fingerprinted, Muscles the Clown and his ilk took over his garage and, in full view of all, and on cable television, performed a spontaneous, first-ever to America's knowledge, Garage Sale Circus—the idea being if they could collect enough money, maybe, just maybe, they could pay their debtors, buy back their circus stuff and reverse the insolvency that had injected itself into the content of the American character.
Enter: Decie, all bruised and holding his balls, and me with a huge smile—as if we had recently got wind of the Garage Sale Circus and, on cue, were returning the unicycles we had ourselves wrested away from a rich neighborhood capitalist and were wheeling them back to their rightful owners.
"Everything must go!" Muscles the Clown shouted.
As we rolled the unicycles into the garage, Yippie Freeman, now in a flak jacket and with an icepack on his head, said: "There are glimmers in the boyhood of America that with steadfast prayer and a belief that if just given a chance, our younger generation will rise to the occasion, if called so forth."
This made-up back-story, without a word to deny it, confirmed what everyone perched by a television set in America was thinking.
"Their Quixotic quest is over!" Muscles the Clown reiterated and pointed a stiff finger at us.
Suddenly, all of the clowns surrounded us and were patting us on the heads and rubbing our bellies and going, "Bong! Bong! Bong!"
"And now ladies and germs, what's a Garage Sale Circus without—animals!"
Enter: three seals who tossed beach balls with their noses and bear cubs still wearing collars, who rolled around with purpose on the insides of hollow spheres.
"We wish we had the elephants, but alas all the elephants, even Freida, have been impounded. Help save the elephants!" Muscles the Clown again pointed his flaccid finger at America.
A strongman appeared wheeling out the human cannon, which came to a grinding halt before us, and Muscles gestured like clowns do for Decie to "Get in."
Decie, overcome by the moment, hesitated.
"This is NOT a good idea," I said but my voice was drowned out by an orchestra of fun whistles and stupid kazoos.
I saw the last of Decie's head disappear into the mouth of the cannon.
Then, the Fire Eater appeared as if from the very walls of Mr. Rancer's garage and pulled from his mouth a flaming sword, which still had the price tag on it, which he used to light the comically enormous cannon's fuse.
"Ten-nine-eight," Muscles the Clown began the count, "seven-six-five" we all chimed in "four-three-two" BOOM!—a thousand leaflets burst from the human cannon like confetti, advertising the Garage Sale Circus. Muscles the Clown made a big 'to do' about climbing onto the barrel with a handheld camera and peering down into the mouth of the human cannon.
"The boy is nowhere to be found!" Muscles the Clown exclaimed and pushed his gloved hands to the side of his face.
[Wide-angle of the impossibly empty barrel.]
"Gone to free the elephants," Muscles exclaimed and clasped his hands together like a supplicant.
The kazoos crescendoed and the fun whistles shrieked, and then everything about the Garage Sale Circus paused—"Commercial," the Bearded Lady whispered in my ear as soft as silk.
The clowns grabbed suddenly the unicycles from my hands.
Five minutes later the annoying kazoos and ear-splitting fun whistles started up again; errant clowns were hopping on pogos, two bear cubs were riding the unicycles, and there was Muscles the Clown still sitting astride the cannon, a camera lens very close to his face, "And ladies and germs, theeerrrreeee he is!" the flaccid finger suddenly turned straight.
Decie made his way from around the side of the garage—leading five elephants trunk-to-tail in tow. "They follow the boy like butter," Muscles the Clown said into the camera while behind him the elephants put on a show: they balanced on little stools, they tossed bouncy balls back and forth, they tilted their great hoary heads and trumpeted in the air freedom's sounds upon command.
Re-enter: the Fire Eater who held up a large ring aflame. I tasted the creosote and smoke.
The cub bears were holding hands, balancing their furry bottoms atop the unicycles. Together they gathered up speed and jumped through the flaming ring, over three tiny pigs, and landed successfully on God's side, our side.
One cub bear dismounted, and there was Decie in the middle of it all, clapping, happy.
I had never seen Decie so happy. When one of the clowns during the next commercial break showed him how to mount the unicycle, one foot on the ground, the other on the pedal and up! up! up! he grinned from ear to freckled ear. The Strongman and Muscles held onto each of his arms and together yelled, "The boy is on his way!"
As I stood there surrounded by clowns and bears and elephants, as I watched the cannon being lit once more and advertisements and confetti being shot into the air—all I could think was, this whole thing should have happened to me. I was the one who bought the unicycles; I was the one who wheeled them back here; I was the one who understood cause and effect, supply and demand, the warp and the woof. Yet, it was sad-sac, ever-antagonizing Decie they had picked, not me.
I sat right down on the curb, I swear, and one of the 24-hour news guys handed me a sandwich, and guess what? It was olive loaf. Yet there was only mustard, not mayo, not Miracle Whip. And he said, "Kid have you ever seen anything the likes of this?"
_____________
[1] Quote by Thomas Sowell
---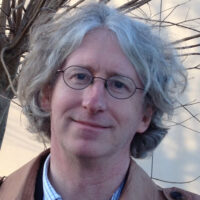 J. Bradley Minnick is a writer, public radio host and producer, and a Professor of English at the University of Arkansas at Little Rock. He has written, edited, and produced the one-minute spot "Facts About Fiction," and Arts & Letters Radio, a show celebrating modern humanities with a concentration on Arkansas cultural and intellectual work that can be found at artsandlettersradio.org. He has published numerous journal articles and fiction in Toad Suck Review, Burningword Literary Journal, Literally Stories, Inklette Magazine, and Potato Soup Journal and Potato Soup Journal's 'Best of 2022' anthology. Forthcoming work will be featured in The GroundUP, Southwest Review.

Cover Design by Karen Rile