AMOR FATI

by Tina Barr                                                  
Chits came in stapled packets, five yellow slips
to a page, that ripped like postage stamps, perforated.
Three'd buy a creamsicle, or a barbershop twirl
of white vanilla shot with chocolate.
……………………………………………………..Inside the girl's
locker room, open to sky: tuna, peanut butter.
Slatted boards laid their shadows beneath us.
Cross-legged, towel our card table, so nothing fell
through.
…………….Sun pooled; we painted our noses
with white, thick Noxema.
………………………………………..Go Fish, bubbles drifted
up from the nose of a cartoon orange fish;
or Old Maid, we'd scream, getting her, bun, spectacles
like death, in childhood's parlor.
…………………………………………………..Legs lengthening,
tops beginning to bulge enough for training bras.
My Daddy said, You're a man trap.
Mary's older brother, a redhead, swam close
towards the dock; the end of the boardwalk floated.
Horseshoe crabs compassed under it, tails moving
needles.  Their blood blue from copper, scientists
drained it; it clots in response to toxins.
……………………………………………………………..Across
the harbor Watson was writing The Double Helix.
We were spun in the vortex of two-piece cotton suits
like Gidget.  Angus was older by a decade.  Only once
did he lift me onto the low rung of ladder, sea brown,
warm; clear jellyfish the size of figs swirled.
………………………………………..……………………………Once
a month lifeguards whistled us out;  sharks' fins
streamed past a red nun.
………………………………………..Mary once invited me over;
I didn't understand Catholic meant too many children.
Her mother had something called a "nervous breakdown."
The phrase clotted in my head; forty years later, crouched
on our dining room floor, crying I couldn't stop.
………………………………………..………………………………….Dreams
my father turned his head towards me in bed.
In photographs, lab technicians in masks, shower caps,
fold back each carapace, stick in steel needles, crabs
strapped above glass jars into which drips sky color.
◊◊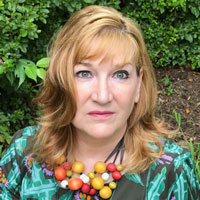 Tina Barr's books include Green Target, winner of the Barrow Street Press Book Prize, as well as the Brockman-Campbell Award for the best book of poems published in NC in 2018, Kaleidoscope (Iris Press) and The Gathering Eye (Tupelo Press Editor's Prize) and three chapbooks, all winners of chapbook contests. Her Fellowships include the National Endowment for the Arts, Tennessee Arts Commission, Pennsylvania Council on the Arts, and MacDowell Colony. She teaches in the Great Smokies CW Program at UNCA.
Image credit: Mat Reding on Unsplash