TINY THINGS by TALEEN A. SHALEH
TINY THINGS
by TALEEN A. SHALEH
The way she squints worries me, my mother tells the optometrist. In the dim room, sitting before the gentle doctor, being whispered to, One or two? Three or four? I learn a secret. My ability to see tiny things up close is superhuman. The doctor tells me so, not like she's telling a child a complimentary fib, but like she's embarrassed since it was the only word to use and it sounds silly.
It makes sense, though, because I'm tiny, too. At school, a boy I hate calls me "mouse". My friend Nina says, At least a mouse is cute, and totes me around like a doll. We line up by height for all occasions, and I'm always first. During lessons, I bend as close to the page as possible, examining the shapes inside the pencil-letters, and I'm so focused I don't hear when the teacher calls my name. Sometimes the principal doesn't even notice me sitting in her office, I'm so small, but there's no office to send her to for not paying attention.
My mother doesn't believe the optometrist, but she's too busy to make another appointment with a different one.
At home, armed with the knowledge that my up-close seeing isn't me being a total weirdo, but a power, I search for the tiny. I realize the problem with being called a mouse is that a mouse is not small enough. I can do so much better.
The ants that march through our kitchen are okay, but even more interesting are the near-microscopic mites. The ones that look like specks of nutmeg until they start to move. I invite one of them onto my finger.
The day-after-Valentine's-day tulip bouquet my mother bought for herself is nice, but way better is zooming in on the center of a single bloom, taking in every grain of pollen dusting each stamen's tip. The threads of color striping along the petals are playground slides to tumble down. I reach out and smuggle a dot of pollen.
In the healthy dinner I'm forced to eat because my mother is just one woman trying her best, a fleck of quinoa is still too large. I concentrate on the mini tail whipping out and pick it apart from its seed. Why are you squinting at your finger like that? my mother asks.
Because they've invited me to tea, I want to say, but don't. After dinner I run upstairs with my three new friends on my fingertip. One breath, and I join them.
We're sitting together in downtown Crayola, surrounded by sixty-four multi-colored skyscrapers. The mite, the velvety fleck of pollen, the curly quinoa tail, and me. We don't need teacups. We slurp directly from the single droplet before us.
When my mother enters the room, she calls and calls, but doesn't see anything.
◊◊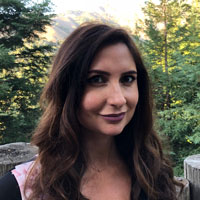 Taleen A. Shaleh's writing has appeared in The Bold Italic and Cal Literature and Arts Magazine. She lives in San Francisco, where runs a research team by day, parents a spirited toddler by night, and writes when she can (you should see the notes app on her phone). You can find her on Twitter at @taleenashaleh
 
Image credit: Luisella Planeta Leoni on Pixabay