TWO FLASH PIECES by Joshua Shaw
TWO FLASH PIECES
by Joshua Shaw
Later They Didn't
After the house fire, the neighborhood boys searched the rubble. A chimney teetered. Cinders smoked. Parents said it wasn't safe. Stay away. The boys didn't listen. Treasures might be found. A young couple had lived there. Maybe a bra had survived the fire? Maybe a blackened spoon?
Only metal eyelets were found, shoes erased by flames, metal tarnished by heat so the eyelets looked like tiny ancient coins.
The boys hid them in a hole by a tree. Later, they remembered where. Later, they didn't.
◊
Wicked Source of Light
Before he dies, my father asks, "What's a six-letter word for a wicked source of light?" Outside, wind shakes power lines. Plastic bags snap on bare tangled limbs. Dad's newspaper rustles.
"A wicked sort of life?" I ask.
"No," he says. "A wicked source of light."
A week later, my sister's kids find a box in his closet, scented candles, the ones Mom used to decorate their home. Her kids line them up on the kitchen counter, rank the scents. Christmas Cookie is best. Balsam Wood and Life's-A-Breeze are the worst.
"Don't you want any of Dad's things?" my sister asks.
There's an empty bowl on the stoop outside his kitchen's sliding door, a dish he'd leave out for strays. I think, candle.
◊◊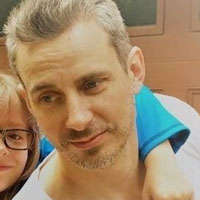 Joshua Shaw is a philosophy professor at Penn State Erie who began writing fiction midcareer because it made him glad to be alive. His stories have appeared in Hobart, Booth, Split Lip Magazine, Pithead Chapel, Sundog Lit, and Kenyon Review Online. More information about him can be found here.
Image credit: Paolo Nicolello on Unsplash