BESIDES YOURSELF by Jean-Mark Sens

BESIDES YOURSELF
by Jean-Mark Sens
As of lately you said you have been strangely strange—a bit besides yourself, which you noticed when you take a walk someone constantly in your shadow, a palpable presence almost shoulder to shoulder-not disturbing, even companionable.
On the fence along the park, passion flowers trellised through a canvas of lozenges– appearing, reappearing, the old German church steeple, something of a fez with a cross on top in the course of your steps through the interstices.
Blood remembers its mechanism of cells, globules, given to you and borrowed and what you eat becomes a minute replica of its substances to rarest–in a few steps still a mark on the sidewalk—where blood splurged, crimson and oxidized as a long map between life and death out of an old man bleeding against the curb stone. A presence, you and not you, till as in a motion picture in a slow back reel you call up help, and the man before you with his pepper curly hair sits up.
You still walk feeling besides yourself, a sort of double entendre and yet you are not a puppet or a ventriloquist—tempo, time, rage time, 100% pure rag, you wonder—words on liner—tattooed water mark, a page inevitably creates margins even at the first word, a lean spine between silence and thoughts, Capital letter, the urge to start the larger size of the letter to launch word after word, afterword, foreword, beside themselves–do they respond to a pre-order, reptilian part of the brain, syntax and transgressions, you wonder "love" in a two way mirror.
◊◊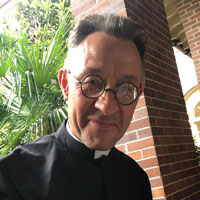 Born in France, Jean-Mark Sens has lived in the American South for over twenty-five years. He is currently in Pre-Theology II, formation for Priesthood at Notre Dame Seminary in New Orleans. His work has been published in the U.S. and Canada, and he has a collection, Appetite, with Red Hen Press. He is also working on culinary book Leafy Greens & Sundry Things.
Image credit: Thomas Leuthard on Flickr