Thomas Cook

AQUIFER
I could be more perceptive. Beneath me, 750 ft., my wife is thinking. I fool no one. My sweater is nice, and it keeps me warm, but at the end of the day it folds into a flowered bag and I am naked with the thoughts lonely in my mind.
My arm is asleep. All morning I shake it and wait for the blood to come. I confuse Denver with New Orleans, and then I consider the real differences. How French are any of us, anyway?
---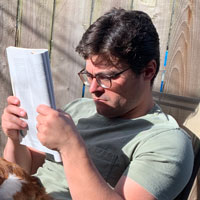 Thomas Cook is the author of the forthcoming poetry collection Light Through a Pane of Glass (Big Table, 2020). Since 2009, he has been an editor and publisher of Tammy and Tammy Chapbooks. A recent series of poems appeared online in the Quarterly West special feature Salvage/Selvage.
Image credit: Jeremy Bishop on Unsplash