TWO POEMS by Andrew Hamilton
Andrew Hamilton
TWO POEMS
How to Serve a Yellow Knife Lunar Side Up

Green
stripes only.
No round, less square,
don't forget orange grapes.
Stem-plant that table, soldier!
Christ, where's a pinstripe umbrella
to kite a ripple in the glade of this sleep tide?
Go on then, dive a slice of those paradise knives,
but do not peel the spoon orbits off that licked brick!
I know you broke the yolk rope when I ordered
eggs unshaded on the Darkest Side of Hades.
Dummy. You niced 'em dry on inverse—
money is slicked outside amphibious.
Even the weather is up to you and
I'm looking for clock the sun
hit moonlights out of me!
Back when lightning
sold out the strike
and fire
cried.
◊
Wanted: The Ego
Hidden from searchlights
stabbed electric through barbed
fire walls at Fort Lauderdale's
Asylum, rain and red stoplights
smear blood across wet streets
knocking on dead room door.
Telephone rings. Flashback
flood flashing locust buzz
through static television set
screeches dark radar warning
the weatherman the Poltergeist
sees Hurricane Andrew's eyes
"I didn't do it! I didn't do it!"
Hissed the Sandman licking
light beneath the bedframe,
humming dead dial tones
from phones off receivers—
tornado sirens twisting
rusty red shriek sounds
scratched from the attic
off meat hooks scraping
chalk through eardrums
panged against the pane
of palpitations eating
love through the heart
of fear stalks faith
self-masticating
all religion.
◊◊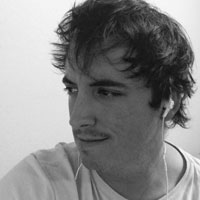 Andrew Hamilton graduated with his MFA from Saint Mary's College of California. He received awards for creative writing at the University of Tennessee. His work has appeared in The Saturday Evening Post, The Main Street Rag, San Antonio Review, Blue Fifth Review, The Rush, BlazeVOX, Glassworks, Crack the Spine, and Yes Poetry with new work forthcoming in Flash Fiction Magazine, Dream Pop, I-70 Review, Dead Mule Surfaces.cx, and Abstract Magazine TV. For more information, please feel free to visit his website: andrewhamiltonwrites.com