Anne Garwig
ROSE
We saw two barefoot boys walking down the double yellow lines, both holding their crotches in a two-hand grip, playing chicken with the Cape Canaveral traffic. I wanted badly to kiss her, in the way that romantic men are always saying they will do to me. It was too nice a day to offend her or face the consequence of yes. She asked why I dressed so conservatively for someone who knew so much about music. The barefoot boys were in her poem the next day but not the men we also saw on the beach, the naked men riding bicycles and walking near us with bellies and cocks exposed. We swam away from them.
Rose was always in trouble, sort of. Uh-oh. She slept a lot and didn't like to be liked. Her nerves were perfectly authentic. We drove north a few weeks later in her car, the upholstery scattered with ashes of sage. I woke on the first northern morning, naked and thirsty. From the doorway, holding coffee, I saw her waking. She pulled the comforter to her neck; the soles of her feet were black.
---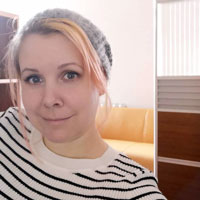 Anne Garwig holds degrees from the NEOMFA consortium and the Ohio State University. Her poetry has appeared in the Mojave River Review, Broad! and TIMBER, among other journals and anthologies. Anne was a runner-up for the 2016 Into the Void Poetry Prize and an associate artist in residence at the Atlantic Center for the Arts. A native of Youngstown, Ohio, she teaches in Rutgers University-Newark's international program in Changchun, China, and serves remotely on the board of Lit Youngstown, a literary arts non-profit.
Image credit: Sasha Miller on Unsplash