VIDEO  ALTARPIECE (3) by Judson Evans

VIDEO  ALTARPIECE (3)
by Judson Evans
(Florence Flood, 1966: restoration of Vasari's Last Supper)
Twelve hours under the flood the putrid silt
sacked every staging and support, the poplar
plank with its larch cross-sections, wrung through
with woodworms and fungus spores.
The armature was warping, the foundation
was gone. They would have to destroy the world
to save it− shear off and float the color still clinging
to the brushstrokes—
……………………………cadmium fingerings, tangled
lightning cords of crimson, the steely crosshatch
green of Judas's collar.
First, rip the sky from its
window in this columned polychrome
room, divide the jostle
…………………..of disciples, the burnt sienna
laying on of hands.
Then, scrape away the faces, the feet
of wine glasses, the halos
with rice paper bandage,
mulberry strips,
clear the table of The Last Supper
with a trowel.
And in that time without angles−
transubstantiate the brotherhood
of subtle, alchemical, hovering bodies
suspended in the concoction
of sturgeon bladder and honey,
held by a bead
of resin and glue.
---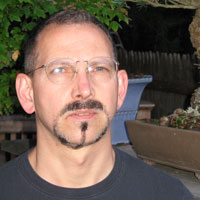 Judson Evans is a poet and visual artist, who has written and published in a variety of poetic forms and genres. He was Director of Liberal Arts at The Boston Conservatory for twenty-five years, and is now a full-time Professor of Liberal Arts at Berklee College of Music, where he teaches Literature, Poetry Workshops, and an elective humanities course on Paleolithic Cave Art. He has been a lifelong enthusiast for all Japanese-based poetic forms and regularly publishes haiku, renku, and haibun in the main journals of those forms. He also writes and publishes contemporary lyric poems. He has been involved in a wide range of collaborative experiments with composers, choreographers, other poets, and most recently with videographer Ray Klimek. Evans has had his poems set to music by composers, such as Mohammed Farouz and Marti Epstein, and developed into dance pieces with choreographer/performance artist Julie Ince Thompson. He was chosen as an "Emerging Poet" by John Yau for The Academy of American Poets in 2007, and won the Philip Booth Poetry Prize from Salt Hill Review in 2013. His poems have appeared most recently in Folio, Volt, 1913: a journal of forms, and Cutbank.
Image credit: Saiko on Wikipedia