SYNESTHESIA AND YOU by Charnell Peters
"Synesthesia and You" has been selected for republication by plain china, a national literary anthology that showcases the best undergraduate writing from across the country.

Charnell Peters
SYNESTHESIA AND YOU
I hang from the last brick of August, and cold is tolling. I don't hear you, but I remember your summer breath, and you still feel like the softest blue behind my eyes.
The months we spent together sit catty-corner: June and July. July, bent in half, turns to face the other side of black space. Black hums, like the night under the chalk moon when we sweated and swatted at ants. I felt you for the first time, your blue warmth and dimpled back. June woke with us, orange and fiery on our skin.
We used to hike for miles, tripping over bulging roots, their viola singing. We held hands when we could but had better balance if our arms steadied just our own bodies. September slants a pointed edge at my chest. Rain throbs. I see your voice ripple in the humming black of sleep. Sweating, I look down to find your blue has traced all of the lines in my hands. I look like a river. I know I can't cross.
---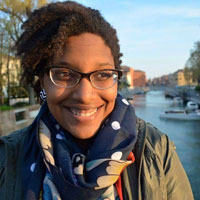 Charnell Peters lives in Indiana and studies professional writing at Taylor University. She has done freelance writing for The Secret Place and The Christian Communicator and was a contributing author for Fire Bible For Kids Devotional. Along with numerous radio scripts for WBCL and Power 104.9 WTSX, her work has also appeared in Ruminate Magazine.
Image credit: from "Chromesthesia" by Madeline Rile Smith, altered sheet music (Romanze for Viola in F Major, Op. 85., Max Bruch)
Read more from Cleaver Magazine's Issue #10.