HALLELUJAH COVER BY JEFF BUCKLEY by Liz Breen
HALLELUJAH, COVER BY JEFF BUCKLEY
by Liz Breen
It was 1994, and she told you that you wouldn't be ready until at least 1998, the Millennium if you were lucky. "The lyrics are way over your head. It's not baby stuff," said your sister, fourteen, cap turned backwards, still three months away from smoking her first joint, wearing a new sports bra under her faded denim overalls. She snatched the cassette tape from your hand, but you found it later in her drawer, tucked underneath the flannel shirt that Tommy Milner had given her, and you put it into the stereo, and you listened, enraptured but also frightened, haunted, frankly, by that quiet breath at the beginning of the track, by the guitar strings fighting against a vast and vacant space, by that bit about the kitchen chair; you couldn't understand (your sister was right) and yet you listened a second time and a third, feeling something tugging at you, practically knocking you in the kidney, not knowing then that it was this:
The next time you hear this song you will be thirty years old, driving your daughter home from elementary school, divorce papers in the center console. "Sea otters don't hold hands because they love each other," she'll say. "They're just afraid to float away."
---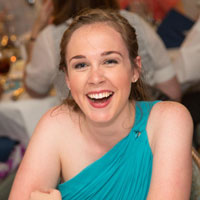 Liz Breen is a Boston-based writer of screenplays, short fiction and flash. After spending time on such reputable productions as Antiques Roadshow, CONAN, and WordGirl, Liz currently serves as a writer and producer for the television show Phantom Gourmet. She is also an MFA candidate at Vermont College of Fine Arts, and her fiction has appeared in Catch & Release. 
Image credit: Karen Rile