EMU ON THE LOOSE by Thaddeus Rutkowski
EMU ON THE LOOSE
by Thaddeus Rutkowski
Not much was happening at the artists' retreat (people were hiding in their studios; maybe they were working; maybe they were drinking) until the emu arrived. We didn't know where it came from; no one came with it. Wherever it had been, it hadn't been missed. It was a tall bird, between five and six feet from toe to head, and it was in no hurry. It ambled past the barn complex and stood on the dirt road. Those who saw it from their studios left their writing (or their drinking) and came out for a closer look. The bird wasn't afraid. It stood and stared at whoever approached. It didn't need to use its legs to kick—no one came close enough to threaten it.
Someone had the idea of corralling it in a pasture. There was a way to herd the bird; you flapped your arms and blocked its path. It had to walk away from you. The emu was led through a gate into a fenced field. It didn't try to escape. It stood there in the tall grass and stared. Its eyes were intense in its triangular head. If it wanted to, it could jump the fence or tear the wire mesh apart with its claws.
Someone brought it food and set the dish on the ground near the gate, but the bird wasn't interested. What did emus eat? Probably something more natural, something more alive than what was in the dish. Something that wriggled or flew.
We left the creature in the pasture and gathered for our own dinner.
"What was it?" someone asked. "An ostrich?"
"An emu," someone else answered.
"Is it wild?"
"Does it look wild?"
"Is it dangerous?"
"It looks lost."
The next morning the bird was still with us, but it wasn't in the pasture. It was on the road that led to the studios. It was calm; it almost invited stroking, like a horse. The resident horses could be approached with an open hand. But the bird was too alien, its neck too stalk-like, to touch. At the sight, some of the artists were inspired to do creative work. Some wrote poems about the emu. Others planned installations that went beyond words. Still others ignored the bird.
After a couple of days, the emu disappeared. It probably went back to wherever it came from—a nest on the ground or a stable of emus. Less likely, it went on to the next human settlement, where it could stare at the inhabitants undisturbed.
---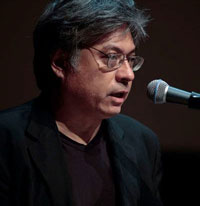 Thaddeus Rutkowski is the author of the books Violent Outbursts, Haywire, Tetched, and Roughhouse. Haywire won the Members' Choice Award, given by the Asian American Writers Workshop. He teaches at Medgar Evers College and the Writer's Voice of the West Side YMCA in New York. He received a fiction fellowship from the New York Foundation for the Arts.