BELLECASTLE STREET by Anna Oberg
Anna Oberg
BELLCASTLE STREET
I come in the back door from outside, where the cicadas whine as I take out the trash. This is the dirtiest place I've ever lived, my first home with my first husband who I am still not convinced will be my last, but some invisible thread binds us. We say this love will last forever.
In the kitchen, there is a dingy curtain covering what is below the sink. A dirt floor I cannot clean unless I dig it up entirely.
This is New Orleans, I'm told. Which is supposed to mean I should expect something less than I'm accustomed to. The Big Easy.
I walk the hallway toward the bedroom, past what we have chosen to call the office. It houses my treadmill, where I spend hours running, the only thing that quells my anxiety.
The bedroom is dark. A cool space. Interior. A mascara smudge stains one of our white pillow shams. The mark is from a day I lay crying. A time when things got to be too much, and I stabbed the truck key into my skull, bleeding a trail home from the church.
There is a mysterious dark matter that collects on the bedspread during the day. We sweep it off with our palms, reading the texture of the bedding with our hands before we climb in, silent. To sleep.
One night we awaken there, clinging to one another, afraid the house will capsize at the sound of thunder rolling in off the Gulf.
I trail my hands along the dusty window frame as I enter the living room. The couch sags under a slipcover concealing where the dog ground her teeth into the cushions, liberating a cloud of filler beneath the loose fabric.
There is a two–inch space between the bottom of the front door and the floor. When I stand outside at dusk, looking in from the street, a pool of lamplight floods through the gap like a warm puddle on the front porch. This is where the bugs get in.
---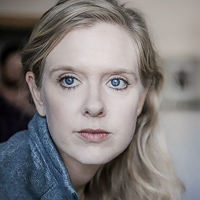 Anna Oberg lives and works in the Colorado Rockies. She is a professional photographer, specializing in terrain and creative headshots. When she's not hiking around Rocky Mountain National Park with her camera, she writes from home. This is her first publication.
Image credit: Wikipedia